I started telling some friends about our trip to Italy last fall and realized I have never really given our readers the photo-recap of our adventures. I lined out the itinerary in this post: Venice to Rome Itinerary in 13 days, but here I'll offer a photo journal of our experiences.
To begin with, I can't help but remind you that we booked this trip for nothing more than $81 and 40k AA miles each and that we stayed 13 nights in hotels and didn't pay a dollar for a single one of them. This is the kind of life-capstone dream vacation that most people hope will come at some point in a very distant future.  Because we only paid some $1800 in out-of-pocket costs, this is the kind of thing we're doing much more regularly – and it's something you can do to if you're willing to spend some time wanderlusting with us and discover what incredible vacations are closer to a reality for you than you might think.
Our flight was initially routed through Dusseldorf to Venice, but before ever leaving SLC, we got notice that our flight would be delayed and that we'd be missing our connection. The good news was that we'd instead be routed through Madrid. But that flight was also delayed so we missed the first connection to Venice but got a 7-hour layover in Madrid.  (Don't worry, I used my own advice from the How to Write an Airline Complaint Letter and got AA to give us 5k AA points each for our troubles – netting our total cost to only 35k miles). I served a mission in Spain several years ago, so it was awesome to treat ourselves to some Spanish chorizo and tortilla de patatas.  We spent the day covering some of the major sites in Madrid, including this stop at the Plaza De Cibiles.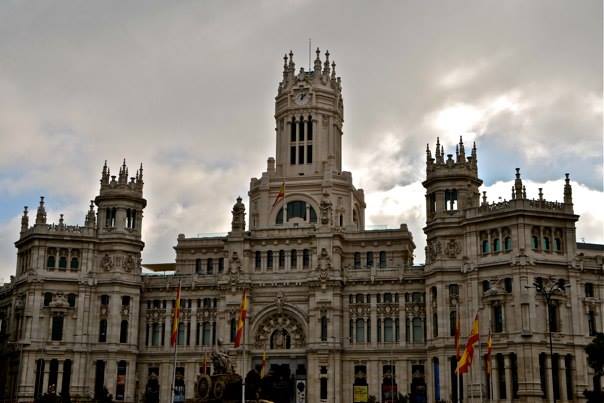 We hustled back to the airport and boarded our plane to Venice.  Arriving after dark, we weren't deterred from our original plans and we loaded up our rental car and headed for Slovenia.  By the time we arrived at Lake Bled, we couldn't even see the lake, but could see the castle perched high above. Exhausted, we crashed at our B&B on the lake.
When I awoke the next morning, I couldn't wait to look out the window, and when I did this is what I saw: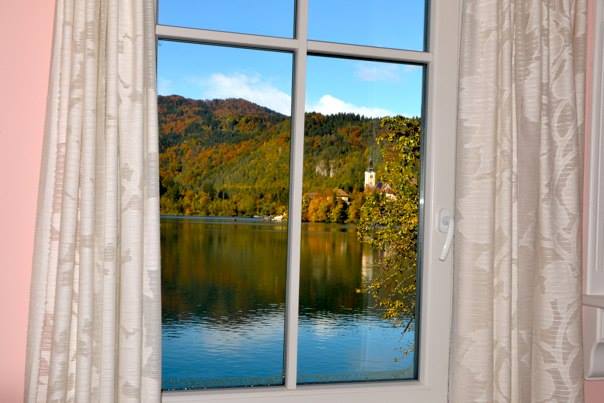 I couldn't even contain myself so I ran downstairs and rented a small rowboat for the next few hours.  I patiently waited for Nicole to wake up and then we ate some delicious pastries from a small bakery I found, then we rowed out to the island. There was another couple doing the same thing, so we swapped cameras with them and got this beautiful shot.
After an idyllic morning on the lake, we set out to hike into Vintgar gorge. Following a river of crystal clear water, we passed dozens of misty waterfalls and enjoyed the fall colors and the crisp air.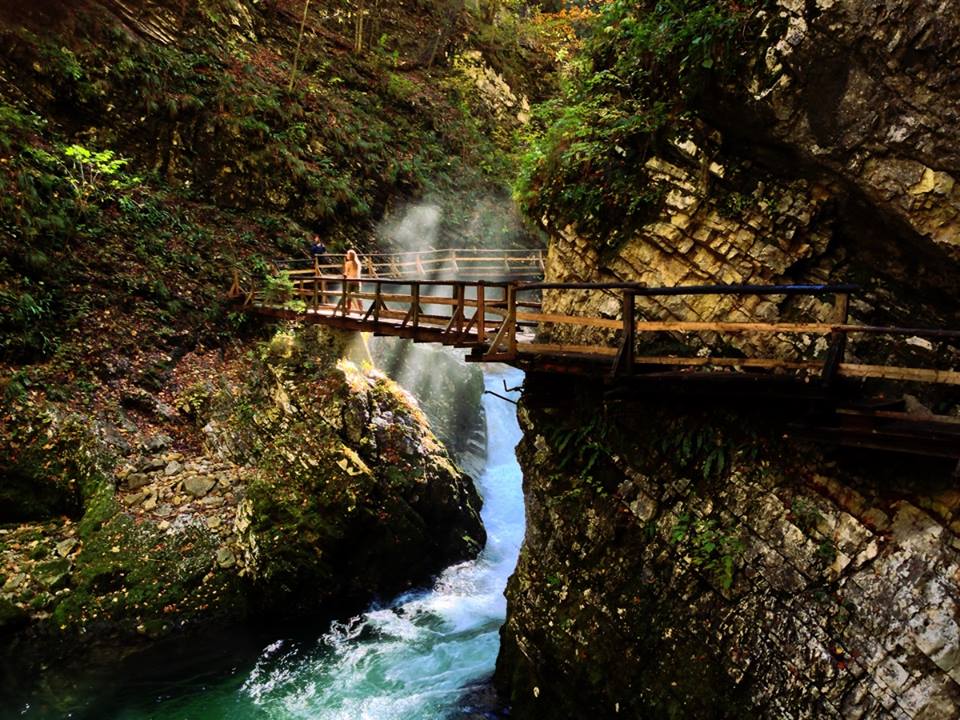 Even doing all this, we had enough time to drive back to Venice, park our car, and take the train into the city.  We were a little pressed for time, but still arrived early enough to check into our incredible three-room hotel suite at the Hilton Molino Stucky – one we splurged all 40k Hilton points we had on and didn't feel the slightest bit bad about.
In Venice we took in a small opera performance in an old palace – Musica a Palazzo, toured St. Mark's Cathedral, the Doge's Palace, got lost in the maze of narrow streets and canals and ate delcious food and Gelato. History and opulence abounded and nowhere was that more evident than in the Doge's palace where the ceilings and walls gilded frames surrounded impressive paintings by Tintoretto.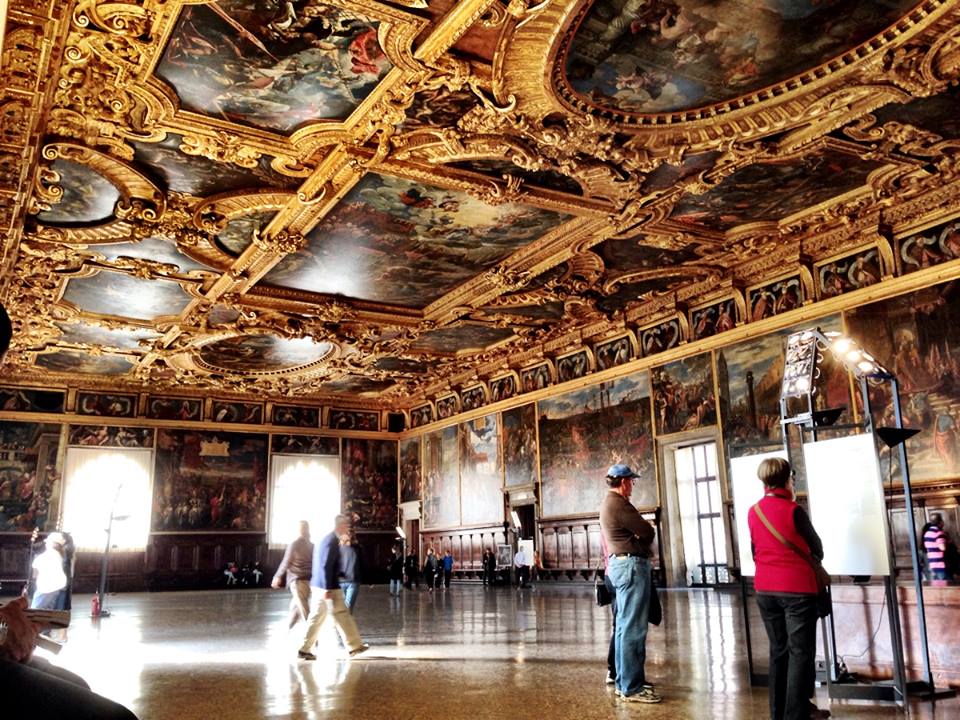 As if Venice weren't enough, we then gorged ourselves on more history and opulence in Florence – a city with more artistic masterpieces than are housed in most countries. We saw Michealangelo's David at the Academia, and countless other pieces that even us non-artistic types couldn't help but appreciate.  But it was the buildings that were truly amazing.  We climbed to the top of the Duomo and took in Florence from its highest point, walked along the Arno river to the Ponte Vecchio, and marveled at the Palazzo Vecchio. Florence is intoxicating.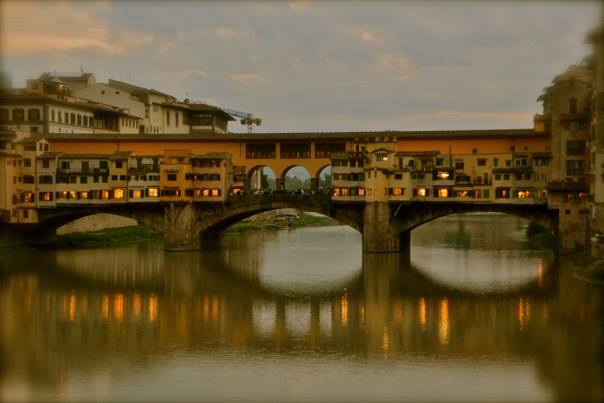 Not nearly having enough of the artistic beauty of Italy, even still we went for a change of scenery and headed out to Cinque Terre, where we stayed perched high above the coast with a commanding view.  We locked our love on the fence along the Via dell'Amore, and wondered if there really could be anything more unbelievably beautiful than the city of Riomaggiore.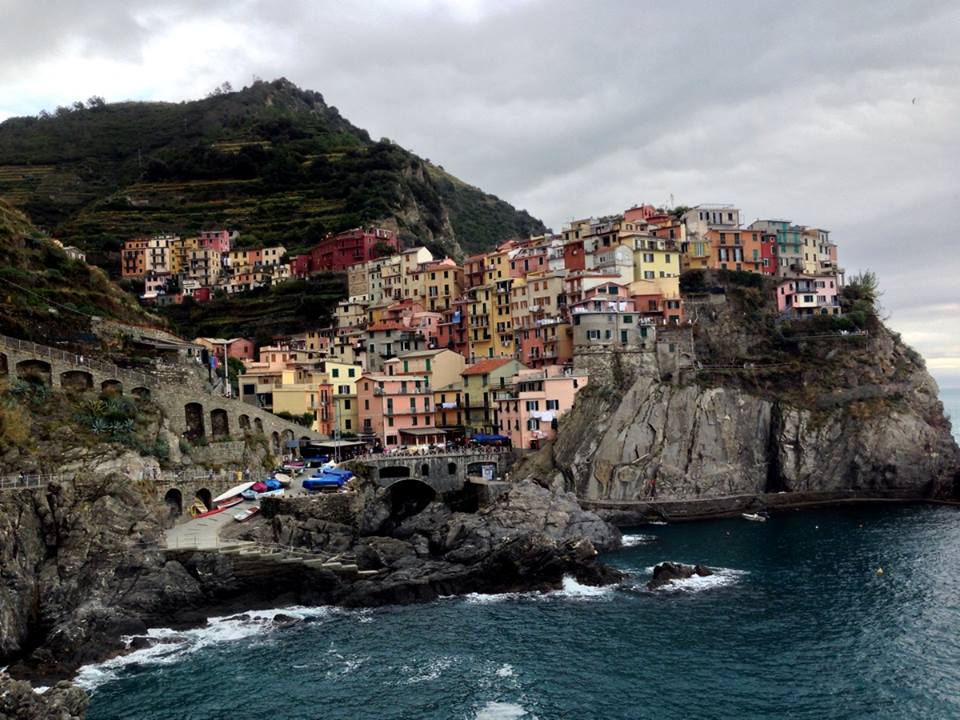 We hiked from Corniglia to Vernazza and soaked it all in as best we could, took the train between some of the other cities and discovered cinnamon gelato.  It was a veritable buffet for the senses.  On our way to our next stop, Siena, we stopped and got the obligatory photo at the Leaning Tower of Pisa.
We were staying outside of Siena in an agriturismo – a farmhouse B&B – and had a little trouble finding it, but with a little rough Italian and a lot of trial and we were able to find it.  This place was absolutely heaven on earth and we'd urge everyone to make it a point to stay there – it's called Poggio Bonelli and the house that we stayed in was easily our favorite of the entire trip.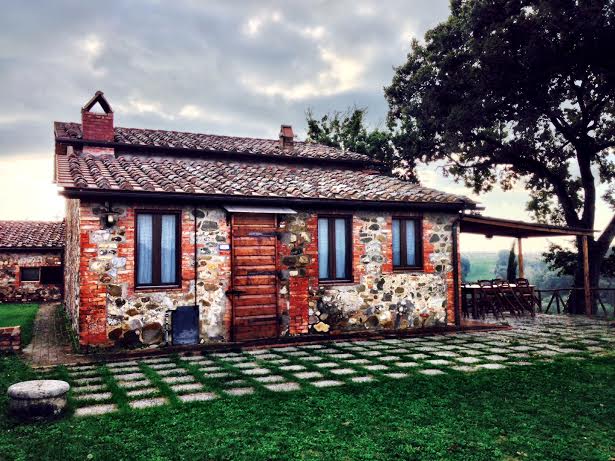 We did make it into Siena and we loved the city, but we could have spent weeks just sitting on the grounds and gazing at the countryside.  We had a delicious picnic of cured meats and unique cheeses, fresh bread, and local fruits, and did I mention my wife is hot?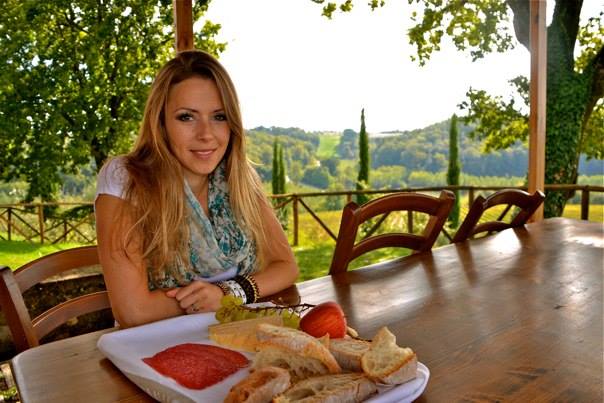 After Tuscany, we took the scenic route from hill city to hill city, and for Nicole each new city was another reason to splurge on a gelato.  I was really excited to stay outside Orvieto at an ancient monastary that had been converted into a hotel.  It did not disappoint and neither did the city of Orvieto, where we feasted our eyes on a massive underground network of caves that we toured, our ears on a violinist outside the cathedral, and our mouths on a dinner of pesto gnocchi.
The next morning we set out to find the little-known Civita di Bagnoregio.  A cloud of fog hung low and impeded us from seeing it's grandeur as we approached, but by mid-morning it had cleared to reveal this stunning sight.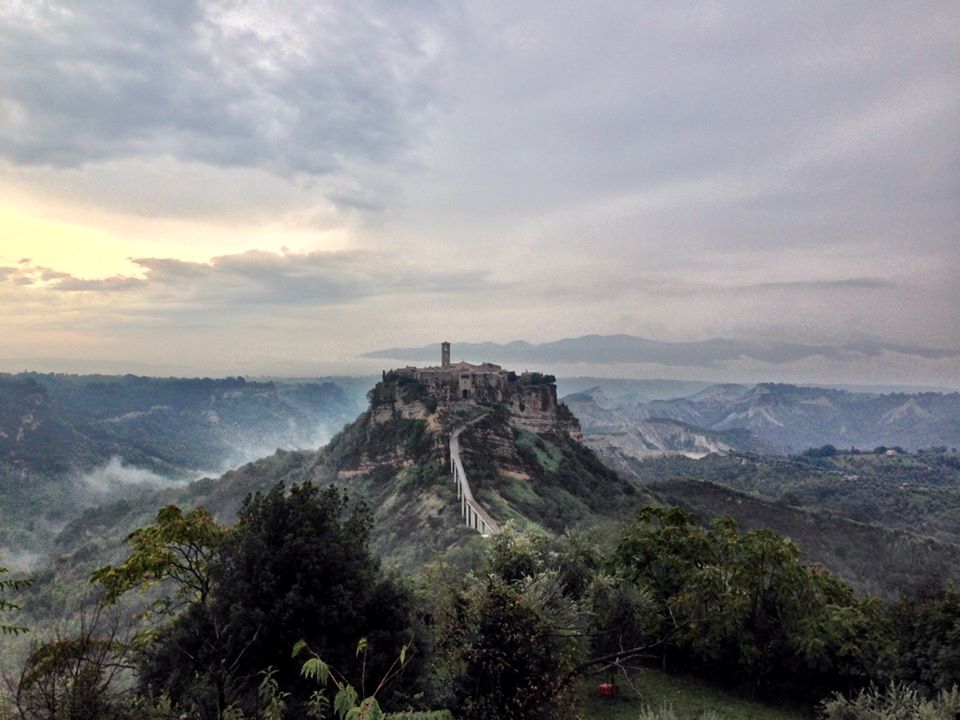 I know it seems far too "fairy-tale" to be true, but that's precisely what it looks like – and there in that little village you can sit beside a fire and eat fire-toasted bruschetta, stroll the cobblestone paths, and overlook the verdant valley below. This setting is simply magical.
We drove about an hour south to Rome and returned the rental car, then opted for the bus from the airport into the city rather than paying more than double to save a few minutes by taking the train. Rome was, of course, no disappointment.  We happened to arrive at St. Peter's Basilica as the Pope was presiding over a gathering with an enormous crowd.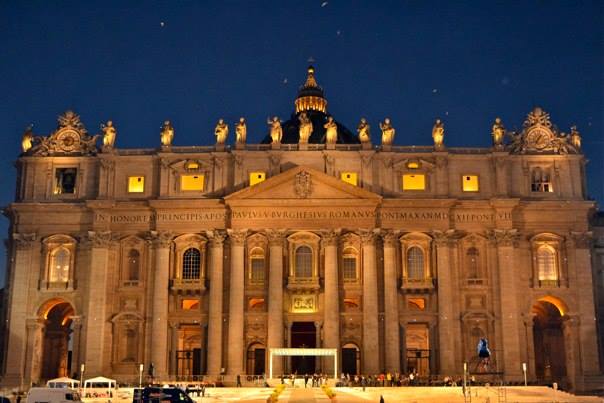 We got the Roma Pass, which allowed us transportation for three days and entrance to two major museums.  We toured the Colosseum with added insight from Rick Steves' audio tour app, and imagined what life looked life for people in ancient Rome – a city unlike any other in its time.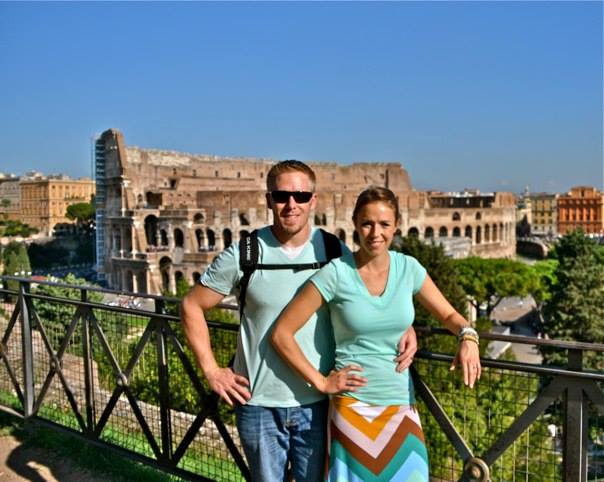 We also visited the Vatican, Castel Sant Angelo, and Trevi Fountain.  Everything was so far beyond cool that the awe was almost tiresome.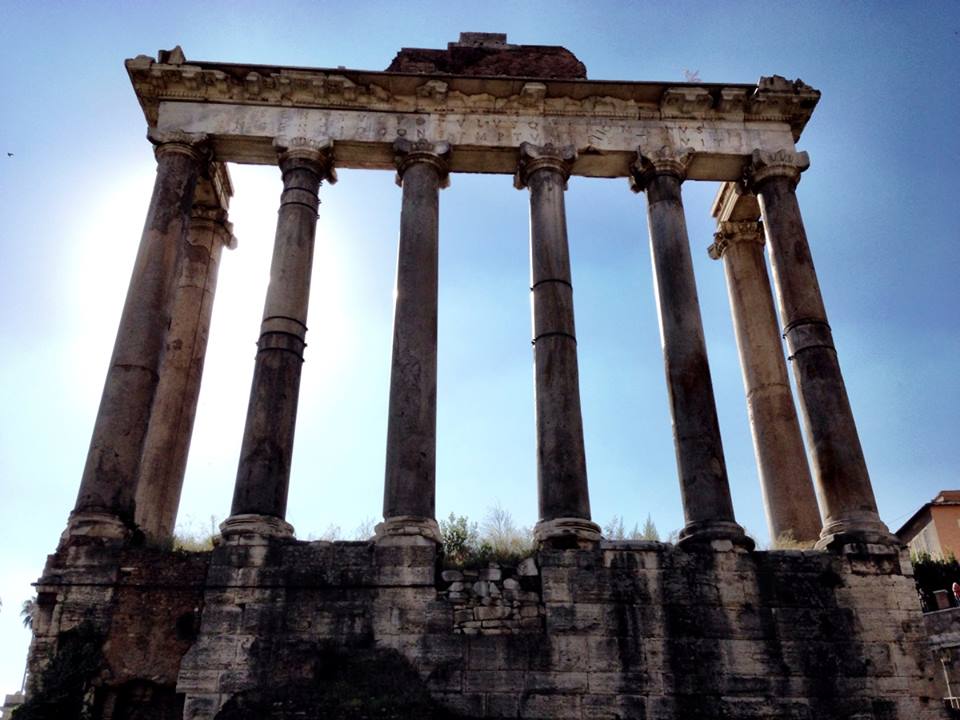 Our return trip routed us through Dusseldorf, so we did have one final stop before returning home and it was far from uneventful.  We walked from our hotel down to a quaint little restaurant, where we actually ate the best meal of the entire trip – I know it sounds a little odd to take a trip to Italy, yet find the best food in Germany, but for someone like me who will choose meat over pasta at every opportunity, this amazing platter was mezmerizing.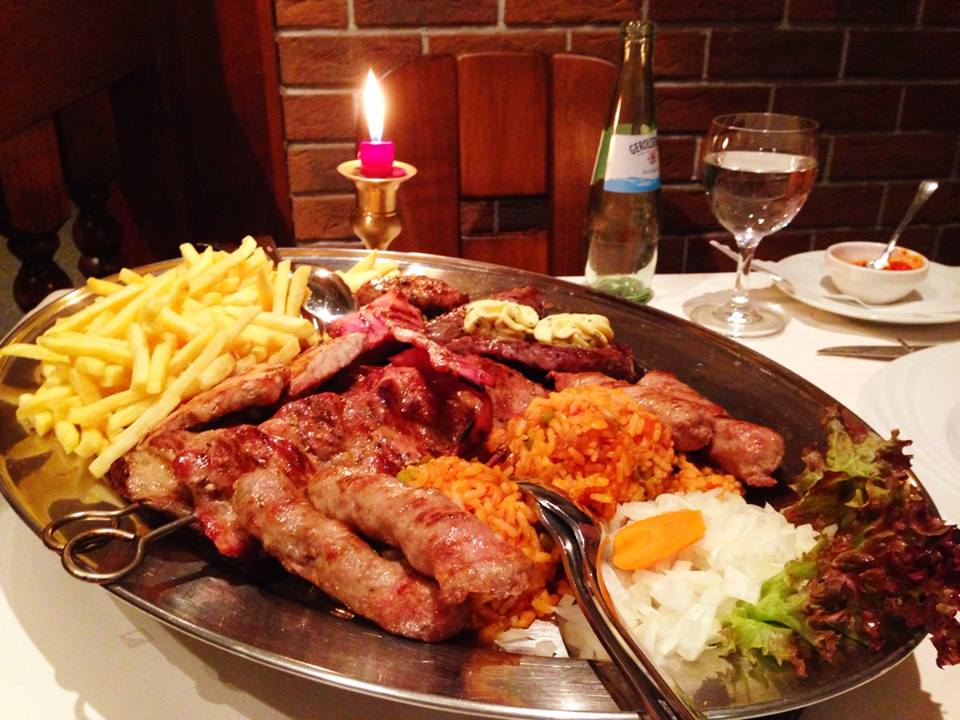 As you can tell, our trip was so far beyond epic that even these amazing pictures don't truly do it justice.  We outlined our entire trip before we went in this post about Venice to Rome in 13 days, and the card we used to obtain the AA miles each is still available – it's the Citi® Platinum Select® / AAdvantage® World MasterCard®.  You do have to meet a minimum spending requirement of $3000 in the first three months, but the annual fee of $95 is waived for the first year. This isn't one of the cards we get compensated for promoting, but we're still passing it along to you because it's one of the best offers out there – particularly if you are feeling the urge to go to Europe or Northern South America.
Before I depart, I just have to do a little re-cap.  I just showed you how we did an epic 13-day journey from Spain, to Slovenia, to Italy, and to Germany. We did it for far less than what most people spend on a weekend trip to Las Vegas, and we did it by prudently using credit cards to obtain frequent flyer miles and points and travel the almost-free-way. If you're in a position to do this and you have the discipline to use credit cards as purchasing instruments, not as credit, then this is something you need to embrace… and it's also something we're hoping you'll share.  As we've said before, ultimately what we want to see is you go from wanderlusting to wandering… and we hope this post and all our posts help you do that.
Please don't hesitate to comment or email with questions about this itinerary, what we did, or whatever else you have in mind.  I'm begging for the opportunity to re-live this experience by sharing it with you.