This is the first of a two-part series I'm doing on my experience as a delegate from the American Council of Young Political Leaders to Vietnam and Malaysia.  ACYPL is a nonpartisan nonprofit organization, internationally recognized as the pre-eminent catalyst for introducing rising political and policy professionals to international affairs and to each other. Their mission is to promote mutual understanding, respect and friendship and cultivate long lasting relationships among next generation leaders in the US and around the world. More at www.ACYPL.org.
A reporter from the US-Vietnam Society captured a moment in our visit to the Friendship Village in Hanoi. The Friendship Village is a home which was founded by a former United States service member for children and veterans who've suffered from the horrible effects of Agent Orange – a toxic herbicidal chemical that was spread all over the country to defoliate the jungle during the Vietnam War.
I was cheek to cheek with a former member of the Viet Cong Army.  He's pulled me in for such a tight embrace that I, although quite the touchy-feely kind, couldn't help but be a little bit awkward.  We had just exchanged recommendations that he eat more Idaho potatoes, and that I eat more Vietnamese rice before he took me in heartily in a half hug/half headlock.
It's possible that this man could have had relatives of mine in his sights when he was in his twenties, but today, 42 years after American military and diplomatic forces were evacuated in Operation Frequent Wind, we are friends, and he is as happy to see me as I am him.  It's palpable evidence of what the Department of State told us before our departure – that 84% of Vietnamese have a favorable view of the United States.
For all but six years of the 20th Century, the s-shaped, coastal country of Vietnam found itself at war.  They are a people who understand the value of peace because they have seen the tragedy of war. At least 19 of those years – from 1956 to 1975 – can be attributed to the United States.  Anyone who has visited the Museum of War Remnants in the former Saigon has seen the records and can attest to the atrocities that took place – the long-standing effects of wartime bombings and Agent Orange in particular. It was undoubtedly an ugly period in history.
I have no intention of adjudicating the past, but only appraising and understanding the present.  Our meetings and experiences in Hanoi and Ho Chi Minh City allowed me to do exactly that.
Government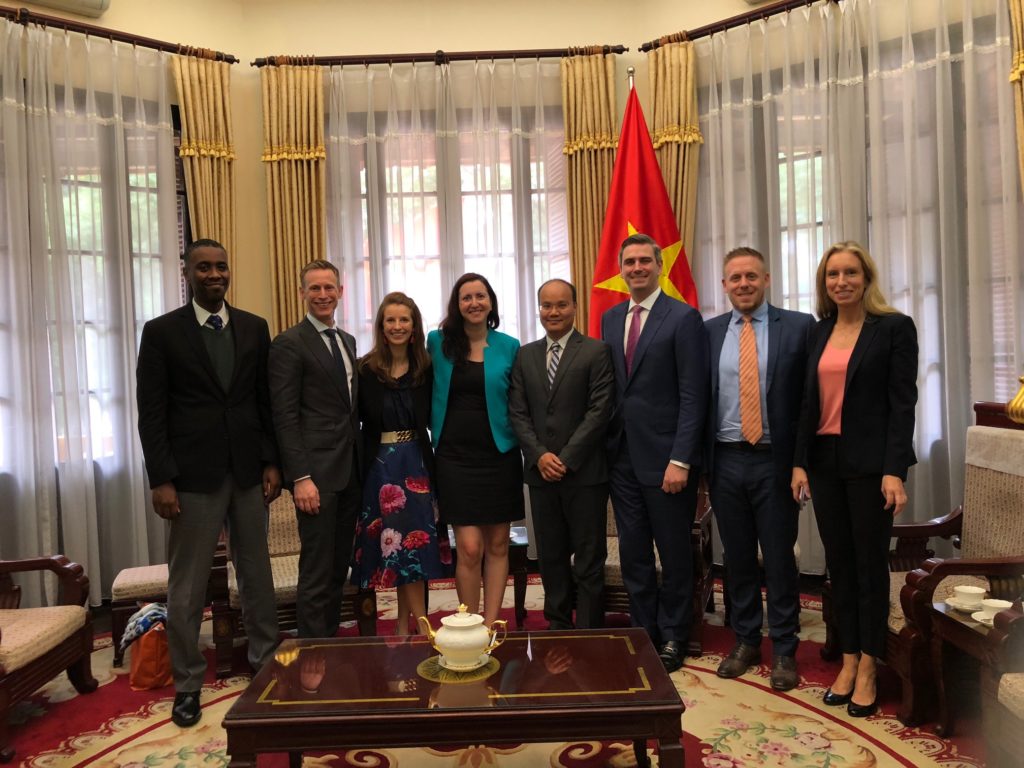 Being politically-minded, a brief review of a country's governmental structure is a precursor to any of my travels.  Vietnam's golden star atop a red flag does little to hide its unabashed proclamation that it is one of only four remaining countries which whole-heartedly claim a Communist government. In Hanoi, this is abundantly clear as the only buildings of substance appear to be government buildings – the most prominent of which looks like colossal spaceship and houses the 500 member Vietnamese National Assembly, which governs the One-Party Socialist Republic.
Among the most curious insights was to find that many of the representatives do not hail from the provinces they represent, but are assigned to represent particular areas. It's strange, but then again, so also is a completely one-party system, government-controlled media, and deceptive air-quality monitors.
The latter of these only makes in more ironic that the concerns expressed to us included Climate Change – particularly the impact of melting ice caps and the consequent salinization of the Mekong River delta.  Also, as if speaking from talking points, in every meeting our hosts each acknowledged the much-trumped trade deficit with the US and noted their disapproval of the US withdrawal from the Trans-Pacific Partnership and their frustration with China's incursion in the South China Sea.
Economy
I found it most interesting that one of the individuals with whom we met told us that the Vietnamese Communist party acknowledges the failure of socialist economic policy.  They realize that it did nothing to unleash the productivity of their people – evidenced, perhaps by the fact that with 96 million people, Vietnam clocks in at the 15th largest country by population, yet only the 47th largest economy. As a result, in 1985, they began opening to a mixed economy.  It is a transition, however, which remains materially undone as 99 of the 100 largest companies are still state-owned.
That said, in the skyscrapers and neon lights of Ho Chi Minh City, you can begin to see how the transition may fare out in the coming decades.  In 2008 there were 4 buildings over 30 stories tall.  Today there are 47.  If Vietnam's economy has grown at a 7% clip in the past decade, most of that has to be attributed to what is happening in the former Saigon.  We saw a vibrant co-working tech laboratory and heard pitches from hungry entrepreneurs seeking venture capital.  It's a stark contrast to the rest of the country where 49% of the population make their living from agriculture.
One of the most captivating stories in the global economy in years to come may be the triumph of capitalism in Vietnam.
Religion
Vietnam is consistently in the bottom 10 in various metrics of theism or religiosity. The one temple we toured? The Temple of Literature – a relic of Chinese Confucianism.  Aside from that, the only other evidence we saw of any religious conviction was a tired, old Catholic cathedral – an import from French colonialism.
In one of our meetings, a gentleman explained that what Buddhism is practiced is differentiated from North to South.  In the South, Theravada Buddhism places emphasis on individual enlightenment, while in the North, Mahayana Buddhism emphasizes collective enlightenment. In the days before Communism replaced religion, perhaps this factored into the divide between the country.
Culture
I don't know so much where this observation belongs as that it does belong – Vietnam, as much as any place I have ever been, is a motorcycle mecca.  Or, more appropriately, a scooter scrum. Aerial videos of the streets of Hanoi must closely approximate schools of fish, with cars and scooters moving with little regard or lanes or signals, yet somehow functionally choreographed.  Oddly enough, our driver was pulled over at one point because traffic cameras captured evidence of him crossing a lane line.  The officer directed him to park facing oncoming traffic while he logged the infraction.  Puzzling.
The food in Vietnam was delicious, with my only complaint being the preponderance of bones.  What it lacked in preparation, though, was more than made up for in flavor.  Almost nothing is served as an individual plate, but rather placed in the center of tables to be eaten family-style. Of course our favorite was the Pho. A rich broth is the base, to which rice noodles, meat, and fresh vegetables are heaped in abundance.  For some of us, tabletop peppers and sauces enhanced the spiciness to the detriment of our taste buds.  One particular member of the delegation made such a habit of spicing up his soup that we called him the Pho King, man.
History
Beneath the aforementioned behemoth Assembly building were found the ruins of former ruling dynasties. Today they are enclosed in a very modern museum which we were among the first to see.
The most fascinating historical story we heard was beautifully depicted in an iridescent mother-of-pearl mural at the Vietnam Women's Union. The story is told of the Trưng sisters, two young girls who led an uprising against Chinese overlords.  It's symbolic of the constant struggle for independence of the Vietnamese.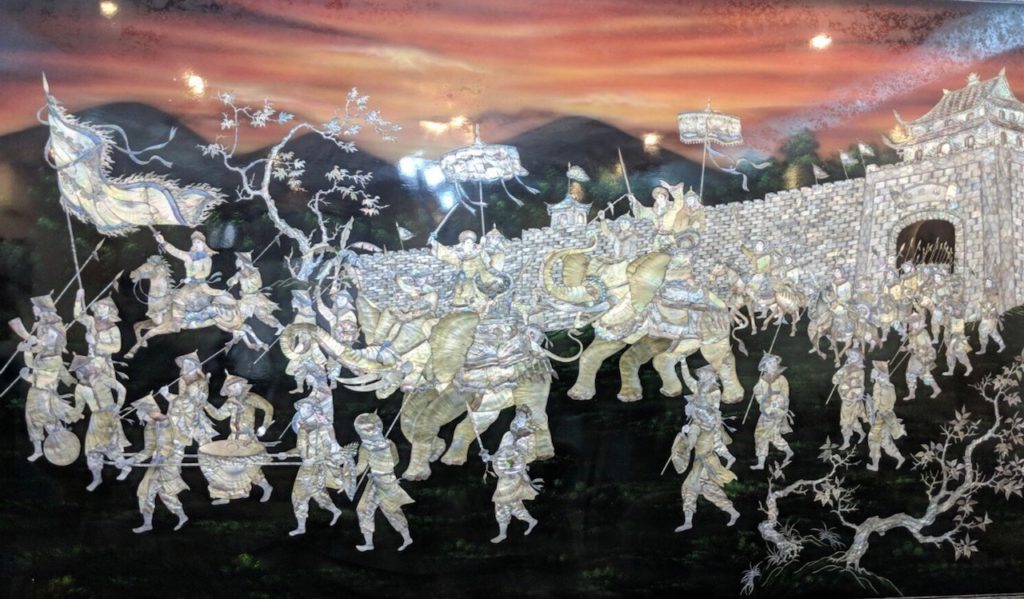 Though we weren't able to visit, perhaps the most intriguing building in Hanoi is the mausoleum of Ho Chi Minh.  Minh was the father of Vietnamese independence and the founder of the Vietnamese Communist Party.  In a paradoxical final tribute to the victory of the will of the State over the will of the individual, his embalmed body lies there on display in a glass casket, despite his personal desire that he be cremated.
Impressions
I can't help but consider Vietnam in the context of the brutal war we fought with them.  Fittingly, I had a long layover in Washington DC on my return trip and took the opportunity to visit the Vietnam Veteran's Memorial on the Capitol Mall.  Even the memorial itself is half-hearted tribute – partially buried, there's a reason it's called a memorial, not a monument.  It was America's longest war, and yet its most forgettable.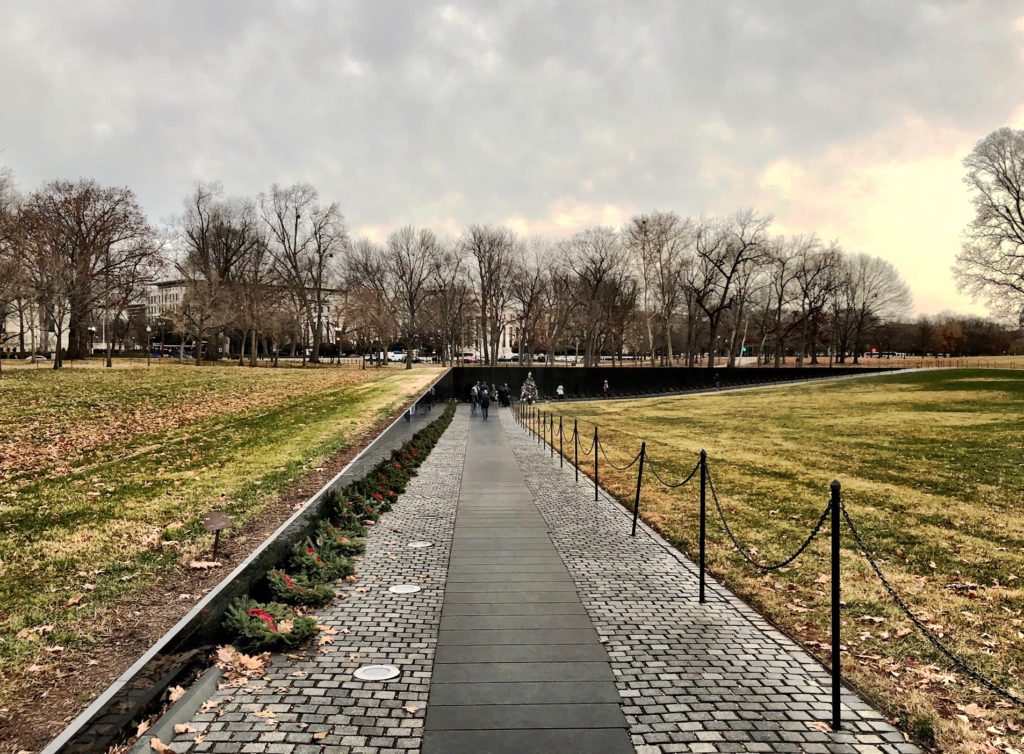 In proclaiming independence for his people in 1945, Ho Chi Minh used the most perfect example he could find – he drew from the words of Thomas Jefferson.
Communists and capitalists are both motivated by prosperity. Liberals and conservatives  share a craving for freedom. Christians and Muslims, Hindus and Buddhists, we all pray for peace. We are not all that different. The gravest errors of human judgement occur when we see differences before we see our similarities.
If the object of this endeavor – an exchange between young political leaders of our country and others – was to "promote mutual understanding, respect, and friendship." Then I believe we achieved our objective. Despite vastly dissimilar political systems, I have a greater understanding of and an appreciation for the country of Vietnam and her people.
Of all the special moments, I treasure most the bond I forged with a young boy in the Friendship Village.  Though deaf from birth defects as a result of his ancestor's exposure to Agent Orange, he was as expressive with his eyes and smile as anyone with full use of all their faculties. When I think of Vietnam, I will think of him.