What are we doing?
We write about inexpensive ways for people to get to places they had only dreamed of going. We hope to inspire others to travel – to infect them with a serious case of "wanderlust."  Nothing pains us worse than hearing people say, "I'd love to travel, I just can't afford it."
We are arms-dealers in the war of monotony vs. adventure and excitement.  It is a sad fact that most people simply raise their white flag in surrender to boredom and sameness.  They're overpowered by the battle-call of the humdrum, "we can't afford to do things like that."  They cower from the challenge with phrases like "we can't find a babysitter," and "traveling to those places isn't safe."
We just won't tolerate weakness like that.  We won't let them win. We soak in the refreshing springs of civilizations' celebrations. We gorge on the sweet variety of global gluttony. We learn the intriguing history of local legends. We wanderlust.
The opportunities that are out there for absolutely free travel justify banishing that phrase forever. Come see what we're doing, come do what we're saying.  Wanderlust with us.
Our Niche
We never expected to come into the credit-card-churning scene and take it by storm.  We'll probably never be as well-recognized as the many others who've encouraged us to take the plunge.  We've got families and responsibilities and this is simply a hobby that we hope will inspire others to travel.  If we have a niche in this world, it's to show people what they can do with their easily-earned miles and points.

Sheldon
My love for traveling began in 2001 when I took a summer trip to Barcelona, Spain.  I fell in love with other cultures, foods, people, and landscape.  Since then I've visited over 20 countries and spent over two years outside of the US.
I really enjoy traveling to historical locations.  As I travel I really enjoy learning about the people, their culture, their foods, and their landscape.  I try to travel to new places often and return to places that I've loved.
When I got married in 2008 everyone told me that my traveling would have to slow down.  I wasn't discouraged by their comments, I was encouraged.  After our honeymoon in Las Vegas we took a trip to Panama two weeks later.  In 2009 we did a small tour of Southeast Asia.  My wife was a trooper and fell in love with traveling as much as I did.  In 2010 I went to Haiti, Dominican Republic, Puerto Rico, BVI, Antigua, St. Lucia, and Barbados.  Our most recent international trip was to Costa Rica in March of 2011. We keep our sites set high on visiting new countries, people, and places every year.  Now we are doing it for free. (More on Sheldon)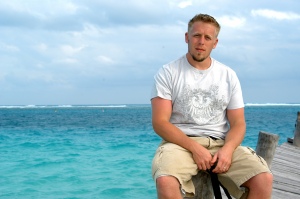 Brad
I read an article once that said that if money doesn't make you happy, then you probably aren't spending it the right way.  The premise was that people ultimately gain very little satisfaction in life from buying things, yet they obtain the great pleasure from buying experiences.
I know that at the end of my life I won't look back with regret at the things I didn't buy, but at the things I didn't do, the places I didn't see, and the experiences I didn't have.  So I am bound and determined to do as much as my resources, and the many other obligations I have, will allow.
As much as I enjoy traveling myself, I also enjoy sharing stories with others, so I hope this blog will be a forum for all of us to discuss our adventures, to learn how to travel at drastically reduced prices (if not for free), and to inspire others to opt for experiences over frivolous things. (More on Brad)
Thank you for visiting.  Wanderlust with us.