For something like three or four years, Sheldon and I kept this blog up – writing posts at least weekly and telling people about how to take advantage of credit card rewards to "travel the free-way." I think it goes without saying that we've fallen off for a bit. I wish I could say that I were reinvigorating the cause, but unfortunately too many other duties call at me to make this blog a priority again.
Even so, I'm compelled to write a bit – partially out of selfishness and partially out of selflessness. How can that be? Let me explain. Chase recently sent me a referral link for the business travel rewards credit card that I use – the Chase Ink Business Preferred Card. It seems they will offer me 20k points for each referral, up to a maximum of 5. I already passed along the link to a friend, so, selfishly, I'm hoping to round up 4 more and top up my Ultimate Rewards balance. That's the selfish part.
Now the selfless part. I can't tell you how many friends we inspired to jump on this bandwagon over the years and to my knowledge, none of them has filed for bankruptcy under a mountain of credit card, and dozens of them have taken incredible vacations – paid for in large part with points, not money. It's a beautiful thing.
It's also beautiful that at the moment this business travel rewards credit card is offering 100,000 points if you can spend $15k in the first three months. I realize that not everyone will have that much in typical expenses, but many business owners do, and it would make all the sense in the world to use those typical expenses to get the enormous bonus and start trip planning.
If the big up-front bonus on this card were the only attraction, it would still be worth it, but the card also offers 3x points "for each $1 of the first $150,000 spent each account anniversary year on combined purchases in the following rewards categories: shipping; social media and search engine advertising; travel; internet, cable, and phone services." Click here for more details on these categories. If your business spends substantial amounts on these categories, this is the one and only credit card you should ever use.
The fine print? This card does have a $95 annual fee that is not waived the first year. But it also has a very unique benefit – cellphone protection up to $600 for theft or damage to any phone paid for with the card. It also has the Auto rental CDW coverage, so you can decline any coverage offered by the rental company. (Remind me to tell you sometime how that saved me from a $780 bill for a dent I put in a rental car when I backed into a baluster on a rainy evening in Slovenia).
Ok. Enough about the card – you can look at the benefits and decide for yourself, but let me start in on the fun part and tell you about what I'd suggest you do with your points hoard once its been accumulated. Let's assume that $5000 of the $15,000 you spend in the first three months got you 3x points so once you've met the requirement, you have 125,000 Ultimate Rewards points burning a hole in your rewardpocket.
So let's just assume that you are turning 40 years old in 2021 and your spouse has told you, "Let's go anywhere you want to go." Sadly you reply, we can't go anywhere I want to go, we are in a COVID-world, so we can only go the places they will let us go. So then you start your wanderlusting the same place I have for the past 9 months – the the US News and World Report page, "Where can Americans Travel Right Now?"
The good news is that this list is actually starting look more robust now, and let's say you home in on three options: The warm and incomparable islands of French Polynesia, the lush and rich cultural wonderland of Ireland, or the historic and fascinating city of Istanbul.
One of the best features of these points is that you can use them either as "cash" to book through their travel booking portal or transfer them to partners – including United, Air France KLM, Southwest, IHG, Marriott, Hyatt, and others. This allows you to be wise and use them efficiently. What does that mean? When used as cash through their portal, an Ultimate Reward point is essentially worth 1.25 cents. Sometimes you're better off to transfer them to the airline, sometimes you're better off to use the points. I just used United as an example and flying from Boise, here's how it works out:
| | | | |
| --- | --- | --- | --- |
| 2 passengers | Airline Points | Cash Cost | UR for Cash |
| Boise-Tahiti (PPT) | 140,000 | $1,636 | 130,880 |
| Boise-Ireland (DUB) | 120,000 | $1,710 | 136,800 |
| Boise-Istanbul (IST) | 132,000 | $2,232 | 178,560 |
Bang for your points buck
So you can see that in this case it would be better to use the Ultimate Rewards as cash when booking to Tahiti, but take fewer UR to transfer them to the United to book both Ireland and Istanbul. Keep in mind that moving the UR to airline points, you may need to pay a small booking fee (usually less than $100). Also, if you're really only at 125k UR, you may need to build up a few more or in some cases you can buy the small remaining points you need. In any case, it's easy to see how this one card bonus can get you and your partner half-way around the world in any direction.
Hang with me – we are just getting to the fun part. What would you do in each of these epic locations?
Tahiti
Tahiti is easy – you spend every moment in one of these over-the-water bungalows. When you have a place like this, you have absolutely no reason to go anywhere else. Just stay here. All day, every day, until you have to leave.
Ireland
In Ireland you start by testing out your left-side-of-the-road driving skills. You'll have to pay extra for a rental car that has an automatic transmission, so skimp and test your left-hand shifting skills, as well. Because Northern Ireland is part of the UK, you may need to skip that part while Coronavirus rules the world. No worry. Here's an itinerary that will knock your Irish socks off. Keep in mind that it is extraordinarily tight – I don't like the idea of crossing the pond for anything less than 10 days, so keep in mind that you could absolutely expand it – this is just an absolute minimum.
Day 1
Hop in the car and make your way to Castle Leslie – a magnificent castle estate where you can live like an Earl (what, even, is an Earl?). Take a traditional Irish breakfast in a spectacular setting or explore the grounds on foot or on horseback. The nearby town of Glaslough is idyllic – particularly Ambledown Cottage.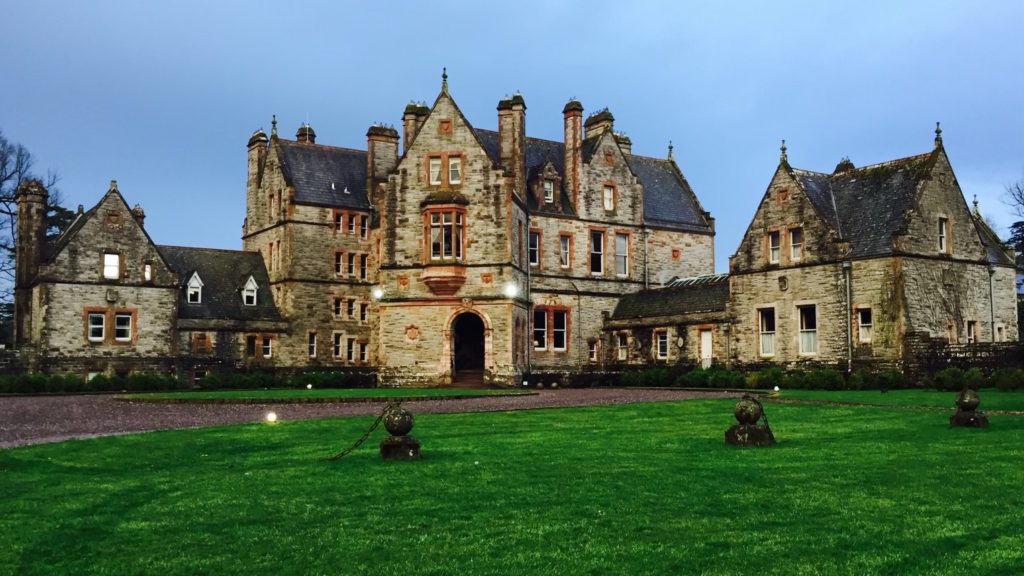 Day 2
Enjoy the morning on the castle grounds, but by lunchtime, make the 3 hour drive to Galway. When I was there, I stayed nearby in Peter's Castle – one of the most incredible overnight experiences I've ever had. Not for luxury, but rather for authenticity – Peter is a stone mason and has been rebuilding the castle from ruins for two decades.
Day 3
Stroll the streets of Galway, but leave enough time to drive to the Cliffs of Moher and then on to Killarney.
Day 4
Drive the "Ring of Kerry" taking special care to see the sheepdog demonstration, marvel at the lushness and check out the Muckross House – an old hunting lodge on the edge of Killarney National Park.
Day 5
No visit to Ireland would be complete without the chance to kiss the Blarney stone at Blarney Castle in Cork. Kiss it like you mean it and take your gift of gab onto the "Rock of Cashel" then crashel for the night somewhere near Kilkenny.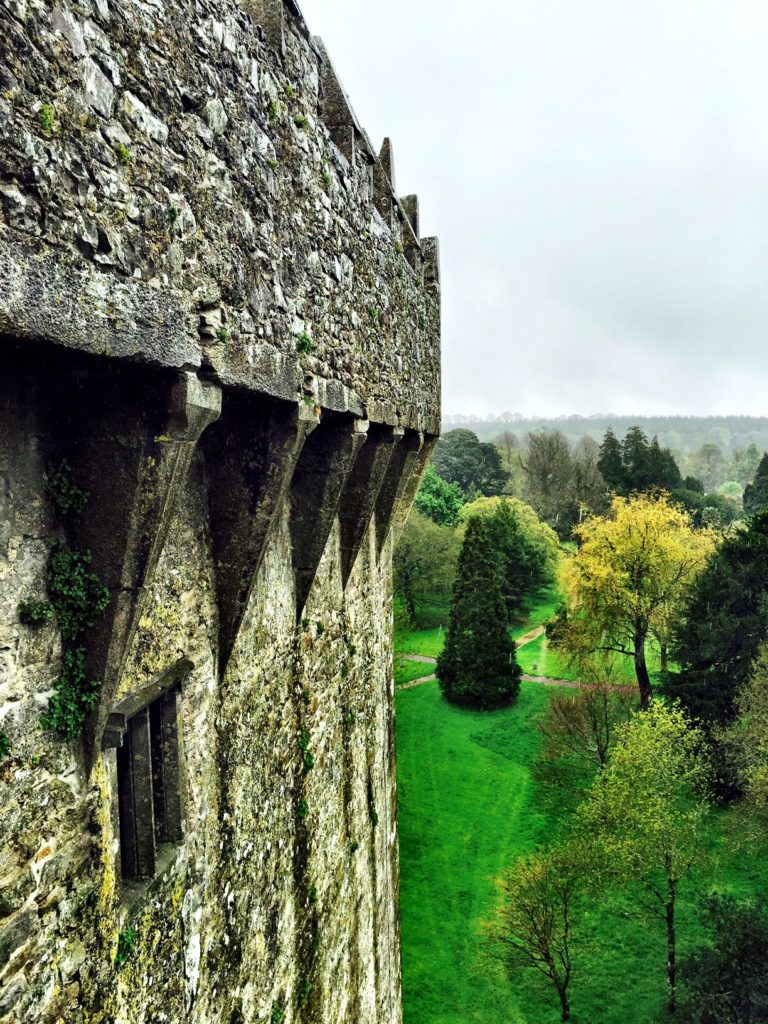 Day 6
En route back to Dublin, stop in at Powerscourt Gardens for an impressive display of floral and botanical beauty.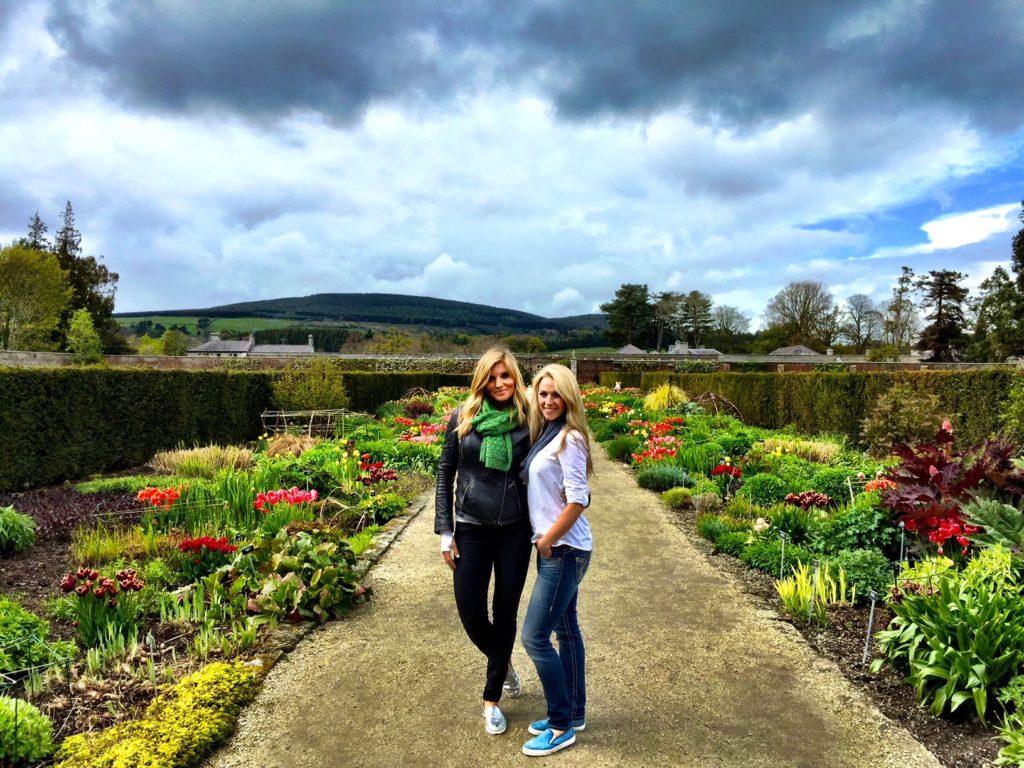 Day 7
You can't miss seeing Trinity College and the Book of Kells, among many other wonders of Dublin.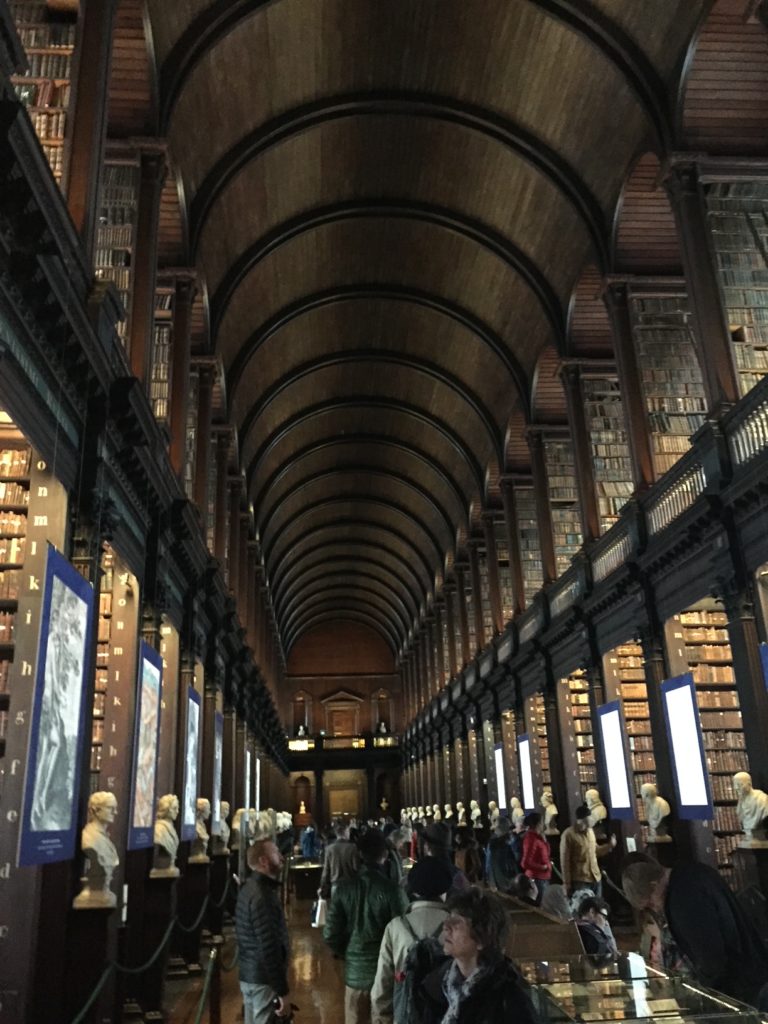 Istanbul
Start by watching the Netflix 6-episode series on Mehmet the Conquerer's siege of then Constantinople – a radical hingepoint in religious world history. You may think – could I really spend an entire week in a single city? I'll interrupt your thoughts to answer – yes, absolutely!
Day 1
Stay in the core of the historic city – near the Hagia Sophia. You'll be shocked at what sumptuous lodging you can get for very little money – here's a place that looks pretty nice and has rave reviews that would only set you back $550 for a week stay. From there you can attack all the sites – starting, of course, with the Hagia Sophia herself. Southern Spain and the city of Istanbul are some of the best remnants of a melded Christian and Muslim history, and no other place in the world embodies that more than this cathedral…err…mosque.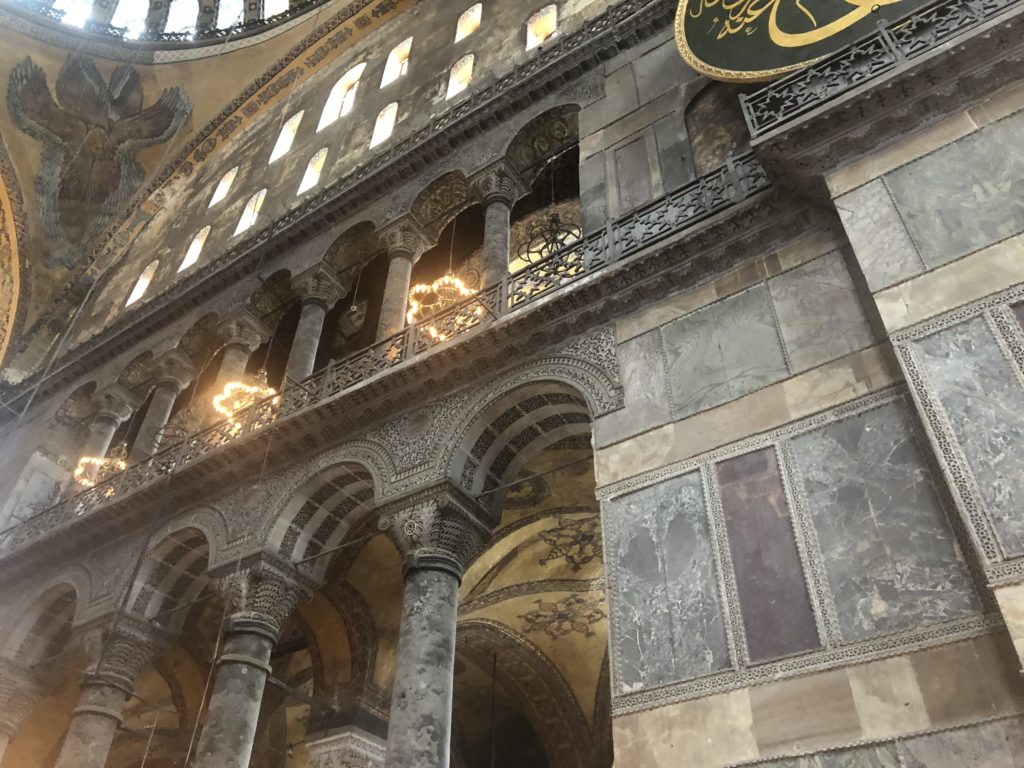 Also, don't miss the Basilica Cistern, particularly if you're a Dan Brown fan and you enjoyed "Origin." It's definitely the most fascinated you'll ever be by a water-storage system, not that there's much competition. I'm underselling it, but that's okay, just trust me.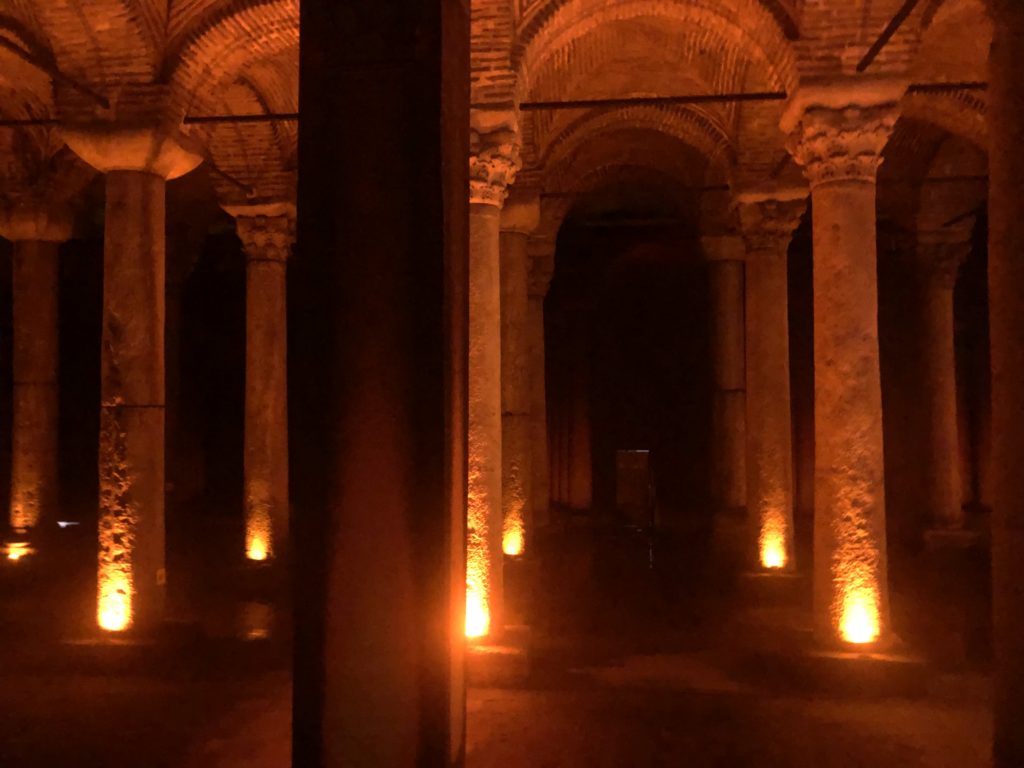 Day 2
Since I was a child I dreamt of visiting the Grand Bazaar – more than 4,000 shops occupying 61 streets. It did not disappoint. Get lost in this place and don't come out until you've had your fill of Turkish Delight (a tasty sweet delicacy), ornate hand-loomed rugs, and any number of other wonders.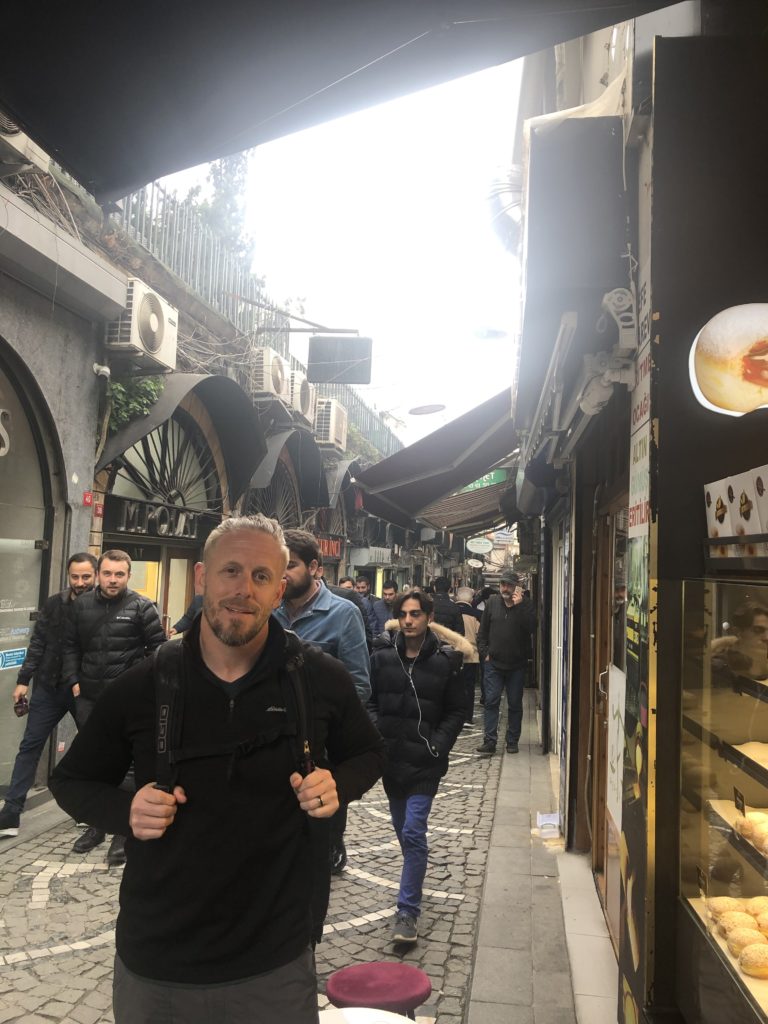 Top this day off with a visit to the Blue Mosque, another iconic landmark.
Day 3
Wander the cobbled path of Isitikal Street to Galata Tower and then onto Galata Bridge. Getting to the bridge isn't so much about seeing it, as it is seeing the city from there as a vantage point.
Day 4
You've seen the marvels of the Grand Bazaar, now make your way to the Spice Bazaar. Close your eyes and experience it purely with your nose. Imagine that visitors to this city have been doing the same thing for thousands of years.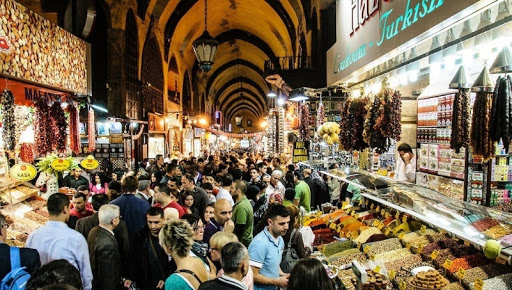 Later that night, see the spiritual ritual at the Hodjapasha Cultural Center.
Day 5
This is as much a dare as it is a suggestion. I dare you to take on the experience of having a Turkish Bath. Although, I'm not sure they are doing these during COVID 19-21+ because it is likely one of the most intimate things I have ever done and certainly the most intimate I have ever been with another man. Basically they get you naked and sweating under intense heat, and then they proceed to beat the living hell out of you. It's literally like UFC but there's no tapping out. Tap all you want, but the big hairy guy will not stop twisting you and beating you into submission. The honest truth is that you will feel amazing after it's over, but give yourself a day to recover.
Day 6
The reason that Byzantium/Constantinople/Istanbul has become what it is today is of course because of its strategic location on the Bosphorus strait, between the Mediterranean (or technically the Sea of Marmara) and the Black Sea. Today you should take a cruise and see the seas as well as the Beylerbeyi Palace.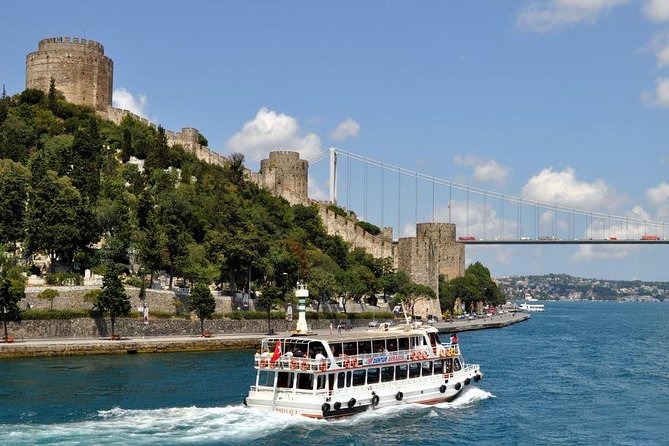 Day 7
Let's make this day all about food. By now you will likely have your favorites and they will be many. When a place becomes such an intersection of varying cultures, it has a way of propagating the best combinations of each in the form of a most delicious array of options – pastries, meats, spicy-soupy vegetable concoctions, seafoods, and more. Take it all in without regrets.
Well, there you have it – an amazing deal on a rewarding business credit card, and three great ways to use the bonus to maximum effect. Enjoy!