As our faithful readers will recall, I recently made a trip out to Atlanta with my seven year-old son to see Boise State take on Ole Miss in the Chick-Fil-A kickoff game. We had a great time and we took in far more than just the football game.  We were in town for three nights, so we wanted to see as much as we could while we were there.
In researching some of the activities, it became clear that two major highlights were the Georgia Aquarium and the World of Coca Cola. It also became clear that the most cost-effective way to do these things was to get the Altanta CityPass booklet, a combination ticket to some of Atlanta's greatest tourist destinations. For something like $133 for an adult and a child pass, I could get access to something like 7 different locations for a total of double that value.
Georgia Aquarium
Our first stop was the Georgia Aquarium, which is one of those things that is so highly promoted we could only expect that actually going would be a let down, but it was far from it.  The CityPass also includes access to the dolphin show, which happened to be starting just as we walked in. Somehow they've masterfully combined broadway theatrics with Seaworld marine acrobatics in a show that really impressed us. In the middle of it, I had to FaceTime my wife (who, like most girls at one point in their lives, dreamed of being a marine biologist). We didn't want it to end, but when it did, we found that the rest of the aquarium was just as intriguing.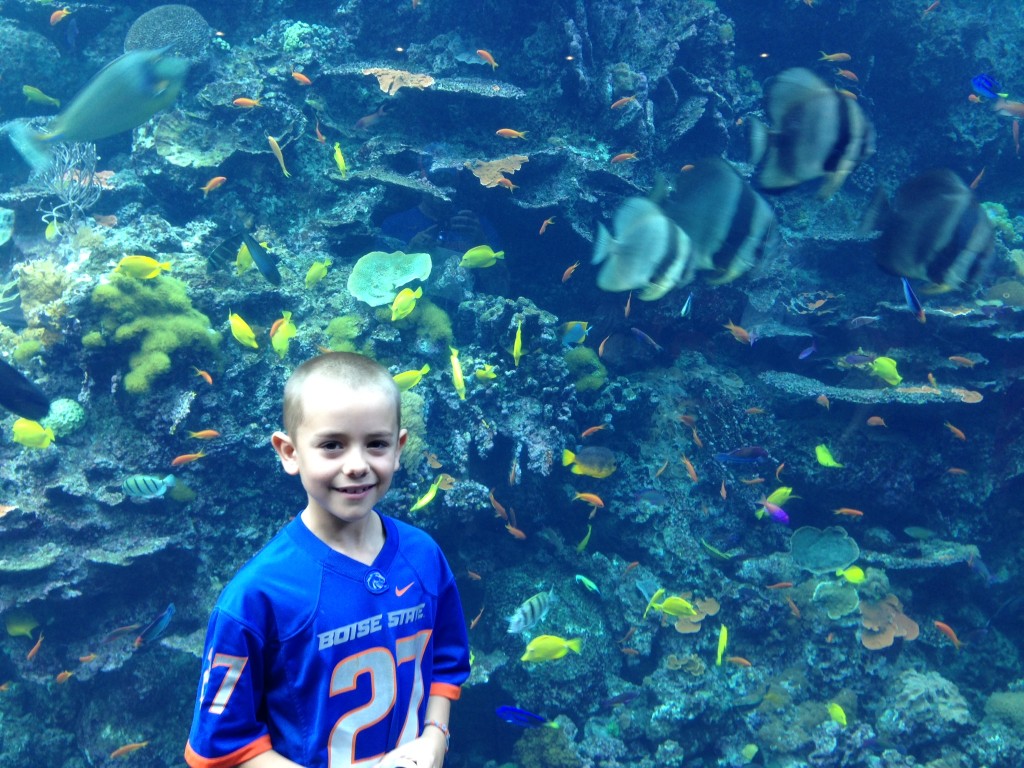 The second great attraction was the 6.3 million saltwater tank which you can see from every angle imaginable, including from inside a tube. There are no fewer than three whale sharks, some enormous manta rays, a variety of sharks, and various other creatures that captivated us for a solid hour.
The rest of the aquarium includes a pair of beluga whales, some stunning jellyfish, seahorses, eels, and countless other unique wildlife. This was an experience you just wouldn't expect to find in a city so far inland, but it was a treat and Miles and I would have been satisfied even if that were our only destination.
The World of Coca Cola
There are few who indulge in the marvelous creation that is the carbonated beverage as much as I do. And while Coke isn't usually my particular attraction, I am one who can appreciate each and every concoction for what it is. But even if I weren't, the story that is told at the World of Coca Cola is one that anyone will enjoy.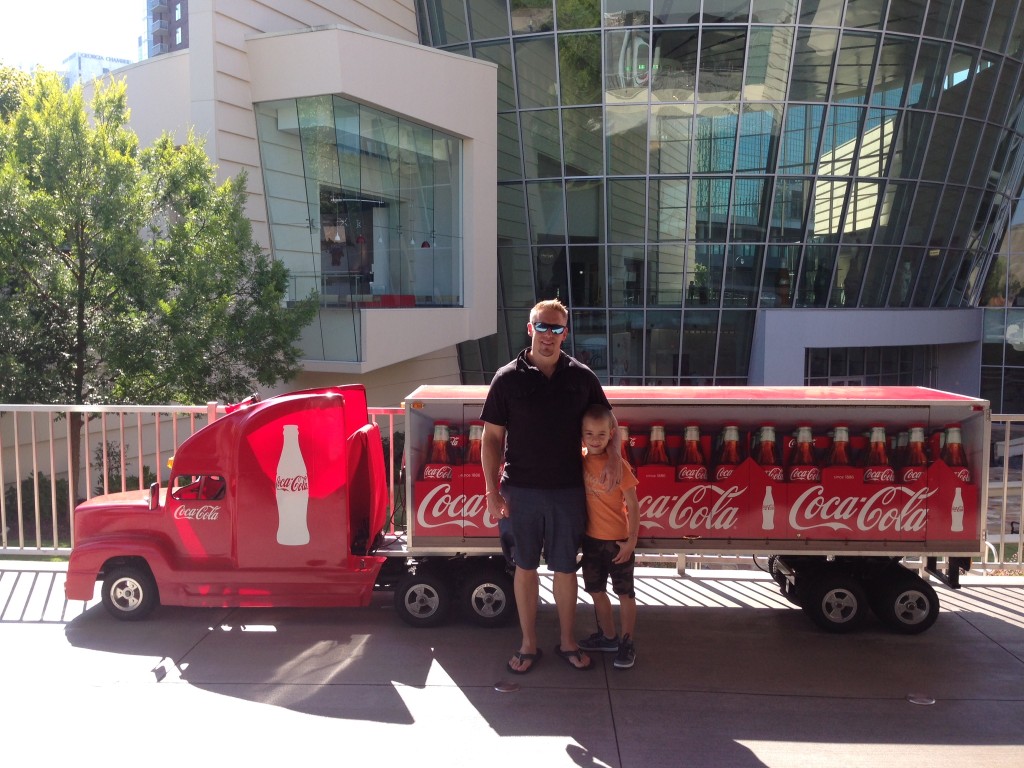 The entire museum is centered around the idea that Pemberton's original secret is the best-kept secret in the history of the world, and it's housed right there in a vault that visitors can see but not touch.
You learn all about the history of the beverage, including its incredible marketing over the years, which is probably unmatched by any other brand. You see the bottling process in action. And finally, you have a chance to taste an incomparable variety of carbonated beverages which Coke distributes all over the world.
Miles and I spent at least an hour sampling dozens of sweet syrups from every region of the world… and as it happened, my favorite and my least favorite were right next to each other on the European dispenser.  The Mezzo Mix is distributed in Germany, and tastes divine, while the Beverly is distributed in Italy and tastes downright rotten.
When you leave the museum, you're given a bottle of the very same Coca Cola Classic you had just watched beingmixed, poured, and capped – a tasty souvenier.
The Atlanta History Center
Atlanta is replete with history, from being a major center if not the birthplace of modern golf, to being an integral part of the civil rights movement, you'll see it all at the Atlanta History Center. We enjoyed the display on the Atlanta Summer Olympics, as well as the Smith Family Farm, which depicted life in the 1800s, but neither was as intriguing as the Swan House, which belonged to a cotton magnate who moved out of the city after the Great Depression, and built a spectacular home.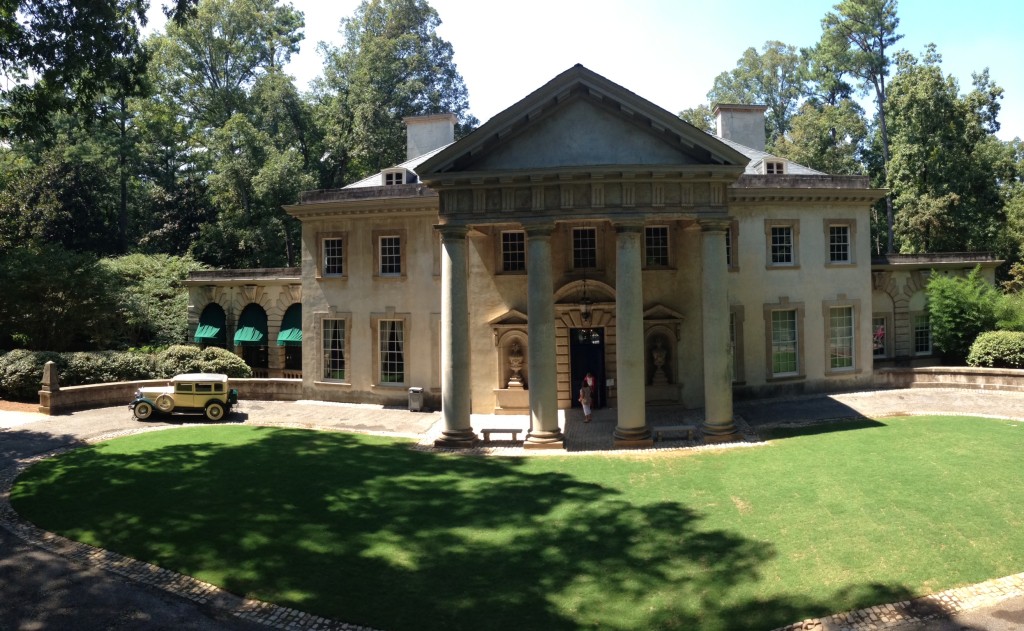 You may recognize the fascade from the movie "The Hunger Games: Catching Fire," as it was illuminated with bright colors to be the home of President Snow, and the office which served as exactly that in the movie. Every corner of this home was impressive to look at and we really felt like we were living in the 1930s as we went from room to room.
(Note that with the CityPass, you could also swap this out for Zoo Atlanta).
The Fernbank Museum of Natural History
Once we had our fill of Atlanta's more modern history, we went to the Fernbank Museum, which is really a combination of a cultural, science, and natural history.  We started with the IMAX movie (which was also a perk included with the CityPass).  The movie was about Lemurs and kept us captivated for every moment with the story of the lemurs in Madagascar.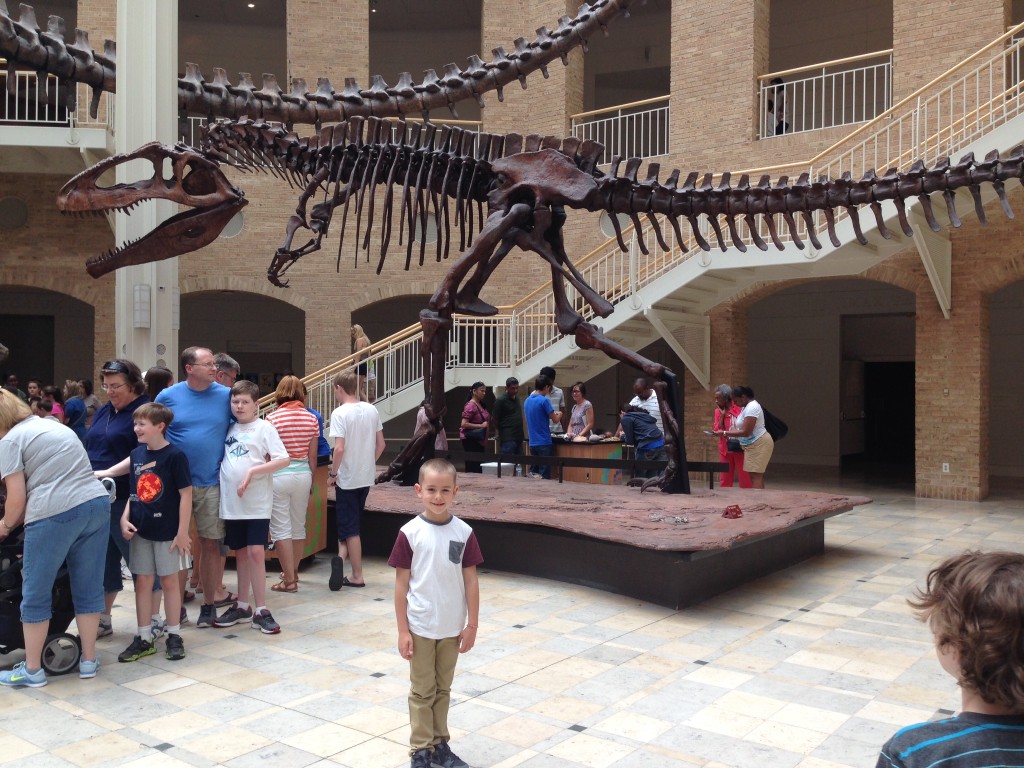 Once we finished there, we entered the foyer where a pair of massive dinosaur skeletons rise far above visitors heads. Through many other rooms we learned about everything from local geology to mysteries of science, and even participated in a number of hands-on activities like a plasma nebula ball.
CNN Studio Tour
For all my coaxing and manipulation, I couldn't convince my seven year old to get excited about the idea of touring a news studio. I couldn't really blame him, so we didn't make this happen, but we did hear many others offer rave reviews about the experience.
These tours are scheduled, so you do have to call or at least have a plan for getting there when a tour takes place, which is generally on the hour.  You get to see the news channel in full operation and get a much better understanding of how producing these shows works.
Where Else Can You Use CityPass?
We've used the CityPass in San Francisco as well, and visited some of the sights on the Boston, Southern California, and Toronto passes, but there are many cities where you can take advantage of the great value and pre-programed itinerary of the CityPass:
Boston
Chicago
Houston
New York
Philadelphia
San Francisco
Seattle
Southern California
Tampa Bay
Toronto
For more details you can visit http://www.citypass.com/ – This is not a sponsored post and we are only sharing this because it suits our objective of providing ways that you can travel more for less.
Where have you used CityPass? What was your experience like?  We'd love to have you share your thoughts in the comments.