One of our long-time WW followers asked us to put together a Costa Rica Itinerary for him.  Planning something like that sounded like way more fun than everything else I'm supposed to be doing, so here I am, dedicating my Sunday evening to someone else's wanderlust (and daydreaming of my next trip to CR).
We love the freedom that having your own vehicle provides, and that's especially handy in Costa Rica, where it's common to be driving along and find a tree full of monkeys, crocodiles under a bridge, or a roadside stand with the most enormous strawberries you've ever set eyes on.  I have used Avis (booked through Expedia.com) and 4x4RentACar.
It's not an absolute must to have a 4×4 as the roads in CR are way better than they used to be, but it may come in handy, particularly if you're going to some of the more remote areas that we are of course recommending.
Many of the flights coming into SJO come in late, so you'll want to spend that first night somewhere close to the airport in Alajuela.  The budget approach would be to stay at Hotel Pacande, or a slightly more expensive option is the Hotel Aeropuerto.  Just, whatever you do, don't stay in the city of San Jose.  It's further away and ends up backtracking where you're headed.
Now, the next morning you'll load up and head out.  Here's the full driving itinerary for all .
By about 10am you'll make it to the La Paz Waterfall Garden.  This is effectively a zoo, but not your typical zoo.  Much more of a hands-on experience.  There are beautiful waterfalls, gobs of hummingbirds, an enormous aviary with some breathtakingly beautiful birds and much more.
Driving from there to La Fortuna will take some time, but do it leisurely.  Stop in little towns along the way and at scenic overlooks.  Costa Rica is beautiful from the road so don't think of it as transportation, think of it as touring.
If you really want to splurge in La Fortuna, book at least one night at Tabacon Hot Springs. The setting there is like something out of a fantasy novel.  If you're on the cheap, there are plenty of places there that can meet that need for you.
The next day you can make your way to La Fortuna Waterfall.  You'll descend 471 steps to an incredible waterfall you can feel free to swim in.  It's a great way to cool off before the obligatory climb out.
There are many fun shops to visit in La Fortuna as well.  Find your way to a local "soda" (local restaurant serving typical food – "comida tipica.") Don't be surprised when you're sharing restaurant space with an iguana or something of the like.
You'll also want to see if you can get a good look at Arenal Volcano – what used to be an active volcano until a few years ago. Maybe plan a little hike or just spend some time exploring the national park there.
Stay another night in La Fortuna so that you can get up early the next morning and start heading towards Monteverde.
The road to Monteverde can be quite nasty and you gain a lot of altitude.  That makes sense when you realize that Monteverde is not only the continental divide, it's also a cloud forest.
This is the perfect place to stay in an awesome local lodging like this farm house on Airbnb. At $145/night, split between two couples this place is a bargain and makes for a destination unto its own.
But before you go and spend the whole day there, get out and see what there is to do in Monteverde – hanging bridges, ziplines, massive mahogany trees, all kinds of animal life.  You are going to love this because it's one very few places in the world where such incredible old growth forest still remains.
The next morning, find another soda and enjoy the costa rica version of breakfast – gallo pinto, a rice and bean mixture that's served alongside eggs.  Dee-lish!
You'll head south towards Puntarenas, where you get along the coast. Again, take your time driving and enjoy the scenery.  You'll come to a point where you cross the River Tarcoles on a bridge and you'll notice that many cars are pulled over to the side of the road.
Costa Rican kids will be trying to sell you stuffed crocodiles and promise to watch your car in exchange for a few bucks while you go lean over and look down on the army of crocodiles which patrol the river below the bridge.  It's an eerie feeling to look down and see dozens of them.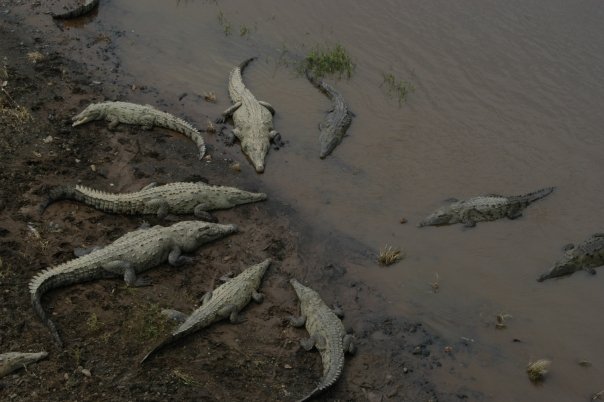 Keep going once you've had your fill and find a place to stay in closer to Manuel Antonio rather than Quepos.
The next day you can spend the better part of the day at Manuel Antonio National Park.  This place is a veritable wilderness and wildlife wonderland. Beautiful beaches, several species of monkeys, snakes, and so much more.  Hike to lookouts and hidden coves, bring in lunch for a picnic at an amazing overview.
Before dark, get back to the car and keep making your way south towards Dominical.  Again, you could find a cheap little hotel, but I'm just so high on these amazing little places on Airbnb.  How can you pass up a place with this much character?  And for $105/night? Lets do 2 nights!
Dominical is a chill little surfer town.  Here you can try to surf in some relatively tame waves, enjoy the hippy vibe, and use it as a homebase to explore.
Nearby is one of my favorite beaches – Playa Ventanas, where tunnels cut through the rock outcropping are pounded by waves and the tide.
You'll also want to hike up to Nauyaca waterfall and find the hidden away Pozo Azul swimming hole. Drive to the top of the pass and have dinner at the El Mirador near Tinamaste – one of the best meals I've ever had… so good, I had it twice in the same night.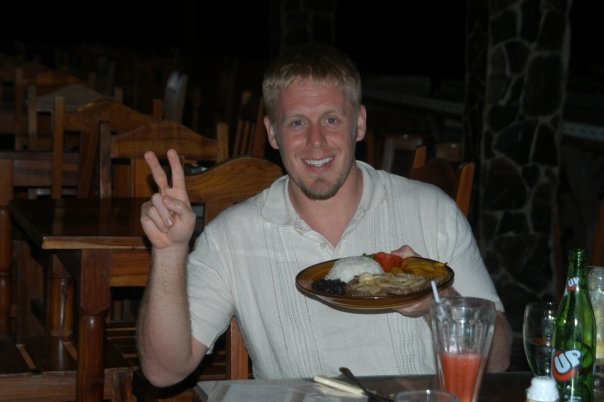 Those activities should keep you plenty busy before you have to make your way back to Alajuela for departure.
***WorldWanderlusting pro-tip: Make your stays at Airbnb properties totally free by reimbursing yourself with the 40,000 points you get from the Barclaycard Arrival Plus World Elite Mastercard. That's more than $400 in free travel after spending $3000 in the first 90 days of having the card.