One of our most popular posts with you who thirst for worldwide adventure was our outline of a unique experience that few have had the opportunity to enjoy – a week in the Dominican Tree House Village - a jungle wonderland where you can have the thrill of being deep in the rainforest without sacrificing cleanliness, comfort, or good food.
Now we're excited to bring to you an offer that will get you prioritizing your vacation planning process and locking down some flights to the Dominican Republic as soon as possible.  Here it is, plain and simple: 3 nights for two in a private tree house cabana with breakfast and dinner included along with non-alcoholic drinks.  Also included is your choice of one of the standard tour activities for the two of you and a 40-minute couples massage. The standard price on this package is $800, but in this WorldWanderlusting exclusive we can offer it for only $600 (including all taxes and fees) when you put down your $100 deposit before November 15th. (This offer is subject to availability and dates will fill up fast). The remaining $500 will be paid on site.
This slideshow requires JavaScript.
I just have to reiterate that the experience you'll have here is really one of a kind.  The property itself is awe-inspiring and the setting is really unmatched.  The staff treats its guests with such class and courteousness, you'll find yourself wondering if you're at the Ritz Carlton.
How do we book it?
The good news is that you don't have to have your dates selected right away – you can figure that out over the next couple of months – but you do need to put your $100 deposit down before November 15th. If you decide it's not going to work for you, this deposit is refundable less the 4% PayPal fee, so you're only putting $4 at risk by locking down this offer right now.
The only way to get this offer is to book it via WorldWanderlusting on this post, with this button, via PayPal.
DOMINICAN TREEHOUSE VILLAGE                                                         3-NIGHT, 2-PERSON PACKAGE FOR $600                                                                             $100 DEPOSIT, PAY $500 ON SITE

What else can we do while we're there?
As I mentioned, your package includes one of these standard tour activities, and you'll probably want to take in at least one other while you're there.
Samana Zipline – Walk the plank from the shipwreck atop the hill to begin this awesome 14-platform zipline tour that takes you down the gorge above the village at speeds of up to 40 mph. Normally $75/pp
Dune Buggy Excursion – Climb onboard a dune buggy to see Samana in a most-adventuresome way. This tour will last 4 hours and take you to some of the area's highlights. Normally $75/pp
Whale Watching/Sail Bay Snorkel Trip – Hopefully you're here while the Humpback whales are and we can take you to get up close and personal with them. Afterward you'll enjoy snorkeling the reef of Sail Bay. Normally $75/pp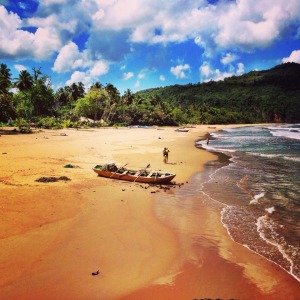 Horseback Ride to El Limon Waterfall – One look at El Limon and you'll be enthralled. This may be the waterfall highlight of the island if not the Caribbean and we'll take you right to it. Normally $75/pp
Beyond these activities, there are so many things to do, much of which is free or very inexpensive.  El Valle beach is just a few minutes away and it's the kind of gorgeous lonely beach you could spend an entire day on.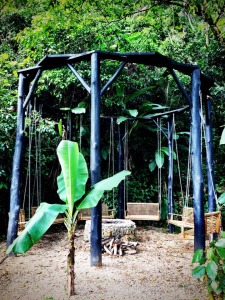 The village has an enormous eco-lodge, a yoga studio, social swings, and hanging beds for movies in the jungle. You could spend hours just touring the grounds themselves where there are an abundance of flowers, fruits, and so much plant and animal life.  In the heat of the afternoon, you can take a dip in the nearby waterfall, and swing on the rope swing if you're feeling adventurous.
And it may not hurt to just spend some time reading in a hammock and enjoying the setting… the bottom line is you will not hurt for things to do.
What else should we see in the Dominican Republic?
Would you believe that we've posted about this before? Check out this post on what else to see in the DR.
Can you show us how to get our flights almost-free?
We were wondering when you'd ask.  We wouldn't be WorldWanderlusting if we didn't do that. You may remember that we've often promoted the The US Airways Premier World MasterCard® .  We're being a little more aggressive in pushing this offer because there's a sense that it won't be around for long as US Airways is in the process of merging with American Airlines.
We love it because it's not one of these offers that require you to spend a whole bunch of money on the card.  You actually qualify for your bonus miles after making the very first purchase… and they're not shy with the bonus miles, either… they give you 40k of them!
As you can see from the US Airways mileage redemption chart, 40k should be able to get you to the Caribbean – especially considering that having the card gets you a 5k point discount on redemptions, so if both you and your spouse or your travel partner apply, you'll be ready to go.  Now, here's the catch… you do have to pay the $89 fee and for the taxes on your flight… so you may be into your flights about $150… now that's not bad considering that they'd normally cost at least $600, but I just want you to be aware.
Apply for the The US Airways Premier World MasterCard® and start planning your trip right away.