This is another guest post from Jared, who has been wanderlusting with us for more than two years now. He fulfilled his wife's life-long dream to travel to Italy, and despite some trouble with the trains, had a memorable adventure. Enjoy!
Well, another successful "almost free" trip completed thanks to the tips from the WorldWanderlusting.com. Again, I believe it's the only thing in life I have come across that sounds too good to be true but is true! It is allowing me and my family to accomplish some of our dreams that either I never thought I would accomplish, or I thought I would have to wait until I'm 65 years old and hoping I would have the health to travel.
My last trip was a father/son adventure to Colombia. This time it was my wife's choice where to "wander" next. She has always wanted to go to Italy and I somehow was willing to go along with the idea 😉 We started by using the Citi AAdvantage cards which took care of our round trip airfare (minus taxes). We arrived in Venice and this began the "ahh" of the amazing architecture and beauty that Italy has to offer, not to mention the divine food that was to be had.
We found that each major city that we visited had its own unique architecture with its own distinct look.  Whether it was Venice, Florence, Pisa, Cinque Terre, Genoa or Milan. Its so hard to say which was our favorite as they were all beautiful and had fantastic landscapes and sites to visit. All these places left an unforgettable impression that will last forever.
You haven't experienced Venice until you get lost, literally, in the beautiful maze of streets and canals.  Our favorite was a little shop where we met an old glass blower and purchased his handmade gifts for family.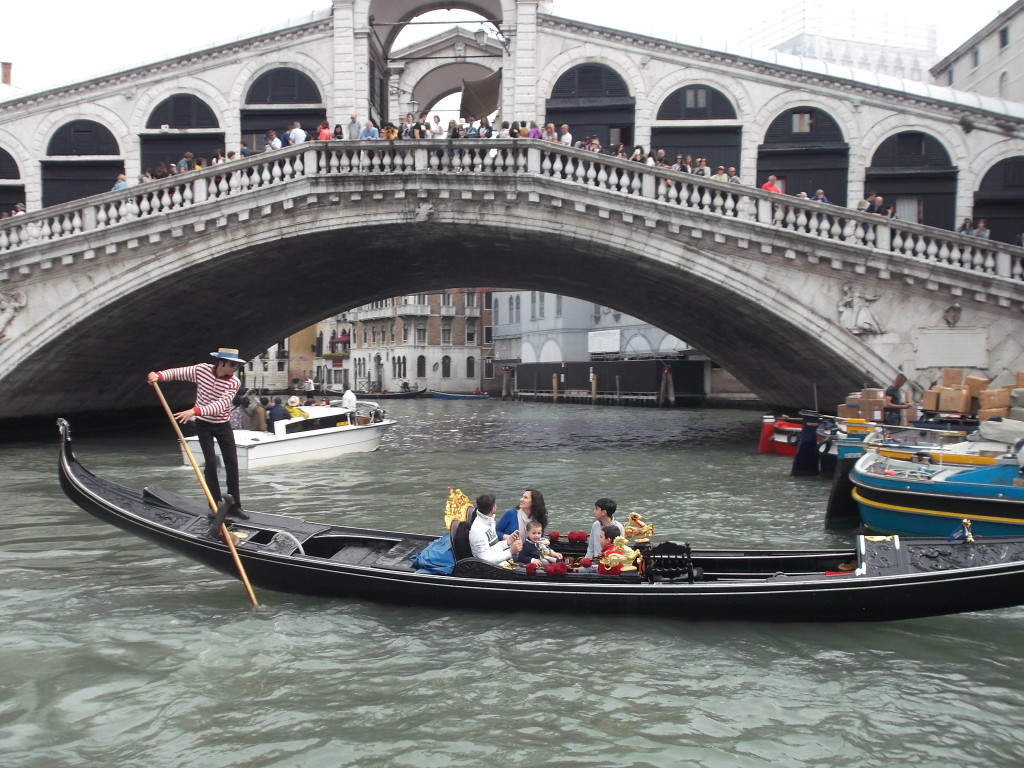 We didn't have a lot of time in Florence but the Duomo was beyond description and we loved the live orchestra playing in Palazzo Vecchio.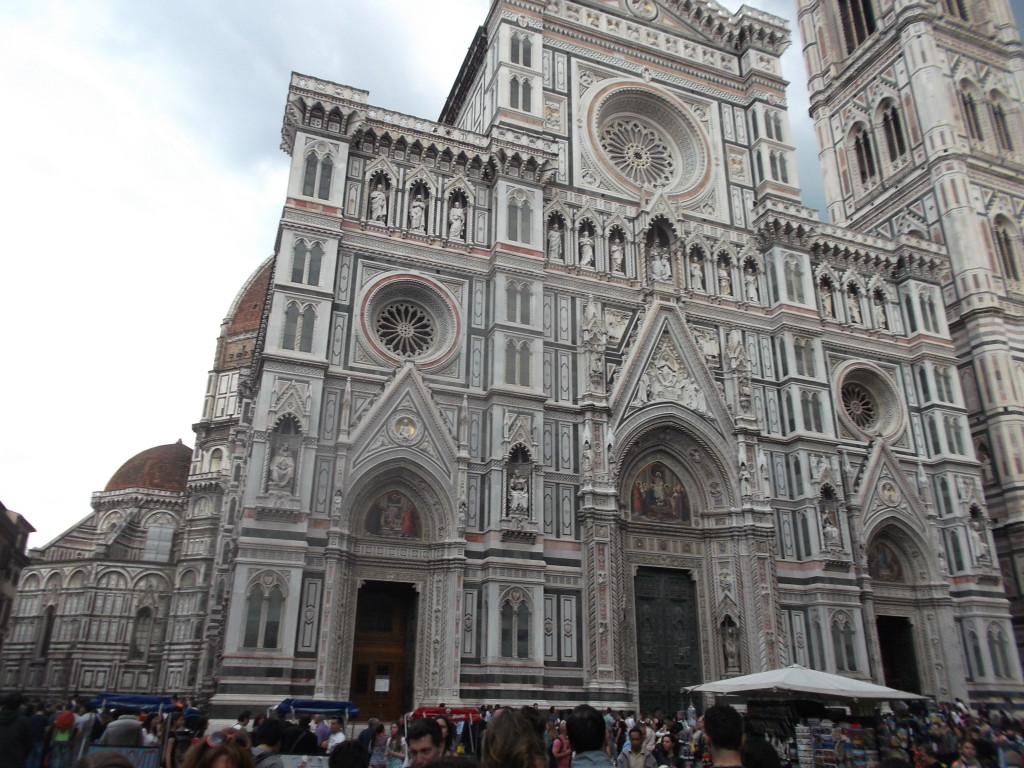 Pisa was a pretty city worth a quick stop to see the famous leaning tower.  When we arrived in the beautiful coastal towns of Cinque Terre we were amazed again at the change of scenery.  Each colorful town had it's own personality and the view of the Mediterranean was breathtaking! It would be worth the cost to stay at a B&B to fully experience the fantasy like setting.
Genoa was a nice city that we used as a stopover on our way to Milan.  We were able to wander through a beautiful area while looking for a meetinghouse of our church and were privileged to meet amazingly kind and welcoming people when we attended church in Genoa.
Our last stop, was the modern/historic city of Milan.  It was amazing to stand in a 700 year old plaza with a the largest cathedral in Italy and then a few steps away be in the Galleria Vittorio,one of the world's oldest shopping malls with some of the most modern and prestigious shops in the world.  Our favorite meal of the trip was at the Caffe Skorzesco in Milan.  The atmosphere, food, and staff were all we dreamed Italy would be.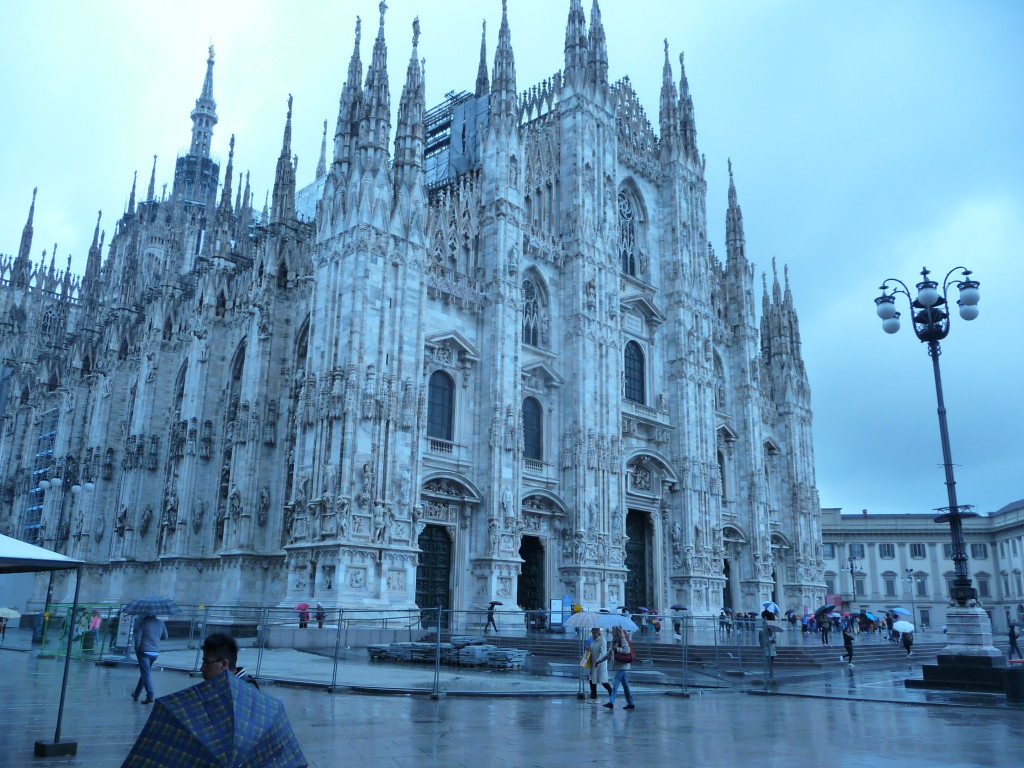 We debated on whether or not to rent a car or "live like the locals" and use the trains and buses for transportation.  Ultimately, we decided to go for the whole experience and take the trains and buses, which proved to be a bit tricky at times.  We didn't meet any bus drivers who spoke English so until we got the hang of the bus system we relied on the kind young people of Italy to help us make sure to get off at the right stop.  (We found the young people were more likely to speak English and were more willing to converse with us.) 
We learned we could buy a ticket on the bus but it was best to buy them at the hotel if possible because of the communication problem and they cost less. The buses were surprisingly quick getting from place to place because they have designated bus lanes so they can avoid the traffic. 
The train system is very organized and after a couple rides we were able to figure out how to read the schedules.  We were able to experience almost the whole variety of trains on our trip, from the fast passenger trains to the regional trains that stopped at every stop in every city.  In the beginning of our trip we were able to catch any train we wanted at pretty regular intervals but in Genoa we ran into trouble. 
We planned to fly from Milan to Munich, Germany and spend some time there, but when we arrived at the train station we were told all the trains were full for that day and the next.  Luckily we knew about the regional trains because we had taken some earlier in our trip.  We asked for tickets on the regional train and were told there were some but it would be a much longer trip.  We knew we had already missed any chance of making our flight but wanted to move on with our trip so we purchased the tickets.  When we finally boarded the train with all our luggage in tow we and hundreds of other passengers found there were no seats left in any car and stood for most of the 2 1/2 hour trip!  At the time we were frustrated and tired but now we can look back on it as another life experience and other than that experience we're glad we chose that mode of transportation.  
The one thing we learned that we would pass along to others is, if you for sure have to be somewhere at a specific time (ie catching a flight) make sure you book the train prior to your trip, because if it happens to be a holiday the trains get crowded and you may be out of luck.
All of our lodging was covered either by our Marriott Rewards Card or the Starwood Preferred Guest Card. Although all of our stays with these two chains were great, the Sheraton in Milan went above and beyond to take care of us.  They were very helpful switching our reservation from Munich to Milan without a charge.  We had upgraded to have our breakfast included for an extra 2000 points and were happy to find this included free access to the "Club Room" which included all types of beverages, breads, cheeses, sushi, snacks of all sorts, 3 different times during the day/night.  They surprised us by upgrading our room to a Jr. Suite (maybe because of the sad story that we couldn't get a train earlier that day so in turn we missed our flight to Germany). We were treated to trays of fruit, chocolates and bottles of mineral water in our room.  This was a great way to to finish off our last two days in Italy and it helped dampen our disappointment of not making it to Germany.
Needless to say we love the Starwood Card! We love World Wanderlusting and give props to the Christensen brothers for making it all possible. Happy travels!
If you've been wanderlusting with us too and you'd like to share your story about how you've pulled off some incredible almost-free travel, please email your guest post (500-1500 words) and photos to worldwanderlusting@gmail.com and we'll reward you with a $25 giftcard!