Your palms start to sweat. You get a little knot in your stomach. You are positively exhilarated, but you're also nervous. No, it's not love at first sight, it's finding that 40k American AAdvantage award ticket on dates that work for you… and you've never been happier.
You rush through the booking process, anxious to get the tickets locked down – or on American's beautiful "on hold" status at the very least.  Then, it happens… like a cold, wet towel, an ugly reality extinguishes your fire – monstrous surcharges push the ancillary costs of each ticket over $400. All of the sudden your hopes and dreams are dashed and you're left feeling abused… maybe this is like your love life.
$950 for two tickets to Milan? Gag!  That's like what you used to pay before you became a WorldWanderluster.  You worked hard for those points – and the hope was that they'd save you some serious money.  Sure these are $1300 tickets, but if we were in the market to actually pay money for tickets, we'd be on Expedia.com, not WorldWanderlusting.com.
Wait, now before you turn on your perma-frown and kick your dog, I want to give you some hope.  There's a chance we can still make this happen for you.  The problem with what you have so far is that there is an evil villain lurking within your itinerary. It comes in the unlikely form of British Airways.  Yes, that's right, it's the mother country's airline that's trying to bleed you dry with mega fuel-surcharges.
How to Book a 40k American AAdvantage Award Ticket to Europe Without Enormous Surcharges
Don't pout and set fire to things, just follow this simple step in your American AAdvantage Award ticket searches to help you book to Europe for incredible value… ready?
Yep.  It's really that easy.  That's where the gouging is coming from. Let me show you.  When you first searched for a flight to Milan (or any other European hub for that matter), British Airways flights floated to the top.  Any time you get the 20k each way redemption level, BA flights abound, so the odds are that your flight included at least a leg or two on American's English partner.
Sure the times are relatively convenient, but what's not convenient is the severe blow to your wallet – $950 is more than we WorldWanderlusters even pay for an entire vacation, much less for a couple of flights!
Now, just do yourself the favor of unchecking British Airways and it might take away some availability, but it will also take away that shameless affront on your Benjamins. Grant yourself some flexibility in timing your flights and you'll save more than just a couple bucks.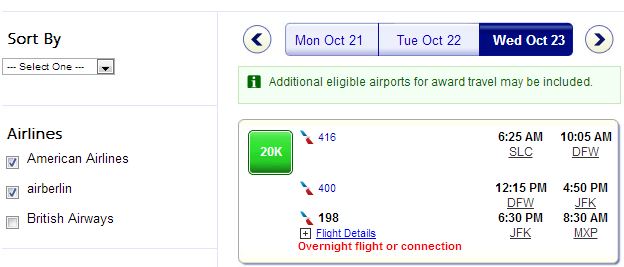 The result is one that I know you'll like.  You'll like it because we are after the same thing – lots of travel for not much money.  That's why we write this blog and why you read it. I love free travel so much that it's 12:57am and instead of sleeping, I'm showing you how you can get in on the action, too.
The net cost for this flight is a little over $70 a ticket – that's a fraction of a fraction of what you'd expect to pay – now that's WorldWanderlusting! We hope this is helpful and please let us know in the comments if you know of any more tips or tricks.
Now, if you've read through this entire post and you now find yourself wondering – How can I get ahold of 40k AA miles and start booking my own trip to Europe?


Powered By Credit Karma

You can also look at our Free Travel Credit Cards page for more links that we update often.