People ask me all the time "How do you manage your points & miles?" There are really a couple of ways to do this. More than likely the first is going to be a better option for you, but maybe you're crazy like me and the second one will apply.
Sign Up for Award Wallet
The service provided by AwardWallet.com is the simplest way to manage most of your points & miles.  It's basically an aggregator that takes your username and password, logs into all of your accounts at once and updates all of the information at once.
You've got too much to worry about, and not enough time to be logging into your frequent flier accounts to manage your points & miles with every company.  With work, a house, family, and other obligations more than likely your life is too busy and you'll find this service to be extremely useful.
The registration is easy, you'll just need to assign yourself a username and a password that you'll use to log in and check your balances.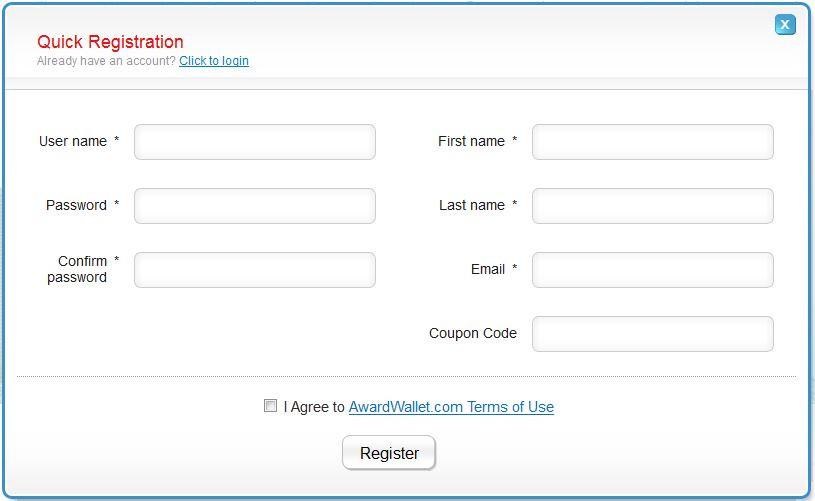 Once you've registered for the service you'll need to have all of your points & miles account numbers, passwords, and log in information.  You'll input this information into their system that allows them to go and screen scrape all of the information regarding your various points & miles accounts with Club Carlson, Hilton, Marriott, US Airways, etc.
Here's a quick shot of what you'll see once it has populated most of the information for your airline points. I've deleted my information, but it will also have your username, password, and account number in the blank column below.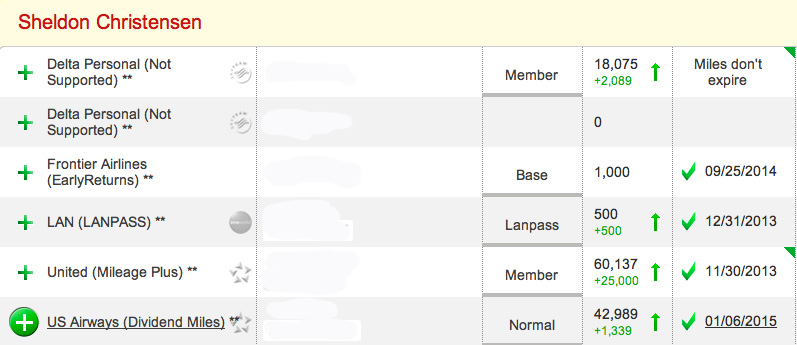 It's sweet because they will also tell you when the points will expire if you don't either earn or burn a few points.  It looks like I've got to do something with my United miles before the end of November or they'll go to waste.  You know I won't let that happen.
The view of the hotel points is basically the same.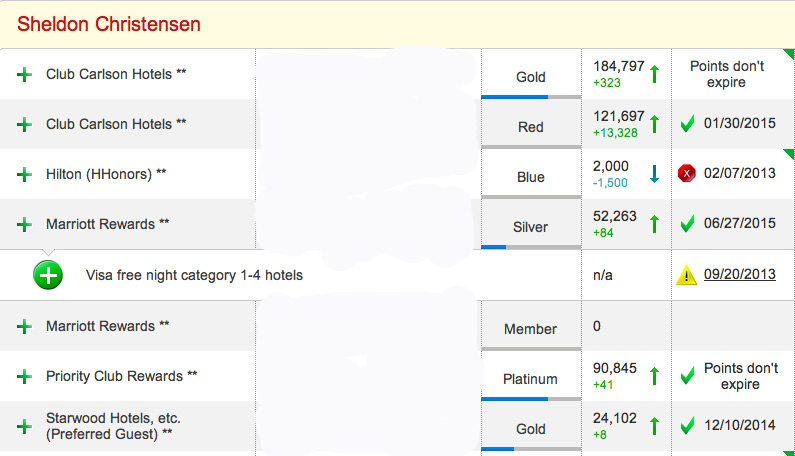 I know you're going to get after me for not using some of these points.  They're just devaluing as time ticks on and I've got to work on using them.
Here is an AwardWallet coupon that will give you six months of premium service. Their iPhone app is another great service that they offer. It gives you access to all of your account numbers in a moment's notice.
Will Award Wallet allow me to track all programs?
This is a big bummer about the services from Award Wallet.  Most US airlines don't allow their services to be tracked by Award Wallet, probably because they don't want you checking your balance and they want the points to expire instead of having you use them on your next vacation.
You won't be able to track Delta, Southwest, American, or United by using this service.  However, Daraius taught me that if you forward your monthly statements to Award Wallet they will help you manage the points & miles that you have with those services.
Is Award Wallet Safe?
To be honest here I can't promise you complete safety.  I do notice that when logging into their service you do get the "https" at the beginning of the URL, which generally means that the site is secure.  Unfortunately this can't be guaranteed though.
Become Obsessed with Points & Miles
The next option is to memorize your account numbers, the amounts in each of them, and repeat them to others who ask.  One time someone asked Brad if he knew his wife's account number for American Airlines, then Delta.  He was able to rattle both of them off without thinking very hard.
When you're constantly logging in to book flights and hotels it'll be worth memorizing these account numbers.  Until then you should probably subscribe to the services of AwardWallet so you can keep better track of your points and miles.
Pick up another 40K American Airlines miles.


Powered By Credit Karma