Eiffel Tower, Champs Elysees, the Louvre, Arc de Triomphe, or the Notre Dame are favorites for most people who visit the capital of France.  This romantic destination abounds with sites that most people dream about throughout their entire lives.  They desires so badly to stand at the top of the Eiffel Tower, or to contemplate the Mona Lisa.  If they could simply do this, their life would be fulfilled.  My trip to Paris, however, included an unusual highlight of the trip.
1000 Fights' Advice
The Fighting Couple is a close friend of ours.  Their blog focuses primarily on couple travel and the fights that it causes.  Mike and Lucy are connoisseurs of unique travel ideas.  Their special skill is the ability to seek out the "road less traveled."
I called Mike before my trip in an effort to find one of these gems that would make my Parisian trip stand out.  Without hesitation he had a suggestion that fit within his speciality.  He told me that I was to visit a grave.  Wow.  Really? A grave, like a place where somebody's dead bones lay?  Umm.  Try again man.  How about something cool dude?  Little did I know that his suggestion would change my entire attitude toward the French people and love America more than ever before.
Visit a Grave?
I'm betting right now that 90% of you know who Marquis de Lafayette is. You've probably seen things named after Lafayette like towns, squares, and statues, but you're not sure why.  Did you know there are roughly 20 towns or counties in America named Lafayette?
So what makes this guy so cool?  Why is everything named after a guy that we don't even know?  I'm not sure, but I am happy to enlighten you about this remarkable man.
Marquis de Lafayette
Here is a Frenchman that was born with tons of money.  He was a high class citizen from birth.  One day he bumped into a recruiter that the USA had sent over to Europe to hire mercenaries that would fight for us.  In exchange for their knowledge we offered pay.
Lafayette wasn't interested in pay, but he was interested in fighting for America.  He decided to join the cause, so he purchased a boat that could take himself and the other recruits to America.  Because of his high class status these arrangements were all made in secret.  On his way out of town he dropped a letter in the mail to his father-in-law explaining his intentions.  By the time he set sail an urgent message arrived from his father-in-law requesting that he get his butt back in France.
Lafayette considered his options before finally deciding to turn back to reason with his father-in-law.  While he was enroute to the rezendvous point Lafayette made a final decision to abandon the meeting and return to the boat.  His pull to help America was too great.  Can you imagine the rage of your wife's father?  The funny thing is that he later rendered the support, money, and influence of his relatives later in the war (including his father-in-law).
He spent the next years of his life as a General in the cause of our independence from England.  At one point he was nearly killed by a bullet, and hadn't even fully healed when he returned to the battlefield.  He and General George Washington became best friends during their shoulder to shoulder service.  They were such great friends that Lafayette later named his third child George Washington Lafayette.
Because of his connections, he was able to bring great influence of the French, who actually recognized us as a nation prior to England granting us our independence.  He recruited the help of their Navy, and played a pivotal role in the final battle of Yorktown.  With the French Navy in the harbor, then being surrounded by Washington, Lafayette, and Rochambeau it forced Charles Cornwallis to surrender.
Without question this man had made a significant contribution to our Independence.  We arguably could not have prevailed were it not for his involvement in bringing the help of the French to our aid.  His selfless service allowed us to break away from England to for the United States of America.  This Frenchman is a hero.  We should honor his significant contribution toward our freedom.
After the war was over he returned to France, where he spent the majority of his life.  At a later age he decided to return to America.  He received a warm welcome wherever he went.  We hailed him as an American hero for his service.  He was pleased to see that we had named countless cities after him as well as squares, monuments, and statues.  He loved America, and we loved him.
One of his final tasks was to return to Bunker Hill, Massachusetts.  This location played a pivotal role early on in the war when George Washington was able to push the British out of Boston from this battle.  He took soil from this battleground that he brought home with him to France.  As his life drew to a close, he had instructed his son George Washington Lafayette to sprinkle the soil from Bunker Hill on his grave after his death.
Visit this grave and stand on American soil.  Know that he loved America enough to request that he be buried in our soil  Soil for which he spilled his own blood, and which has given us the blessings of living in America.
How to Find Marquis de Lafayette's Grave
This place is VERY unassuming.  Most of the residents who live in the area have NO idea that there is a cemetery nearby, so directions will be important to you.
The address is 35 Rue de Picpus.  It is located in the 12th arronidissement.  The place is located in front of a Renault dealership that looks like this: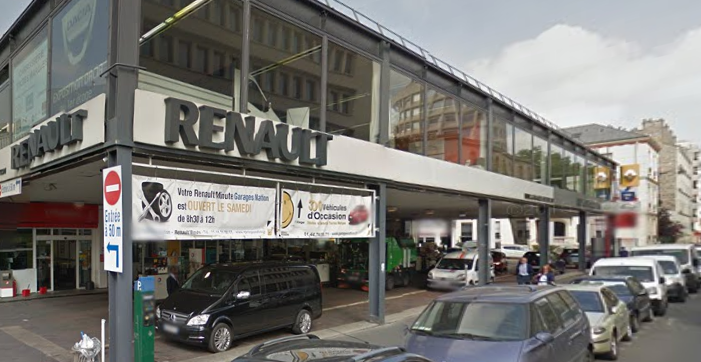 There is NO sign outside the door. You've just got to find the door with the address 35 Rue de Picpus. It looks like this: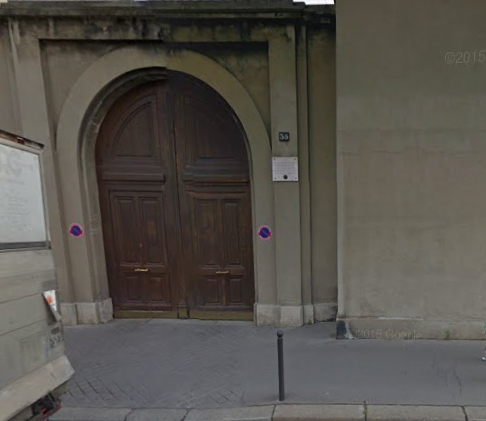 You have to push a button and they'll open the door for you.  This will bring you to a plaza that looks like this:
Upon entering the plaza, turn immediately to your right and knock on a door.  A man attended to us and charged 2 Euro each for an entrance fee to the cemetery.  He then directed us to the Blue Gate on the left hand side of the chapel, through which we entered a long park.  
Cruise back to the back right hand corner and you'll find the graves.  Look for the American Flag so you can visit Marquis for me.
Fun Thing to Do
I encourage you to bring a George Washington quarter from the year you were born to lay on the tomb of Marquis de Lafayette.  My wife and I did this, which really enhanced our experience.
Please.  Spend the time to make this trip.  It will be worth your time to pay homage to a man who has blessed your life immensely.  Thank you Marquis!