Here's a great story from an adventurous young couple that grasped the WorldWanderlusting vision and spent 7 days discovering the wonders of the Mayan Riviera. It just goes to show you that you need not wait until you're too old to adventure. Travel now!
From February 8th to February 15th, my wife, Emily, and I took a sweetheart trip down to the Mayan Riviera. We ordered the Frontier World MasterCard for both of us and the IHG® Rewards Club Select Credit Card under my name. After buying $500 in expenses on each of the Frontier cards (groceries, gas, etc.), and paying the $69 initial fee, we were both awarded 40,000.  We then spent $1,000 in 3 months using the IHG card and were reward 60,000 points. This was such an amazing experience and it seems so surreal that we actually did it. And we did it all for $848.82 (not including the cost for 2 passports). This $848.82 included the initial credit card cost, taxes on the flights, hotels/hostels, food, transportation, entertainment, and souvenirs: everything. Here's is how our expenses broke down:
Food: 1690 pesos. We only ate at a restaurant once. We ate at little taco cards, little vender shops, or just bought food from the grocery stores.
Transportation: 1624 pesos. We hate renting cars and we wanted to travel around like the locals. So, we took the bus everywhere and hardly ever saw tourist the entire time we were down there. At one point we both crammed into this little van, speeding around, and hoping we got off at the right site – a truly original experience.
Entertainment: 1750 pesos. This included visiting 3 cenotes, one of which we were able to jump into from up high, 2 visits to Pyramids (Chicchan Itza and Coba), bike rentals through the jungle, renting a scooter to drive around Islas Mujeres, buying snorkeling gear, and visiting the beautiful beach of Tulum and the ruins. We spent a lot of our time at the beach snorkeling with our own gear.
Souvenirs: 1182 pesos. Mostly clothes, candy, toys for our three boys, and little trinkets for our family.
Lodging: 650 pesos. Four of our nights were free using the IHG card. We stayed in Playa del Carmen. It was about a 10 minute walk to the beach each morning.
Total: 6,896 pesos
We pulled out $562.82 of American dollars and that covered all of the above.
So, $286 (cost of taxes, credit card initial fees) +562.82= 848.82. Oh, and did I mention? The only thing we brought with us was a backpack for each of us. Frontier gives a free check on bag on our return which we used for souvenirs.
With our passports, the cost was $1088.82.
Check out some of the pictures below to learn what we did down there:
The first thing we did, upon arriving there, was to walk to Puerto Juarez where we took a ferry to Islas Mujeres. We made it just in time to watch the sunset on the beach. This is a very laid back beach town. We stay in the Poc Na hostel for the night. 
We woke up the next morning and it was very peaceful. All we could hear was the sound of waves and tropical birds.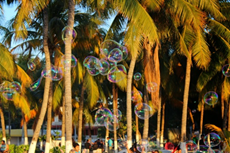 ​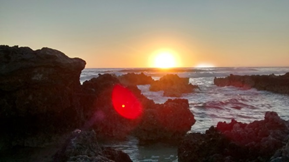 That next day we rented a Moped to cruise around on the island. It's so small that most people drive a moped or golf cart. Since it was our first time driving a moped, we had a blast seeing everything on the island.
That night we went back to Cancun and stayed in a much quieter hostel: Hostel Haina.  We then bought some groceries at Wal Mart and bought a tourist ticket to visit Chichen Itza for the next day (at first we thought we might be getting ripped off, but it was legit) Our tourist group left that next morning to Chichen Izta and then visited a cenote and a little Mayan town.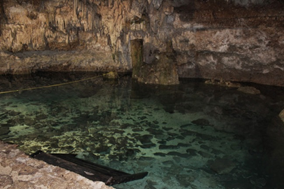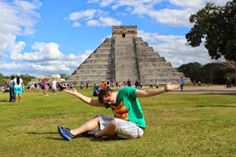 We were hoping to climb up the huge famous pyramid at chichen itza, but we found out that no one has been able to do that for 10 years.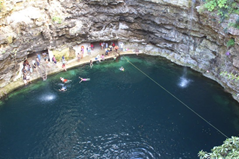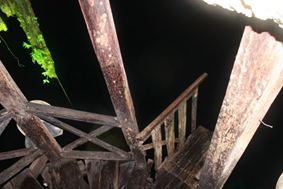 We loved swimming in the cenote. The best part was swimming to the middle and looking up at the rocks and vines and sky. They told us that the Cenote was 150ft deep!
We got back to Cancun at 9:30 then caught a bus to Playa Del Carmen.
The next two days were much more relaxing and less adventurous then the first two. It was nice to slow down. We went to the beach and used a snorkeling set that we bought at the grocery store. The water was so clear, and we were able to so blue fish and yellow fish and striped fish. We even saw a stingray hanging out at the bottom. We would have liked to go snorkeling but we just couldn't think of paying $60 for each of us. We liked the local food there and manly ate lunches of bread and fruit from the grocery store and then for dinner we would go to a small taco place or something. 
On Friday morning we got on the ADU bus and drove to Tulum.
When we got there, we walked the beaches until we found a cabana we could afford. Someone told us ask for a Fidel who lived down the beach. Just when we thought we weren't going to find him, we found the place and they had one ​more cabana left for 400 pesos (about 35 dollars, way better then the other $250 cabanas that we saw there.) This place felt like paradise!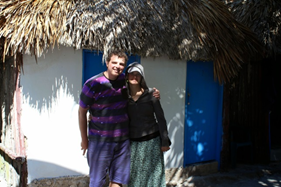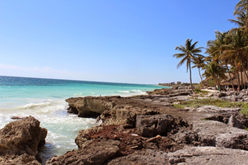 We put our heavy backpacks into or cabana, and walked about a mile and a half back to the archeological site. This site was breathtaking! You get to see all of the Mayan ruins right along the ocean.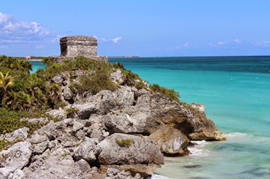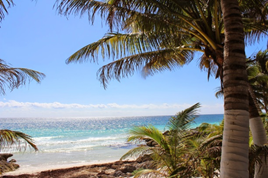 Then you can walk down to the beach. This beach is ranked 15th best in the world! The water is so warm and blue and the rocky cliffs are awesome. The water also had lots of waves.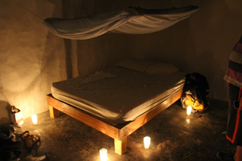 Our cabana had no electricity so we just used candles for light. Pretty romantic, huh?
We got an early start the next morning so that we could catch a bus to Coba, Our last adventure. In Coba we got our first taxi on this trip to tack us to two Cenotes. These cenotes were different then our first one. They were more of underwater caves.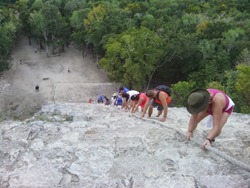 The caves were quiet and a fun experience to swim around in. The water was so clear you could see all the way to the bottom. In the first Cenote we had the opportunity to jump in from way up high.
After the Cenotes we entered the Coba Mayan Ruin site. We rented bikes to tour the jungle area. We were surprised to find that we were allowed to climb up the tallest pyramid here! We climbed up and enjoyed the view from up top. It was a bit scary to be up there though.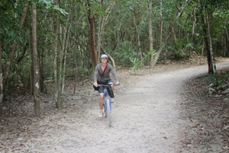 When we were done we took the bus back to Playa del Carmen and checked back into our hotel for our last night. In the morning, we hopped on the bus and headed back to Cancun and to the airport. It was such a beautiful place, my favorite place being Tulum. We did it all at such a great price too! We then came back home and gave hugs to our three little boys who stayed with their grandparents.