The link in this post for the Starwood Preferred Guest® Credit Card from American Express offers a total of 25k bonus points after meeting the spending requirement.  We do receive a commission on applications approved from our links, but please carefully consider each credit application decision and ensure that you use the card prudently.
Almost as good as travel itself is planning a travel itinerary.  As a part-time travel blogger with a lot of full-time responsibilities that take precedence, unfortunately I do far more of the planning than I do the traveling. I still enjoy it, though… and on a rainy Labor Day, I did myself the favor of transporting my mind to another place by planning our Italy trip in October.
Venice to Rome Itinerary in 13 Days
Day 1
Arriving at 12:00 in Venice, we'll get our rental car (Budget/Nissan Micra/ Booked on Expedia $28/day ~ reimbursed by Barclaycard Arrival World Mastercard). We'll then take the scenic route to Slovenia through Austria and arrive at Lake Bled in time to take a rowboat out to the island, enjoy dinner, and a stroll along the lake.  I became convinced that we needed to make the drive to see Lake Bled after seeing some autumn photos. Wow.
We'll stay at Carman Guest House, right on Lake Bled ~$71 reimbursed by the Barclaycard Arrival World MasterCard.
Day 2
We'll start the day with breakfast as the mist rises off the lake, then take a tour of Bled Castle, perched high on an outcropping above the lake. Taking a different route, we'll return to Venice by way of Slovenia's capital, Ljubljana.
We'll park our car near the Mestre rail station and take a train into Venice.  We'll want to see St. Marco's Square, Rialto bridge, the Doge's Palace, and with great reluctance, fork over 100 euro for a romantic gondola ride.
We're staying at the Hilton Molino Stucky, a splurge even in terms of points.  We'll spend all 50k Hilton points we have here for one night… a night that would otherwise cost us almost $500… easy come, easy go.
Day 3
We'll enjoy the royal feeling of our hotel and then set out to finish discovering the wonders of Venice – seeing glass blowers, browsing silk markets, and marveling at beautiful architecture with none of the crowds we'd have to compete with if we were here in the middle of summer.
By dark, we'll make our way off the island to reclaim the car and head to Bologna – a stop we're only making so we can take advantage of a 3000 point night at the Sheraton Bologna – points that came to us through the Starwood Preferred Guest® Credit Card from American Express.
Day 4
Florence. This is the epicenter of the Renaissance and the greatest artists the world has ever produced. After watching all 4 PBS episodes on the Medici dynasty, seeing the Medici Palace, Brunelleschi's dome, Michelangelo's David, and the birthplace of Leonardo Da Vinci means so much more.
Sunset in Florence from Gunther Machu on Vimeo.
We'll take in the Uffizi museum and the Vasari corridor – something reading Dan Brown's Inferno has inspired me to be sure to see, along with the Accademia, Palazzo Vecchio, and everything else our time will allow us to see.
As it starts to darken, we'll head up to Piazza da Vinci, above the city for a perfect view of the valley. Tonight we stay at another 3000 point Sheraton outside Florence.
Day 5
We'll spend the better part of the morning filling in what we missed the day before, and then make our way out of Florence, stopping by Lucca and any other Tuscan town along the way that seems interesting.
We'll make it to Riomaggiore, the first of the Cinque Terre, just in time to watch the sun set into the Mediterranean from our hilltop bed and breakfast – one we booked on www.booking.com.
Day 6
Leaving the car at our hotel, we'll walk from village to village all along the coast, enjoying the picturesque views.  If we can find the tunnel to Guvano beach, we'll make our way through and watch the waves crash against the rocky shore.
Once we've made it to Vernazza, we'll take the train back to Riomaggiore and get back in the car. We'll make a brief stop to see the leaning tower of Pisa, but continue on our way.
By nightfall we'll arrive at a unique lodging – Agriturismo Poggio Bonelli, a quaint Italian farmhouse on the outskirts of Siena. I booked this on booking.com for $100/night – all of which will be reimbursed by Barclaycard Arrival World MasterCard.
Day 7
We'll set out to discover Siena. I'm not one for tours, but for 22 euros, it might be worth it to do a tour like this one: http://www.florence-tickets.com/siena-pass.html.
Again we'll stay at the Agriturismo Poggio Bonelli.
Day 8
I found the most scenic route through Tuscany – a winding passage through Montalcino, Pienza, and Montepulciano. We'll stop in each and casually enjoy ourselves.
This is where our lodging gets really exciting.  We'll be staying in an old Abbey in the mountains outside Orvieto – La Badia di Orvieto. It was a little more spendy – $190 a night, but when I'm spending money only to have it fully reimbursed by the Barclaycard Arrival World Mastercard, I can allow myself to be a little more frivolous.
Day 9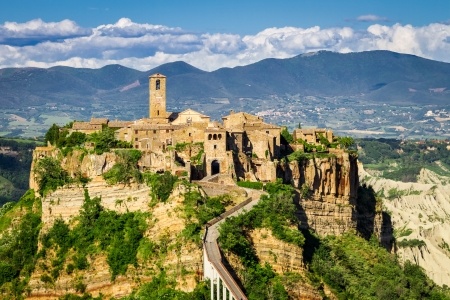 One of the major draws to this area was the opportunity to see and experience what many consider to be the most beautiful Etruscan hill city – Civita di Bagnoregio. This place is genuine postcard material – with steep embankments surrounding a walled plateau. We'll park our car and trudge up the walkway to enter the "little city." At this point I will probably have to swap memory cards on the camera.
Again we stay at the Badia di Orvieto, feeling  supreme in our hilltop castle.
Day 10
On our way into Rome, we'll stop by the ruins of the Roman bathhouse in Viterbo and head to Tivoli, where we can discover the famed garden of the Villa d'Este.
Returning the car at the airport, we'll take the train into the core of the city.
Tonight and for the next 2 nights we'll stay at the Sheraton Roma Convention Center – a category 3 SPG hotel that will burn 7000 points a night.
Day 11
Even with three days, we'll never be able to see all of Rome.  We'll sure as hell try, though. Today we'll focus on the old city – the Pantheon, the Colosseum, Palatine Hill and the Trevi Fountain, where we'll of course throw in some coins to ensure our return.
Day 12
Vatican City is square in our cross-hairs.  I want to spend a lot of time under Michelangelo's masterpiece in the Sistine Chapel.
Day 13
Before we board our plane to say goodbye, we'll tour the Catacombs of San Callisto along the Appian way.
After that, our adventures will cocoon into memories.  We'll board the plane and tell Italy "Ciao" until next time.
Summary
In the end, we will have spent no more than $1000 on food, gasoline, trinkets and other small expenses. Our major expenses have all been paid for by points aside from some minor taxes and surcharges.
Flights: 80k AA points and $162 in fees for two tickets from SLC to Venice and Rome back to SLC. The points came to us from the Citi American AAdvantage World Mastercard.
Hotels: 12 nights – all free or with minor surcharges. 5 nights in SPG hotels for a total of 27,000 points, 6 nights in hotels I booked on booking.com for a total of $763 and almost fully reimbursed, and 1 night in a Hilton hotel splurging for 50k points (I could have stayed in an SPG hotel outside Venice for another 7k points.
Car: 9 days at $28/day for a total of $252 – reimbursed by 25,000 Arrival points.
We know it sounds too good to be true and we don't expect you to believe it entirely… just give the concept a try with a tiny vacation and you'll start to catch the vision that we're promoting on WorldWanderlusting.com.