Allegiant Airlines was sitting in a smoky bar.  He was a little rugged in his leather jacket and 5 o'clock shadow.  After a long day in the office he just wanted a release. Saving people in small communities hundreds of dollars with super-affordable airfare was hard work. He had just finished his last pint and called for the check when she walked in. 
The Barclaycard Arrival World Mastercard was wearing a long, slinky silver dress. The clicking of her heels alerted Allegiant to her presence, and what a presence it was. She walked in a way that told everyone in the room that she was keenly aware of just how sexy she was. After reimbursing peoples' travel expenses all day long she, too, was ready to relax. 
Standing abruptly, Allegiant leaned his knuckles on the bar and gestured, inviting her to sit beside him.  With a coy smile, Barclaycard gracefully accepted.  She leaned into him, offering her hand. The stars had aligned… 
If there ever were a match made in heaven, fellow WorldWanderlusters, this is it. Just take Allegiant Airlines' ridiculously inexpensive flight deals, the convenience of direct flights for those of us in under-served communities, and combine them with their leverage to get inexpensive hotel rooms in incredible packages.  With all that alone, those of us who prioritize value in vacation have cause to get excited…. but having been spoiled by free flights and hotels over the years makes even paying a little bit of money a disappointing experience.
Enter the Barclaycard Arrival World Mastercard, which has revolutionized our travel-hacking tactics with a monstrous 2.2% travel expense reimbursement, nothing to say of the $400 right up front after spending $1000 in the first three months, and spared us even the minor inconvenience by waiving the annual fee in the first year.
What I'm telling you, my travel-thirsty friends, is that I have a recipe to get you something you'll really like – a Las Vegas vacation with 2 RT flights, 3 nights in the MGM Grand, and 2 show tickets for $190 out of your stingy freaking pocket.
Las Vegas Vacation
Here's how we do it:
We use our solid credit score, which we've attended to carefully, and our diligent on-time and in-full paying habits to apply for and obtain the Barclaycard Arrival World Mastercard.
We make only expenditures we would otherwise make with checks, debit cards, cash, or other credit cards to meet the $1000 minimum spending requirement (and accumulate 2,000 more reimbursement points in the meantime).
Then we visit our friends at www.AllegiantAir.com and see what opportunities await us in the next few months.  When I looked tonight, this is what I got excited about – the 2 flights to LAS from Idaho Falls, 3 nights at the MGM, and a special promotion to also get 2 show tickets for the low price of $609.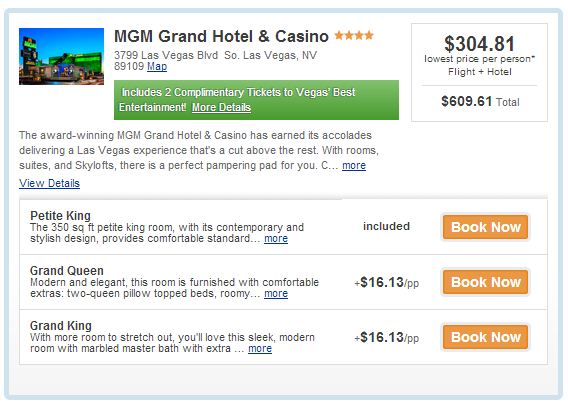 When I pay for this vacation with this credit card, then login to my barclaycard account, I'll be given the option to reimburse myself for $420 of this expense (or more, if I've used the card for other purchases). That will leave me with roughly $180 in white sugar that I'll need to come up with myself.  Not a bad deal, eh!?
Now, a bit of advice we give all our WorldWanderlusters: When you sign up for this card, you'll be tempted to add your spouse as an additional user. When you get that temptation, I want you to put your finger in its chest and tell it to "back the hell off!"
I'm going to ask you – If one $180 Las Vegas vacation is good, how would two be? That's right, freaking fantastic.  Now, rather than add your spouse this time, once you meet the spending requirement on your card, you are just going to come on back to WorldWanderlusting.com and get them in on the action, too.
Sigh.  We love what we do.  I had lunch with some friends who've embraced these ideas the other day and we were just punch-drunk with stories of things we've done and we're planning.  Life is good, but it's even better when we have amazing nearly-free vacations to daydream of.
Make sure you subscribe to WorldWanderlusting so you never miss a post!