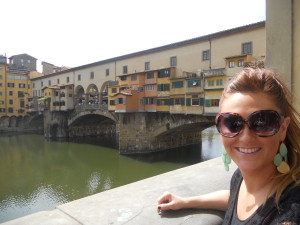 This is a guest post by John Myers, a freaking awesome friend.  He had such a great time on his vacation to Italy that he wanted to share it with all of you Wanderlusters.
Yet another trip for myself and my WorldWanderlusting wife (great alliteration huh?).  Last year (2012) we dipped out toes in the world of traveling by spending 10 days in Costa Rica using our American Airlines points, fantastic experience! This year we also used our American Airlines points to go to a place where I never thought I'd go until I was grey haired, retired, and wore penny loafers and tube socks.  ITALY, BABY!  My wife and I spent 10 days engrossing ourselves with Pizza, Pesto, GELATO, trains, gondolas, etc!  Using my Starwood Preferred Guest® Credit Card from American Express

and Marriot Rewards Card, we were able to score nearly all our nights on the trip with just these two cards, and didn't even come close to using all the points on them (I still have over 50k points on my Marriott card).  Thus, this trip was SUPER inexpensive given where and what we did!
We departed out of Salt Lake City, UT with our destination in Venice, Italy.  We had quite a few layovers…am I complaining…not at all.  I only paid $100/ticket in taxes for these flights!  Long as usual flight to Europe.  We flew into Dusseldorf, Germany and switched to Air Berlin.  Good service, do not pass up the complimentary chocolate heart they give you at the end of the flight.  My wife scolded me for not getting one so she could enjoy two!
We arrived in Italy on a Saturday afternoon.  Our first few nights were to be spent in the luxurious Sheraton in Padova, Italy (SPG) -just a puddle jump from Venice.  It was a very nice hotel and had a nice shuttle taking you to downtown Padova.  One of the days the driver went out of his way and took us to the train station.  This saved us some feet pain and/or some taxi money.  We spent the first evening in Padova, anybody looking at us would have picked us out as tourists in a heartbeat.  We both walked around with our jaw dropped in pure ah as to where we found ourselves.  And then it hit me…I never even dreamed of being in Italy at this point in my life.  Like most naïve and inexperienced worldwanderlusters, I thought Italy was for the rich, the famous, and the retired.  I WAS IN ITALY!
The next morning we went to Venice; enjoyed St. Mark's basilica, the Doge's Palace, Correr Museum, Rialto Bridge, the canals, the food!  We felt like we were in a dream land.  Without fear of sounding corny, Venice seemed enchanting to us.  We couldn't get enough of the building design, architecture, people and the food.  Everything about it was wonderful.  We stayed fairly late into the night and headed back to Padova.  So tired. Slept so well.
The next morning we went to the train station with the Cinque Terre as the next destination.  The ticket office there was extremely helpful in finding us the most inexpensive route.  I had done the research to find a cheap route, they found a cheaper route by a few euros.  It was a fairly long train ride, although we really enjoyed train hopping from Padova – Bologna – Parma – La Spezia – Riomaggiore – and finally Vernazza!  We dropped off our luggage at the La Spezia train station so we wouldn't have to deal with dragging luggage through the Cinque Terra (VERY glad we did this).  All of the Cinque Terra is magical.  While there, Ash just wanted to stay there the entire trip.  We had a room that overlooked the Ligurian Sea in the Mediterranean…amazing (the only room the entire trip that I actually had to spend some of my own hard earned money on).  I ordered the fresh catch of the day and had a traditional Vernazza dish with anchovies…so awesome!  The entire next day was spent visiting the other villages of the Cinque Terra and eating gelato along the way.  Every town has its own character and vibe…all of them were excellent.
We went back to La Spezia, retrieved our luggage and got back on the train to hit up PISA!  It was later in the evening once we arrived, so we just went straight to our A.C. Hotel (Marriott) and enjoyed the luxurious setting.  It was a nice hotel with a fairly accommodating location.  The staff was INCREDIBLE.  I felt like a king there.  Because we arrived late and were hungry, they went ahead and fixed both of us up with a sandwich even after the kitchen had closed….FOR FREE!  Only free meal of the trip!
The next morning we found ourselves in a beautiful piazza staring at the craziest leaning tower you'll ever see.  It is really leaning, people!  We also went into the baptistry and cathedral there.  Of course we took the classic pics holding up the tower (my wife tried her best).  We didn't go anywhere else in Pisa other than a few blocks from the main piazza and felt this was sufficient.  Jumped on the train after that and we rode with some Aussies the whole way to Florence.  They were such good times everywhere chatting with other travelers.  They almost got a huge fine for not getting their train ticket validated.  We always made it a big point to validate the ticket.
Once we arrived in Florence, we took the hotel shuttle at the end of platform 16 and stayed at the Sheraton Hotel in Florence.  This hotel was in major need of updating, but, it was free!  And we got upgraded to a really big room with a walk-in closet and conference table.  Ashley was dying for some McDonald's as we saw one close to the hotel.  Although, the only access to the McDonald's is from the freeway…so that's exactly what we did.  We hiked along the freeway for about a quarter of a mile to get a quarter pounder – or, more appropriately, 2/5 of a kilometer for a 1/10 kilogram burger.
Over the next couple days we saw all of the most amazing things in Florence.  The Duomo was incredible, we hiked to the top of Brunelleschi's cupola.  This was worth every penny.  The hike up the stairs and lack of fresh air can get pretty claustrophobic, but the view from the top was spectacular.  It drizzled a little bit that morning, but by 11:00am, sunny and warm.  We also checked out the Ponte Vecchio, a really beautiful bridge.  Piazza del Signoria was beautiful, the palace there was amazing.  We totally enjoyed waking around there and viewing works by Titan, Michelangelo, etc.  The Uffizi was incredible!  Botticelli Spring was also an impressive sight.  We also went to the Museo Nazionale del Bargello and saw Donatello's David, the first reputable nude sculpture, so awesome.  The sculpture of all sculptures was of course, Michelangelo's David. I can only describe this experience as surreal and spiritual because I felt a rush of emotions as I sat and looked at him.  He was so magnificent, tall, and studly.  I had studied about it in school, and read a few books as well, and none of them could have prepared me for what I felt standing in that atrium and looking at him.  It was wonderful.  Not only was the David incredible, but I was also really moved by a Pieta done by Michelangelo.  The feeling and emotion of Mary holding the crucified Lord in her arms was something I will never forget.
After spending three days in Florence, our trip was concluding.  We rode a bus from the train station to the tiny Florence airport.  We had an overnight layover in Stuttgart Germany.  Used our free category 1-4 hotel with Marriot here.  It was a nice hotel, just an expensive taxi to get there and back.  The next morning, our flights were as follows: Stuttgart – Berlin – Chicago – Salt Lake City – then drive back to Idaho Falls.
In all seriousness, I can't thank WorldWanderlusting enough for the opportunity they've given my wife and me to see places and sights that I never thought I would ever see with my own eyes.  Italy was magical, and my wife and I are so excited for the next adventure.  We've already got enough points for the next trip and we think South America or SE Asia are calling our names.