If you aren't already an IHG Rewards Club member, I've got a deal for you.  And if you are already an IHG Rewards Club member, I still have a deal for you.  First we'll talk to the newbies, though.
One of the steps we've outlined in our comprehensive post on A Five Finger Formula to a Frequent Flyer Fortune is to sign up for various hotel and airline programs so that you have logins and can begin accumulating points.  Often there are promotions and bonuses for enrolling and now just happens to be one of those times.
In all the years we've been promoting loyalty point abuse, the only hitch people ever seem to have is the worry about opening credit cards.  We get it.  Not everyone is able to resist the urge to spend money they don't have. Not everyone is willing to keep diligent records of which cards they've applied for and ensure that they make all their payments on time and in full.
But here's an opportunity that our readers can take advantage of without any credit application.
IHG Accelerate Promotion (For new members)
Right now there's a promotion that will allow new IHG Rewards Club members to earn a free night stay in ANY IHG hotel, simply by enrolling and then staying twice before the end of 2015. If you stay 4 times, you can earn 2 free nights in ANY IHG hotel.
At first blush this appears to be a mediocre promotion – kind of a "buy 2, get 1 free" deal.  That's not inspiring.  If that's all this deal were, we wouldn't be sharing it with you.
Here's the secret to making this absolutely worthwhile: Stay in cheap hotels to meet the terms, and then use your free nights in the most freaking expensive hotels you can find (devilish smile).
First off, I want to point out the difference between a "stay" and a "night." The wording in this promotion is clear that they will credit you for "stays," not nights.  This means that if you stay two consecutive nights, it still only counts for one stay.  In order to meet the terms, you'll need to stay on two different occasions or four (for the 2 nights).
Now, knowing that, the best way to take advantage is to book 2 or 4 separate nights.  You could even do it in the same city for consecutive nights if that's easier for you. Let's just say, for example, that you'll be going to some Boise State Football games this year (good for you!).  You could stay at the Candlewood Suites Hotel for ~$92/night.

Do that a couple of times and then you could redeem your free night at the Willard Intercontinental in Washington DC.
Or spend a couple nights on different stays at the Candlewood Suites in Phoenix.

And go ahead and use that free night at the Intercontinental in Amsterdam.
There are lots of awesome places you could stay at some of the finest hotels in the world – London, Paris, New York City, or great resorts in places like Bora Bora, Tahiti, or the Caribbean. Just visit this link to see what amazing hotels you could stay in.
All you have to do is enroll in the IHG Rewards club and register for the Accelerate Promotion, then meet the requirements to take advantage of this promotion.
Could you do this for your spouse, too? Yes… you're starting to capture the vision now.
IHG Accelerate Promotion (For existing members)
Now, if you're already an IHG Rewards Club member, you'll want to login to your account to see what requirements they want you to meet in order to secure up to 50k more points. Here's the summary of what I've been offered.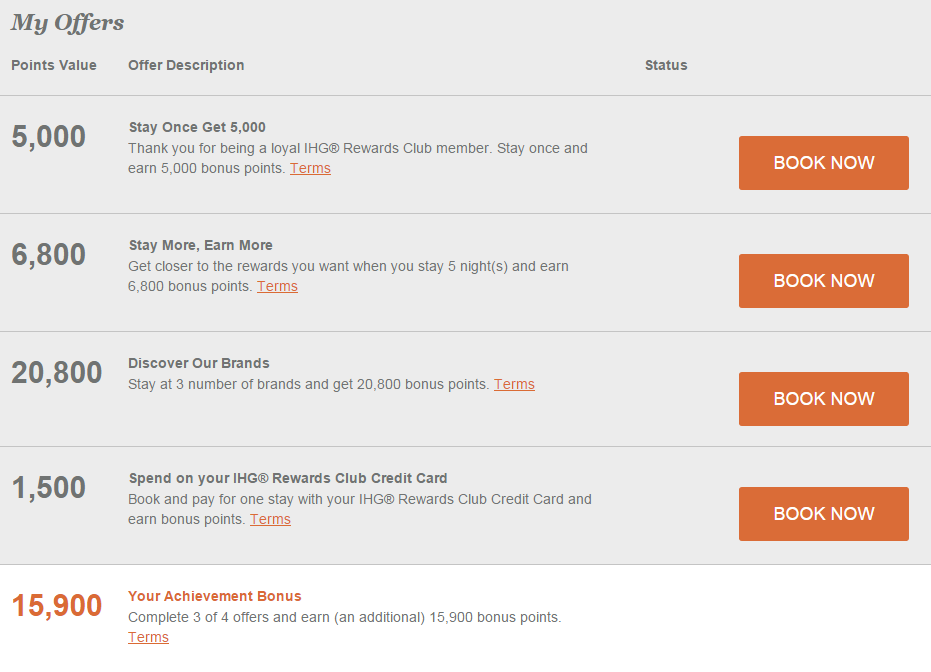 Your terms might be different, but check them out and see.
Where to stay efficiently with IHG Points
The prospect of 50k points starts to sound pretty good when you look at the Point Breaks hotels that you can stay at for 5k points/night. These are just some of the hotels in the US and they have them all over the world.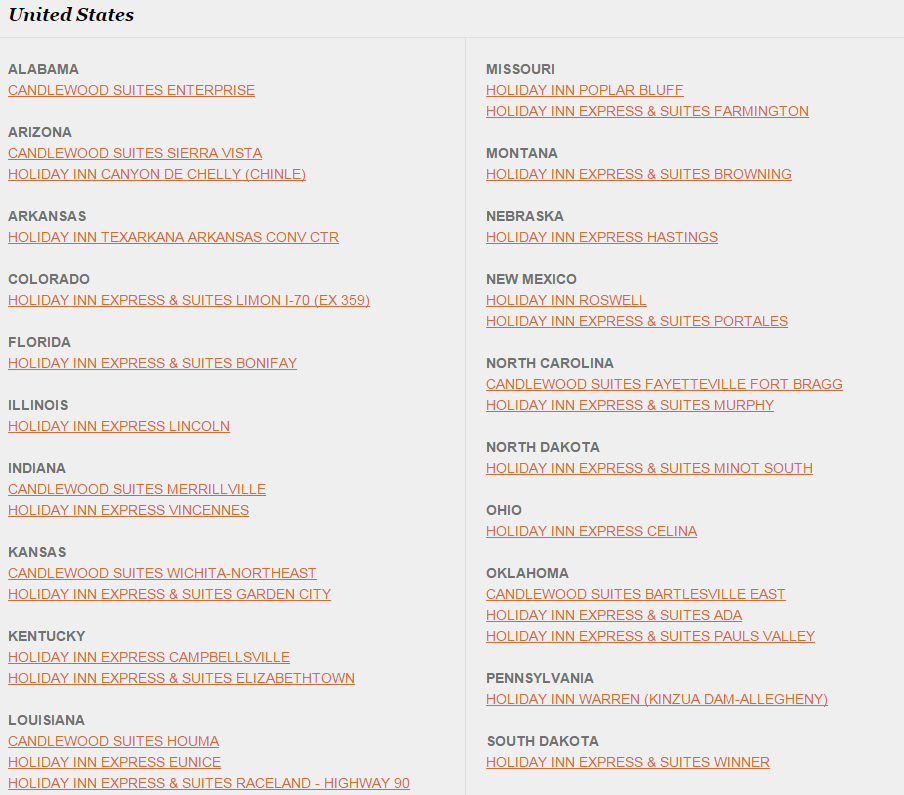 The IHG Rewards Club Select Credit Card
Now, let's just imagine for a moment that you're ravaging the first promotion, and licking your chops for some points to use on those Point Break hotels.  One way you could pile on 60k of them would be to sign up for the IHG Rewards Club Select Credit Card from Chase and then spend $1000 within the first 3 months.
It gets even better when you realize that the annual fee is waived on this card for the first year and that for every year you hold the card, you pay a tiny little $49 annual fee in exchange for one free night in ANY IHG hotel.  Yes, you know where I'm going again.  Just use that free night at an uber-expensive hotel and you'll always get the best of them.
What's in it for us?
At one point we used to recieve a commission for card applications that were processed through links on our site.  Sadly, those days are long gone.  These days our only motivation to continue to provide awesome ideas like this one is to see you, our faithful followers, abuse the hell out of reap the benefits of promotions like these.
Cheers to more almost free travel for all of us.