The increased bonus on the Delta card that Sheldon wrote about had many of you jumping on board to pick up some Skymiles – enough, in fact, for you and your spouse to take an almost-free domestic trip.  The only hurdle now will be for you to find an almost-free place to stay.
Fortunately for you, there are two limited time offers out there that are worth taking a close look at.  I have raved about the Chase IHG Rewards Club Visa as being the new king of the hill when it comes to hotel cards.  I still love that offer, but here are two more that you should put into consideration.
80,000 point bonus on the Marriott Premier Rewards Card
Minimum spending: $3000 in the first 3 months
Status: 15 credits towards elite membership
Annual fee: $85 annual fee, not waived the first year
Bonus: Free night in category 1-5 hotel each year you keep the card (more than worth the $85 annual fee)
This offer expires on August 31st.
Example use: One great way to use this is to also take advantage of Marriott's "Redeem 4 nights, get 5th night free" perk. You could do this in a category 4 or 5 hotel which requires 15-20k points per night.
I always like to use www.AwardMapper.com to find hotels in specific point categories.  As you can see, there's no shortage of Category 4 and 5 Marriott Hotels in the United States.
Now, we could find all kinds of amazing places to stay, but just for the sake of throwing it out there, you could stay 5 nights at the Residence Inn in Murfeesboro, Tennesee, just a few miles from downtown Nashville.  Not only is the Residence Inn extremely comfortable, it also has one of the best free breakfast spreads around.
Link to the Marriott Rewards Premier Credit Card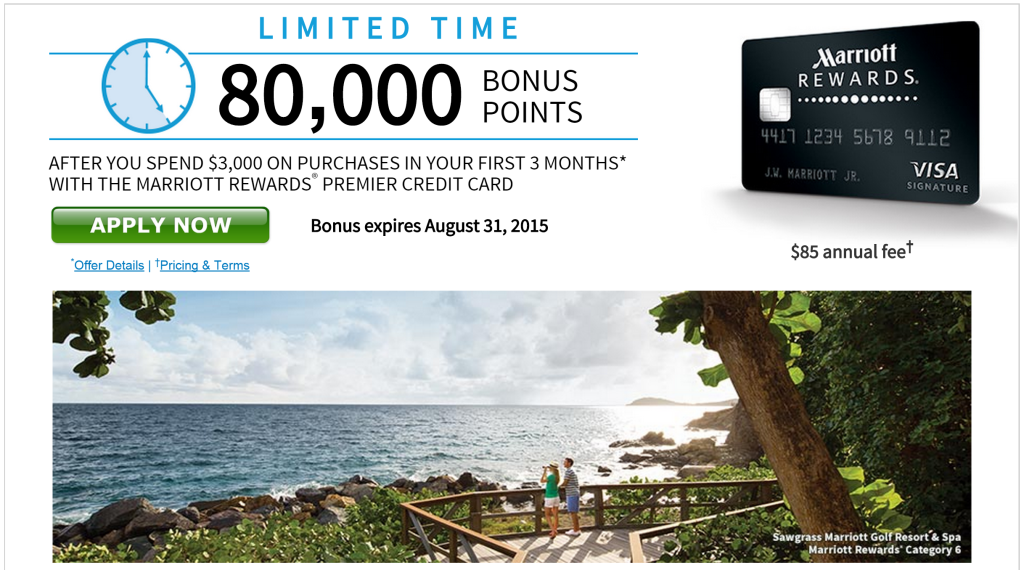 75,000 point bonus on the Citi Hilton HHonors American Express
Minimum spending: $2000 in the first 3 months
Annual fee: No annual fee
Status: Silver status as long as you have the card
Limited time offer – period uncertain.
Example use: There are so many hotels in the Hilton family – Hampton Inn, Double Tree, Embassy Suites, and more.  For whatever reason, I like the idea of using these 75k points on fewer nights in a really nice hotel, so as an example, we'll look for a place we could stay at for 25k/night for 3 nights.
Again, as you can see, there are plenty of them all over the United States.  Check out AwardMapper.com to see what's available in your dream destination.
I instantly honed in on San Diego and discovered the Doubletree Golf Hotel and Resort by Hilton.  The property looks amazing and 3 nights there would be rejuvenating.
Link to the Citi Hilton HHonors Visa Signature Card