Collecting points and miles is a fun hobby.  Spending them is a lifestyle.  Lately my lifestyles has been stagnant, but the hobby has kept me busy.  Like a busy little bee I've been working on accruing more miles as long as this hobby exists.  Just yesterday I took a step to get on my way to  105,000 more miles.
It's been a while since my wife has applied for any credit cards.  Somehow a year has passed and she's been flying under the radar.  Most of the cards I've picked up lately have been in my own name.
I chose two cards and applied and was accepted for both of them yesterday.
Chase Sapphire Preferred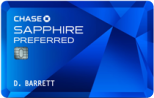 Link: Chase Sapphire Preferred
This is one of the most versatile cards that you can get out there.  These points can be used to book travel directly from most airlines, but my favorite way to use the Ultimate Rewards is to transfer them to one of the many partners.  It's great because these points transfer 1:1 to most programs without any fees.  Currently they partner with:
United MileagePlus
SouthWest RapidRewards
Marriott Rewards
British Airways Executive Club
IHG Hotels
Amtrak
Korean Airlines
I recently had to cancel an Ink Bold business card and transferred my points to United, Southwest, Marriott, and British Airways.  Most frequent flyer rewards programs require you to have activity on the account to keep your rewards from expiring.  Transferring as little as 1000 miles to each program helps keep those miles alive for another 12, 18, or 24 months depending on the program.
Other Posts on Ultimate Rewards:
Terms of the Sapphire Preferred
I just barely missed scoring this card with a lower spending requirement.  Dang.  They just moved it up to $4000 within the first 3 months of card membership.  I'm still going to meet the spending requirement, but the increased amount makes my planning a little bit more strategic.  One day they'll crank up these spending requirements to something astronomical and they'll take away the benefits, so now is the time to jump on board.
After meeting the spending requirement I'll get 40,000 bonus miles, which is worth over $500 in travel.  Plus, by adding myself as an authorized user I'll pick up another 5,000 miles.  This is an easy way to get an additional 5,000 miles.  At the end of the spending requirement I'll almost at 50,000 Ultimate Rewards to my Award Wallet.  Great Success!
Hilton HHonors American Express
This card popped up with a 60,000 point bonus, which is above standard for a card that doesn't charge an annual fee.  This offer expires 12/31/2014.
Link: Hilton HHonors American Express
It is always nice to have a "staple" card with all of the issuers.  My wife has had two American Express cards, and she has had to cancel both of them because their annual fees became benefit prohibitive.  Getting this card will allow her to establish a long term relationship with American Express without paying for that relationship.
Plus each year with an American Express card you get the chance to participate in the Small Business Saturday.  I hope this card arrives before Saturday so I can register the card and pick up an additional $30 by spending at least $10 at three merchants or in three transactions from the same merchant on the upcoming Small Business Saturday.
The 60,000 points won't last forever, but it should be enough to get me two free nights out of the card somewhere fun.  Here is their award chart:
It appears as though I could get lots of nights at the tier 1, but they only have a handful of hotels in that category.  Even in category 2 they only have about 115 hotels or so, which isn't very many.  More than likely I'll have to use them on category 3 or 4.  They have 335 hotels in the USA that fit in their category 3.  If I could get three free nights from the card it would be awesome.
The spending requirement for the card is only $1000 within 3 months, which is easy.
Slowly Building my AwardWallet
I'm really starting to rack up points and miles these days.  These two cards will help me put up another 105,000 miles for my upcoming travels.  It makes trip planning easy when I can use my miles at Hilton, Marriott, Starwood, and Club Carlson hotels all on the same trip.  None of this happened overnight, but with some diligence and work ethic it can happen to you too.
The thing is that you've got to start today.  Don't wait for the opportunity to take a trip to come up before you start racking up points.  You'll need the points ready to roll.  Choose cards that don't charge annual fees, or those that waive them for the first year.  Doing so will keep your costs down and your amount of travel up, which is right where it should be.
What card(s) will you be getting next?