It's not everyday you see an offer this tempting.  Hitting a bonus of 25,000 miles gives me a little high.  Then, moving up to 40,000 puts me really up there, but hitting a bonus of 70k is like the ultimate high.  Chase has temporarily upped the bonus on the Chase Ink Plus credit card to 70k miles for a limited time only.
The Chase Ink Plus 70k Offer:
The Chase Ink Plus card is a business credit card offered by Chase Bank.
Normally you can get 50,000 bonus points after spending $5000 in the first 3 months of the account opening, but right now they have bumped the offer up an additional 20,000 miles, which makes the total 70,000 miles. This is one of the biggest bonuses I've ever seen in my years of following the points and miles world.
How Many Points Per Dollar Do I Earn?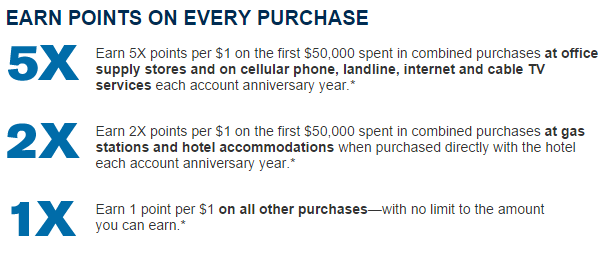 These categories are awesome.  Unless you're selling to primitive civilizations in Papua New Gunea, you'll need a cell phone and internet for all businesses.  They're going to reward you with 5 points per dollar on those expenditures.
Let's assume that you pay $500 per month between cell phones for your employees, landlines, and internet, which isn't that far of a stretch for many businesses with a few employees.  This will rake in 2500 points PER MONTH, or 30,000 points per year.  That is at least one flight within the USA every year for just those three categories.  As you can see, the points can really add up quickly.
How Do I Redeem the Points?
This is the best part about the Ultimate Rewards Program: Flexibility.  Your points can go on a 1:1 ratio to any one of these frequent flyer programs listed above.   My favorites are:
SouthWest (for domestic travel)–I just used this when going to Florida in May
United Airlines (for international travel)
British Airways (for short flights that are partners with the OneWorld alliance)
IHG Rewards (for PointBreaks)
But I don't have a business…..
Are you sure?  A fellow blogger at MillionMileSecrets gives 3 Ways You May Qualify For a Business Credit Card.  Check them out to see if you may qualify for a business credit card somehow, because the offer on this card is SWEET.
Doesn't it have tons of fees?
Touche.  The card does come with an annual fee of $95 that is NOT waived for the first year.  This is a bummer, but much lower than some American Express credit cards that come with massive annual fees.
If you plan on carrying a balance on the credit cards, consider an alternative method that doesn't involve lots of interest.  The interest rate on this card is about 15% per year.  Ouch.
Will It Hurt My Credit?
You'll find that banks are rather hesitant to offer credit cards to businesses, and you probably ask yourself "why", right?  It turns out that business credit card do NOT show up on personal lines of credit.  However, you will still receive an inquiry on your personal score, so this will have a minimal affect on your score.
This should NOT make anyone think that they can rack up debt on a business credit card and get away without paying the money back.  Credit card companies are smarter and have more resources that you do.  They will get their money from you.  It simply means that the amounts owed won't show up as a part of your overall personal credit history.
What Other Benefits Does the Card Offer?
This car rental benefit is an awesome.  They will be PRIMARY.  This means that you don't have to make a claim on your own personal car insurance first before the credit card company will actually pay anything.  You'll find that most credit cards offer a benefit, but it is only SECONDARY to your own personal insurance.
 Will You Get the Chase Ink Plus 70k Offer?
Do you think this offer is worth your attention?  Remember that it is a limited time offer, so if you're interested you better act soon.