If you're like the majority of people, you've dabbled with frequent flyer miles.  You probably have a small balance with one airline and you may even have a card that gives you miles.  Maybe once in the past five years you've actually had enough miles to get one free flight, but you don't see this as a way to feed a travel addiction… the rewards are just too few and far in between.
We are among a group of travel hacking bloggers who've gone well beyond "dabbling." You may even say we are abusing them.  Over the past 4 years, my wife and I have applied for 39 credit cards and accumulated more than 2,500,000 miles and points in various programs, taken the entire family of 6 to Colombia, Panama, and Florida, and traveled as a couple to Italy, Costa Rica, and soon to Hawaii among numerous other vacations. We've done it for a fraction of what it costs others because we're smart about using our everday purchasing to meet minimum spending requirements and receive travel reward bonuses with lots of digits and commas.
I'm not inviting you to enlist in the ranks of those of us who spend hours daydreaming about these things, but I am inviting you to taste just a little sample of what it would be like to have an award-wallet stuffed full of points and miles that will open the door to incredible adventures.
There's one particular offer right now that is alluring to someone just wanting to have some more resources to do a couple more vacations and not feel guilty about spending the kids' college funds. I can see having a little hesitation about jeopardizing a credit score for 25k measly points – a single flight? That's only like $500 in value… which is still good, (especially considering that the impact to your credit score is minimal as long as you do the two most important things: 1) Make your payments on time. 2) Make your payments in full.  Never miss a payment and never keep a balance. Only use credit cards to make purchases you'd otherwise make with cash). But if you could make that two free flights, well, now it's getting interesting.
So here's how it goes.  US Airways is merging with American Airlines, but they still have a co-branded credit card available for a limited time with Barclaycard. The US Airways Premier World MasterCard® has some awesome benefits, but a lot of them go away after the end of this year, so it's really a "strike fast" opportunity. In order to get approved, you probably need to have a good credit score (above 720), and you do have to pay the $89 annual fee the first year. Here are the key details:
40,000 Dividend Miles after first purchase (and paying the $89 annual fee)
Free Checked Bag for all flights booked on US Airways for yourself and up to 4 companions on the same itinerary.
Redeem flights for 5000 fewer miles on USAirways.  (This benefit ends at the end of 2014)
One Companion certificate good for up to two guests on USAirways operated flights for up to $99 each plus taxes and fees.  (This benefit ends at the end of 2014)
Two Vacations for Two People
Now again, if you're not doing this all day every day, like we are, you'll wonder what all this translates to.  And I've broken it down like this – two trips for two people – one in which you'll only have to pay the taxes, and one in which you'll pay the full fare for one, then use the companion certificate to add another for $99 plus taxes and fees.
Because you have the 5k reduction, you can travel within and between the US, Canada, Alaska, and the Carribbean for 20k each. Let me say that again – your 40k points could get two of you to a lot of freaking places for nothing more than the fees and taxes on the flight (usually under $70 each).
On your second trip, you'll use the companion pass and pay full price for your first ticket (say $400), plus $99 and taxes for a total of something like $550 for two RT flights.
Where could you go?
This is the part I get excited about.  When we say "two vacations" it just sounds so plain.  When you put places to them, it really gives the idea life and makes me happy. My favorite thing to do is to just go look at the route map and let my wanderlust guide me.
I generally fly out of SLC, so this is what I got… not a whole lot of places I couldn't go. One that jumps out at me initially is Halifax – how cool would it be to go to Nova Scotia in the fall? I dare you to go to Google Images and type in "Nova Scotia Fall." This is what you'll get:
And let's make that second trip a visit to Key West in December.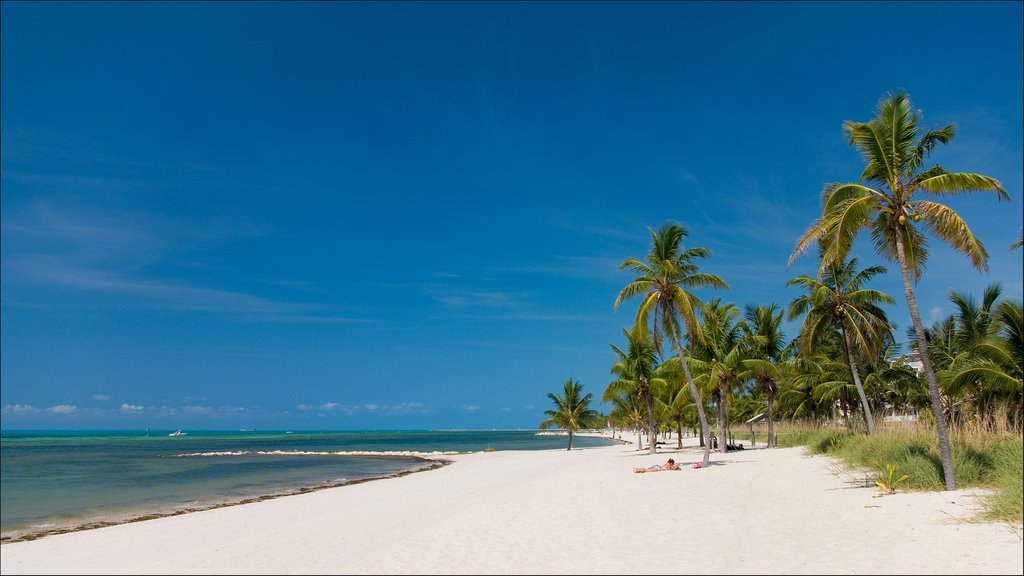 I could settle for this view while it's winter in Idaho.
But the amazing thing is that these points could help you do anything you want. Even if all you want is to visit family or to go to a work conference.
If it just so happens that you aren't able to find a place to use your 40k US Airways points… don't you fear, they'll eventually merge with American Airlines and that's about the best thing that could happen because your 40k AA points could take you to Europe the same way they took Nicole and me to Italy last fall. You could use them to go to Dublin like some other WorldWanderlusting followers. Or try them out on Spain the way we mapped it out for you in this post.
If you have the slightest hint of wanderlust, then try "spending" a few points of your credit score and paying an $89 annual fee to get the US Airways Premier World MasterCard® – the card that will enable you to take two people on two vacations.
And if it's a good idea once, just think what doors this would open if you were to apply separately for your spouse – effectively doubling your travel power.
The last thing we want is for our followers to be irresponsible with credit decisions, but the second to last thing we want is for them to sit home and want and wish about what it would be like to go and do the incredible things that they daydream of.
We've only got one life to live and there's nothing that says we have to live it right where we are.  Join the travel hacking revolution and step into a world where the map above is not a dream of where you might go in some faraway future day, but where you might go before the end of this year.
Thanks for wanderlusting with us!
Brad