Are you unsatisfied with your mundane existence and longing to see the wonders of Europe?
Are you nervous that spending money on travel is an irresponsible decision when there are so many other items you need to buy?
Are you convinced that you'll never get to fully experience the world's wonders the way you want to until you're old and no longer have the energy or interest to do it?
WorldWanderlusting is chock full of more than 400 posts – all dedicated to helping you banish the phrase "I'd love to travel, I just can't afford it" from your mind. We've discovered the world of travel hacking and it's made our lives so infinitely much richer. We're not keeping any secrets to ourselves and genuinely offering to be your free travel agents for almost-free travel.
In this post, we've put together a marvelous itinerary with flights that will cost you $65 each, 9 free nights in hotel rooms, and a $229 9-day car rental on a circuit through southern Spain – heavily influenced by the Moors, who undoubtedly left it richer from an architectural standpoint.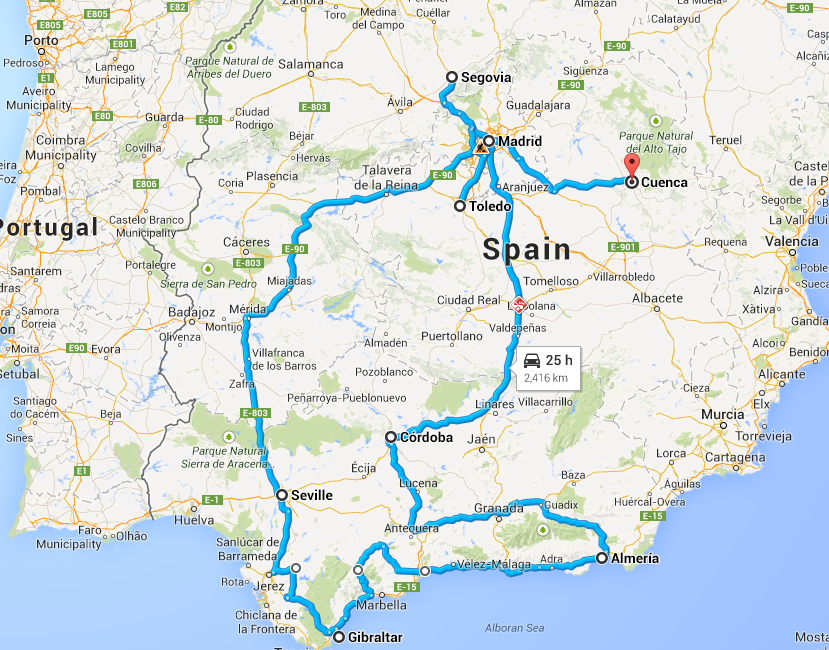 What this requires is a tolerance for a foriegn idea, the idea that you can use your good credit to apply for credit cards with huge travel reward bonuses, your everyday spending to meet the minimum spending requirements to receive those bonuses, and your good judgement to ensure that all your bills are paid on time and in full, so that you win the game of obtaining huge benefits without bad consequences.
You can do it.  I know you can… because I've been doing it for four years now and between my wife and I, we've applied for 38 cards and accumulated more than 2 million frequent flyer miles, taken our family to do incredible things, and together created experiences that we thought could only belong to the mega-wealthy.
Now, settle in and enjoy.
Flights ($65/ea)
Here's the lowdown – there's no better frequent flyer program to fly to Europe in coach on points, than American Airlines' AAdvantage.  Between October 15th and May 15th, you can fly from the US to Europe for 40k AA points and a pittance in fees/taxes. Because I know you're a skeptic and you should be, I'm attaching this screenshot that I just took after testing some dates in October.  Right now, I could book a flight from SLC to MAD and back for 40k points and $65.
If you're not just masquerading as a travel junkie, your mouth is watering and you're thinking "how can I get my hands on 40k AA miles." Well, you've come to the right place. Right now, this is the best and easiest way t0 get those miles: Get the Citi Platinum Select/AAdvantage World Mastercard. After meeting the minimum spending of $3000 in the first three months, you'll get 50k AA points.  There's no annual fee for the first year. After meeting the first spending requirement, you could also sign up your spouse and accumulate 50k more so they can come along as well.
Hotels (all free)
Paying $65 for a flight across the pond is exhilarating, but what if we could add in 9 free nights, as well?  The best way to go about this is the Chase Marriott Rewards card, which, for a limited time, is offering 70k points, plus 1 more free night when you sign up for the card and meet the $2,000 minimum spending requirement with in the first 3 months. The annual fee is also waived for the first year.
Hotel reward points work like this – each hotel is categorized and requires a certain amount of points to book.  Marriott's Category 2 hotels require 10k points/night, and lucky for us, there are an abundance of them in Spain.  Also, when you book 4 nights in the same hotel, the 5th night is points-free, so we'll spend 40k points on 5 nights in one hotel in Madrid (where we'll base most of the day-trips), 30k points on 3 more nights, and the one free night on a nicer, category 4 hotel.
That's a total of 9 free nights in Marriott hotels in Spain – something you'd otherwise spend at least $1000 on.  Save your $1000 for delicious Spanish food and excellent historical site and museum entrances.
Transportation ($229+ fuel, tolls, and parking)
Yes, you can take a train pretty much everywhere, but I just love the feeling of freedom that comes with renting a car.  With GPS what it is today, I almost never get lost and I can detour to see whatever strikes my fancy. I never "miss" a train and have to wait at a station, and I can go and see the "off-the-beaten-path" sights. I checked Expedia, and we could get ourselves a nice little fuel-efficient car for $229 for the 9 days – pretty incredible and a small price to pay for the freedom it affords.
The Vacation
I've done another post on using Marriott points in Spain, in which we focused on my favorite part of Spain – the Basque country.  But in this itinerary, we're focused on Moorish Spain – what is widely considered the best of Spanish attractions.
Day 1: Cordoba
You'll arrive to Madrid early in the morning and take advantage of the full day to get the rental car and start making your way South to Cordoba. In Cordoba, you'll have to see the Mezquita, the gardens of the Alcazar, the bridge and Torre de la Calahorra, and the narrow, winding streets of the Juderia. Celebrate your arrival to the old country by feasting on chorizo and manchego cheese, and seafood paella.
Overnight: Cordoba Marriott Category 3 (use free night)
Day 2: Granada
En route to Almeria, you'll want to spend the majority of your day at the Alhambra Palace in Granada – no finer example of the Moorish mastery of architecture and perfect geometrical patterns exists. You'll feast your eyes, but save some time to get into Almeria in time to catch a show at the Teatro Cervantes which is said to be haunted by an actress who was murdered there in 1922.
Overnight AC Hotel Almeria Category 2 (10k points)
Day 3: Ronda
The drive itself is an attractive part of the journey as it takes you along the Alboran Sea at the mouth of the Mediterranean.  Take your time and stop at whatever looks interesting along the way, but leave some time to take in the city of Ronda – the birthplace of bull-fighting, which may not necessarily be an attraction, but the huge gorge it's set upon and the stone bridge that connects it will most certainly be.
Plan for a picnic atop the bridge – pick up una barra de pan, some jamon serrano, and a local cheese.  There's far more to see here as this is an area that was populated by the Celts and others as far back as the 6th century BC.
Overnight AC Hotel La Linea Category 2 (10k points)
Day 4: Gibraltar
Your hotel is named La Linea because it's right near the line where Spain becomes the UK.  Of course you need to visit the Rock, where, strangely, while enjoying majestic views, you may also be accosted by a Barbary macaque – the only population of wild monkeys in Europe. Don't let that stop you from pondering the impact of this small gateway to all of the Mediterranean.
Again, don't spend all day here, though, because on the way to Seville, you'll want to stop by an iconic Spanish hill town – Arcos de la Frontera. Get into Sevill early enough because if there's a place in Spain to try out the nightlife, this is it.  Plan for a late night and enjoy the heart of Spanish culture.
Overnight AC Hotel Sevilla Forum Category 2 (10k points)
Day 5: Seville
This is when you're glad you're doing this trip in the off season, because Seville is scorching in the summer. If you're not Moorish-Cathedraled-out, you'll want to check out the Alcazar, but don't let that keep you from seeing the real historical site – take a walk along Calle Betis along the Guadalquivir river. This is where Columbus docked on the return from his journey to the new world.
Also, by the time you're finished with Spain you may be tired of cathedrals, but the cathedral in Seville is not one to miss.  Take it all in in the morning and plan for a late drive into Madrid -it's about 5 hours.
Overnight AC Hotel Coslada Aeropuerto Category 2 (10k points/5th free)
Day 6: Metro into Madrid
Sleep in and catch up, but get to the metro station by 10:00am so that you have time to see Madrid.  There are so many choices, you've got to establish some priorities – if you're into art museums, you need to go to El Prado.  If you prefer a leisurely stroll in a beautiful park, try El Retiro.  If you are a Real Madrid fan, take in a soccer game.
But you also couldn't go wrong finding a plaza and settling in for delicious food. Plan for an evening of tapas in various bars and don't be shy.
Overnight AC Hotel Coslada Aeropuerto Category 2 (10k points/5th free)
Day 7: Day trip to Segovia
One of, if not the most majestic "castle" sights in the world has to be the Alcazar in Segovia.  This city is jam-packed with other sites, so get an early start.  It's about an hour drive from Madrid and you won't have any problem filling the day with activities. If nothing else, you can spend the entire day photographing this masterpiece.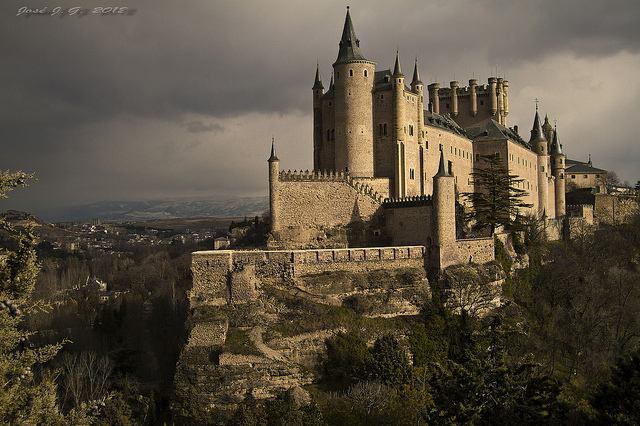 Overnight AC Hotel Coslada Aeropuerto Category 2 (10k points/5th free)
Day 8: Day trip to Toledo
If Seville was the heart of Spanish culture, then Toledo is the heart of Spanish conquest. Metalworking has always been a tradition of this city – such that blades made in Toledo became the standard for craftsmanship in Europe. If you were thinking of bringing home a souvenir, consider a bladed weapon from Toledo.
At a bare minimum, you can admire the handiwork at shops all over the city. There's far more than just blades to buy, and all of the souvenirs seem to incorporate the varied ethnic and religious factions which played a role in creating what this city and what Spain is today.
Overnight AC Hotel Coslada Aeropuerto Category 2 (10k points/5th free)
Day 9: Day trip to Cuenca
I know, travel photo-porn is a problem today.  Until Google glasses perfect the HDR and filter overlays that we see in pictures, nothing will really look like what we see on pinterest and instagram.  Even so, you need to get some raw photos to work with to compete to impress people who look at these pictures all day and then never go visit them in person.
Cuenca is not a Spanish tourism highlight – in fact, it's more likely that the name is associated by the city of the same name in Ecuador, but Cuenca is the kind of off-the-beaten-path place that you want to visit.  It will take about an hour and a half to drive there, but it will all be worth it when you walk across this narrow footbrodge and enter the small town with incredible old world charm.
Sure you'll bring back amazing pictures of cathedrals and castles, but the shots from this place may steal the show, the same way our pictures of Civita di Bagnoregio did on our trip to Italy.
Overnight AC Hotel Coslada Aeropuerto Category 2 (10k points/5th free)
Day 10: Adios
Pack up your bags and make your way to the airport. Start planning your next incredible almost-free vacation with help from WorldWanderlusting.com.
If you liked this post, read this one about our 13-day itinerary from Venice to Rome.
If you loved this post, read this one about WorldWanderlusters who booked an $85 trip to Ireland, and like us on Facebook.
If you were infatuated with this post, share it on Facebook, read this one about Free Hotel Hopping in Great Britain, and enter your email in the subscribe box so you never miss a post.
If you're entertained by the idea, but nervous about what applying for travel reward credit cards will do to your credit, read Doesn't it Hurt my Credit?