Having spent the last three years signing up for a total of 39 credit cards to accumulate millions of frequent flyer miles and points that have been turned into tens of thousands of dollars in free travel, I have to be honest in saying that I'm somewhat surprised to continue to find new opportunities to replenish my free-travel point stash.
In the time we've been doing this, we've seen Barclaycard, an offerer who was outside the market for the first few years, recently come forward with some fantastic travel rewards cards… so much so, that when we wrote our post on "The best travel rewards card to start WorldWanderlusting," it was the Barclaycard Arrival Plus World Elite Mastercard that we promoted – highlighting how easy the concept was of using the points – a simple travel purchase reimbursement, rather than the more complicated algebra of mile and point equations. If you don't have it already, it's a great card.
Many of our followers, anxious to lap up $400 in free travel, signed themseleves up for the card, spent the $3000 over three months to obtain the bonus, and then repeated the process with their spouse as the applicant.  We love hearing stories about how these cards have helped people go on their first cruise, rent cars, and book entire vacations.
In the meantime, Capital One, another credit card offerer which had been relatively quiet in the travel rewards world, has stepped up their game to put a 40k bonus on their VentureOne card – basically matching the Barclaycard offer for $400 in free travel after spending $3000 on the card.  When you consider that each dollar you spend on the card nets you 2% in travel reimbursement, you're actually looking at about $460 in free travel, and that's something we can't help but get excited about.  Naturally, then, we want to help you spend it.
How to spend your $460 on free travel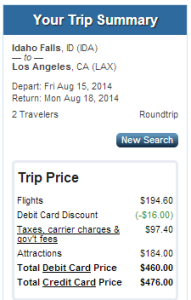 An Allegiant Airlines Travel Package – As a cheap travel enthusiast, I can't help but be excited about allegiant airlines.  I'm one who will gladly wear three layers of clothing in mid-summer and pack everything I need in a small backpack in order to spend no more than the $60 each way they charge for flights. When flights ar as cheap as they are on Allegiant, $460 will take you a long way!  Here's what I cooked up:
Just looking through dates of when we could fly out of Idaho Falls, I found a weekend in August that would cost about $292 for two round-trip flights to Los Angeles.  I could add two adult tickets to Universal Studios for $184.  All in, I'd be looking at a total of $16 out of pocket for the two flights and theme park entrances.  At that point, the cost of my vacation would consist only of what I'd pay in hotel, food, and whatever other entertainment we choose.  (Mind you, I'd be using other points for my hotel anyways – see how fun this is?)
A Vacationstogo.com Last Minute Cruise – Cruises are an incredible way to travel, and the value is just insane.  You get your lodging, food (as good as it gets), entertainment, and transportation for what you might otherwisepay for only one of those categories.  Add to that the fact that these puppies get extremely discounted the closer you get to the sailing date, and you've got a real bargain on your hands.
Why don't the two of you take off on this 4 night cruise through the Bahamas?  Even by the time you include taxes, your free $460 will be roughly enough to cover the two of you for 4 nights – food, lodging, transportation, and entertainment!  You can't live this cheap at home!
An Exotic Car Rental – This is "mad money," the kind you don't mind spending on something you'd never otherwise splurge for. But let's just say you wanted to do something out of character and have some fun.  Midway Car Rentals in Los Angeles has lots of exotic car rentals for anywhere from $100/day to $1000/day.  You could have this mini-cooper convertible for two days and still have money to spare.  This is about your savvy in prudently using miles and points enabling you to do the kinds of things you thought you'd have to rich to be able to do.
Now, as you well-understand, there are countless other ways you could spend your free $460, but you can't spend it until you have it, and you can't have it until you get the card and meet the minimum spending requirement. This is a card you need to have excellent credit in order to be approved for.
We don't have a direct link to the card, but you can learn more about the Capital One VentureOne card using this link.
We always take very seriously the idea of applying for credit cards, and we want all of our readers to know that we never advocate using credit cards for "credit," but only as purchasing instruments – ways to use money that you already have, in order to obtain the maximum benefit from credit card offerers who are hungry for your business.  We always tell people never to spend money they don't have on a credit card, never use it for purchases you wouldn't otherwise make with a debit card, cash, or a check.  All of these free benefits are great, but they pale in comparison to paying months and years of high-interest.  Please don't fall into that trap, but do join in on the idea of prudently using credit applications to enable you to do the things you've always dreamed of.