All of the sudden it feels like people are capturing just how amazing this idea of understanding loyalty points programs really be. I'm having at least a conversation a day with people who are increasingly more and more curious about exactly what we're doing with this blog.
We've hosted quite a few seminars here in our hometown, but despite Idaho Falls' proclivity to winter weather and the astoundingly obnoxious wind bursts (like the ones that are beating against the side of my house right now), it's not exactly a hotbed for travel aficionados. That's why we're finally embracing some awesome technology and putting together our first WorldWanderlusting Google Hangout so we can share these secrets with people all across the country. If you don't know what a Google Hangout is, don't worry – I didn't either. Basically it's going to allow us to Facetime you, talk to you about how we travel the world for a fraction of what you'd expect it to cost, and even show you exactly what we're talking about by going through a few examples with you looking at our computer screen.
The catch is that these things are limited in how many people can attend, so if you want in on this action, we need to have you register right away.  Just go to this page and enter your information, then be sure you have a reminder on your calendar for March 25th at 6:00pm (Mountain Time).
The plan is to go through some specific examples of the kinds of trips you can take like these two that I've helped WorldWanderlusting followers book in the past couple of weeks.
Flights from SLC to London, London to Dublin, and Dublin to SLC for less than $85/ticket
Some people do crossword puzzles, others Sodoku… but me? I like to finding ways to most efficiently use frequent flyer miles and make otherwise insanely expensive vacations nearly-free.  So when some blog readers sent me this message, I smiled and embraced the challenge.
Dear Brad:  We'd like to go to Dublin in April/May of this year… and it would be nice if we could do London, too. We could go any time after April 20th and fly out of Idaho Falls, SLC, or even Boise if we needed to.  We have 58,000 AA miles, 45,000 SPG points, and 60,000 British Airways Avios.  Can you help us find a way to book it?
(Licking my chops) Ok, here goes… because I happen to be an avid reader of this blog, I know that British Airway Avios, though aptly named, are not a good way to fly over the pond due to very high fuel surcharges. But I know that they might be a good way to get from London to Dublin or vice versa.
With 58,000 AA miles, they have some, but not all of the 80k they'll need for 2 RT tickets to go to Europe in off-peak season (Nov 15-May 15). But I also know that it's not only possible to move SPG points to AA miles, but that there's a 5k bonus when you move 20k.  If I can find availability into London or Dublin and out of the other for 40k each way, they'll be set.
I start searching for open dates and excluding British Airways from the search results (which is kind of tough, given that if an American Airlines flight is headed to the UK, it's likely operated by their UK partner), but with the miracle of AA's merger with US Airways, availability opens wide up and I'm able to find a routing that sends them into London and home from Dublin for a mere 80k AA miles and $110!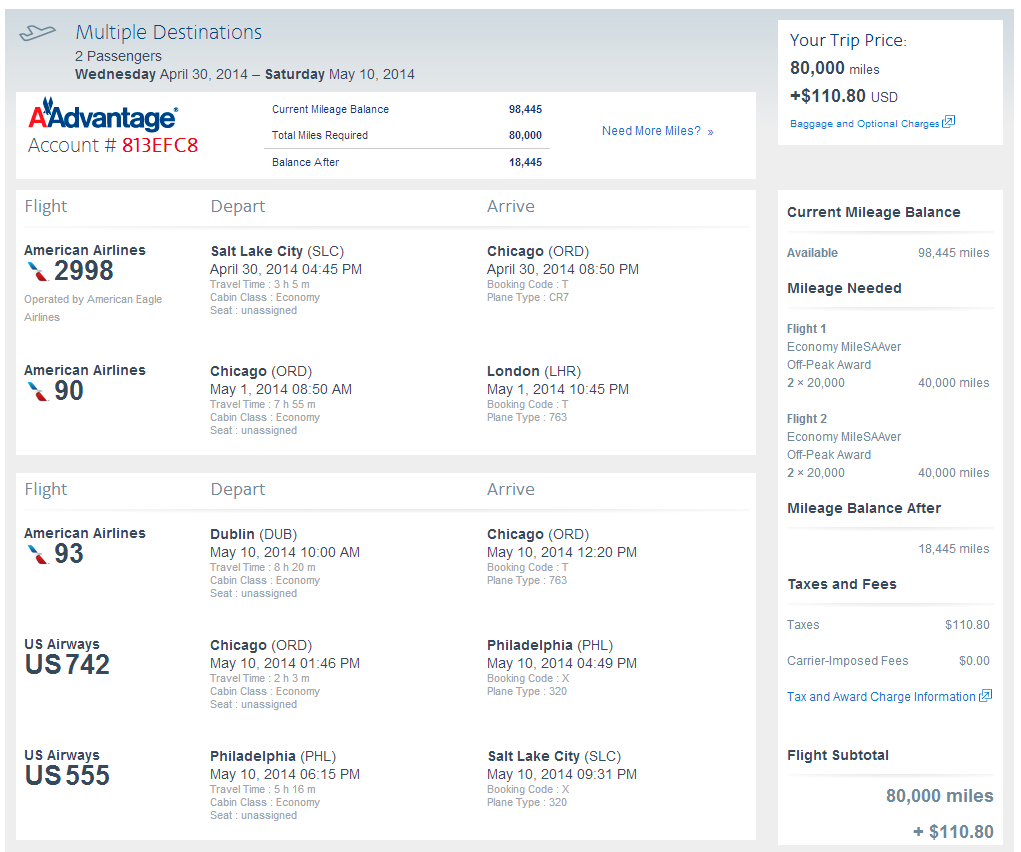 Now I go back to British Airways and I'm able to get them two one-way flights from London to Dublin for 9k BA Avios and $55.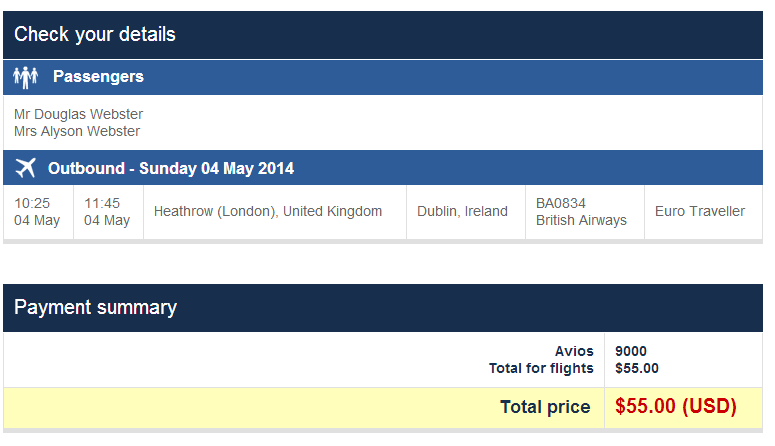 I'm not one to brag… wait, yes I am… at least when it comes to getting amazing travel bargains… but isn't that just plain incredible?  Stay tuned as I'm hoping to figure out how they'll be able to stay 11 free nights in hotels, too.
Las Vegas on Short Notice
As another example, just this weekend a friend of mine called me saying that his wife had a death in the family and that she needed to fly to Las Vegas as soon as possible. They were ready to book a flight on Delta from Idaho Falls the next day for just over $1,000, but they just wanted to check with me to see if I knew of any cheaper or better way for them to use miles to get there.
I first thought of Allegiant Air, which I could book and then reimburse with Barclaycard Arrival points, but that was quickly ruled out because the flight wouldn't leave for 2 days – and on such short notice it would have been almost $400.
My next thought was to look at Southwest flights out of SLC.  It was an option, as there were flights available the next day, but they'd have to burn 42k Rapid Rewards points – not exactly the most efficient use.
Next I thought to look at that same $1,000 flight on Delta but what it would cost to book with Skymiles. A mere 25k points and a $10 booking fee later, she had her ticket to console her family. The 30k Delta Skymiles they had gotten from the Gold Delta Skymiles Card wound up being worth more than a thousand dollars to them. Who needs bereavement fares when you have a thick award wallet?
—
Are you grasping just how amazing this can be?  The reality is that you can take those "once-in-a-lifetime" trips that you've dreamed about taking in retirement now, while you're young and adventurous.  Don't hesitate when it comes to capturing dreams.  Claim your spot in our Google Hangout and let's get you started seeing the world!