Everyone built a treehouse at some point in their childhood.  It's a rite of passage. Climbing out on a limb to put up a swing near the one we had built almost cost me my ability to walk at one point… because I fell a good 20 feet to the ground and was lucky to avoid being paralyzed. But it didn't stop me in my enthusiasm for the idea.
So when I got the opportunity to visit the Dominican Tree House Village recently, I was thrilled to re-live some of my childhood and was completely enthralled by the property and everything there was to do nearby.  It's a place where you could easily spend a week and enjoy every minute of it… so that's exactly what I'm telling you to do.
Getting There
We've written a lot about how to get to the Dominican Republic with big loyalty point bonuses obtained by the prudent use of purchasing decisions wisely allocated to credit cards which are paid on time and in full. It's an incredible way to turn flights that could cost $800 each into flights that might cost $100 each.
The best way to go about it right now (if you're near an airport that is served by Frontier Airlines), is to get your hands on the Frontier Airlines World Mastercard. You need to spend $500 on the card in the first 90 days in order to get the 40,000 bonus points and you'll be on the hook for the $69 annual fee, but with only 30k of them, you'll be able to book a RT flight to the Dominican Republic and only pay around $100 in taxes.
Even better, you'll still have about 10k in Early Returns points that you could also use for a one-way flight in the US.
If you're not near an airport which Frontier serves (like BOI), you may want to look into using Delta Skymiles.  You'll need about 35k and 30k of them could come from the Gold Delta Skymiles American Express.
Getting Around
Renting a Car
I just love renting a car when I'm on vacation… particularly in foreign countries.  I like the challenge of navigating and I crave the opportunity to choose my own course and discover things that are off the beaten path.
I just did a search for a week-long car rental out of Samana airport.  You'd be looking at roughly $225 for an economy car for 2-4 people. It would be about the same from the Santo Domingo airport. You can waive the third party insurance, though they are going to try to tell you that you can't.
Driving up to Samana from Santo Domingo will require you to spend about $13 on a toll road that will get you there in about 2 hours.
Having a car will enable you to set your own schedule and is really cost effective if you have four people.
Public Transport
But you don't have to brave the Dominican roads all by yourself.  From the Santo Domingo airport you can pay $20 to get to the Caribe Bus tours stop where buses leave to Samana  at 10:00am and 11:00am and 4:00pm and 5:00pm.  Those buses are only $8/person and they'll leave you right near the Bahia View hotel in Samana.  You can stay there for about $40/night if you get in late, but otherwise, you can pay a taxi about $20 to get to the Dominican Tree House Village.
Getting around from the property will require you to schedule tours through the eco-resort… no big deal there, though, as the idea is that you'll be in groups and the activities are pre-arranged.
About the Tree House Village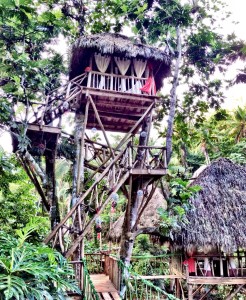 So many pictures of travel destinations are so hyper-filtered and porn-ified, that when you see them in real life, they're underwhelming.  But that's not the case with the Dominican Tree House Village.  It's literally like something straight out of Swiss Family Robinson.  There are suspended rope-bridges between many of the cabins, and the property itself is a perfect blend of authentic jungle and manicured landscaping.
It's located right at the base of the Samana Zipline and next to a beautiful waterfall – both of which you'll hear about in our suggested activities for Day 1. It's deep enough into the jungle that you really feel remote, but not so far that you're worried about your safety.
The cabins are open-air, pitched high above the jungle floor and enclosed by not much more than some white curtains and some well-built bamboo rails.  Each cabin has a single queen bed – the mattresses being authentically American, and far more plush than most of what I've ever slept on in foreign countries.  It's equipped with a bug net, but here's the part that's going to shock you:  I spent 3 days all over the property and didn't get a single mosquito bite.  The owners say it's owing to a strong bat population and the abundance of moving water nearby.
The bathrooms are centrally located on the property with very clean showers and toilets… if that weren't good enough, they're partially constructed with recycled bottles – giving it not only an eclectic look, but also an illuminated feeling.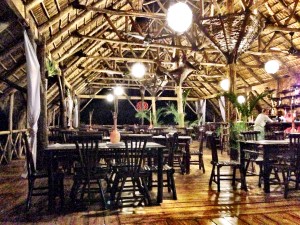 A massive lodge forms the center of the property, where there's a stocked bar, and where breakfast and dinner (both included with the price of your cabin) are served. It's an excellent place to sit and enjoy the environment.  Below the lodge are dozens of hanging beds, suspended from the ceiling and all poised to form what will soon be the world's most amazing jungle movie theater.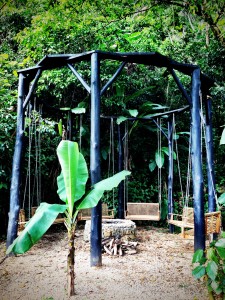 Nearby where you can hear the trickle of the river, a stand of loveseat swings encircles a firepit in the most inviting social setting a jungle eco-lodge could ever muster.  This is a place where stories will be swapped by travelers the world over for years and years to come.
Now, here's the exciting part – if you mention this WorldWanderlusting story when you book the Tree House Village, you'll only pay $150/night for double occupancy – including breakfast and dinner! If you're able to get your flights almost for free with Frontier Early Returns points, you won't pay more than about $1000 for the entire vacation.
This is an experience from which the memories will always abound. If all you ever did was laze around and read, you'd call your vacation a monstrous success… but you'll do far more than that… assuming you want to…
Day 1: Samana Zipline and Lulu waterfall rope swing
The visionary who built the impressive tree-top palapas in the jungle started with the dream of building a zipline in the mountains between Samana and the North Coast.  He hired German engineers and spared no expense in building what may be the single best zipline experience in all of the Caribbean.  From what looks like a wrecked ship atop the tallest mountain in the area, visitors begin their downhill voyage by walking the plank. Reaching speeds of up to 40 mph, you criss-cross from platform to platform with incredible views.
When you reach the bottom, you're greeted with a view of a stunning waterfall and a glass of local rum and Coke.  If the hot sun is wearing on you like it was me, you'll be swimming in the clear waters before you even know it.  A massive rope swing also makes for a dramatic entrance and the locals (particularly the zipline staff) make the experience that much more entertaining.
This is not an entire day's activities, but hey, you're on vacation, right?  If you are anxious for more, you may be able to stop by a local house where you'll get a chance to sample some local fruits and see how some of the delicacies of the area are prepared.
Day 2: El Valle Beach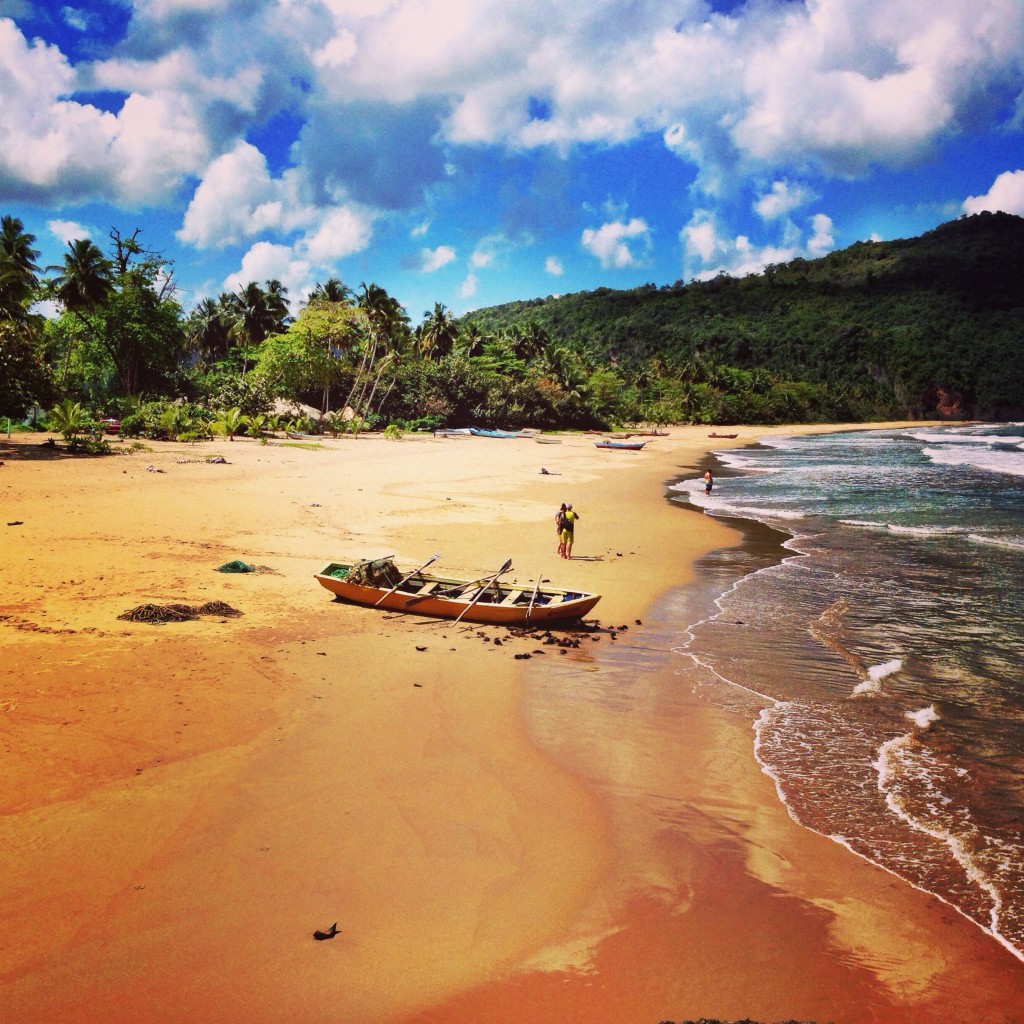 Not more than a 10 minute drive or a 30 minute walk from the entrance to the Tree House Village, you'll reach the north coast in a wide bay called "El Valle Beach." There may be one or two small fishing boats, but that's about all you'll have to share the scene with. This is a massive, albeit extremely quiet and under-utilized beach.  There are just enough waves to make it fun to play in, but not so much that you feel battered.  You can walk around the corner to a more isolated spot that may or may not be owned by Shakira. Soak up the sun and enjoy the day… this is what you're here for.
Day 3: Hike to Limon Waterfall
Sleep in and when you do get up, enjoy the complimentary breakfast in the quiet of the jungle. You'll have a full day ahead of you.  Stop in the small city of Samana and pick up a picnic lunch and some drinks.  About 40 minutes away, you'll find the trailhead that will take you to El Limon waterfall.  Reports vary, but count on about a 1.5-2 hour hike each way, and the moment you see the 120′ cascade, it will all be worth it.
This activity will take up the bulk of the day, but there are dozens more waterfalls you could hike to in the area if this kind of thing really gets you going.
Day 4: Rincon Beach
Rincon beach is one that someday will become as famous as Cancun, but for now, it's another stretch of sand that you can almost have to yourself.  A freshwater lagoon on one end of the beach makes for a great place to alternate between the salty ocean and the fresh mountain runoff.  A small restaurant will serve you a good meal and you can enjoy a little shade under one of the many palm trees that line the beach. Open your book and don't move any more than you have to.
Day 5: Horseback Riding/Dune Buggy Exploring
This may or may not be your kind of thing.  If it isn't, no biggie, as one more day in the jungle or on the beach may be just what you need, anyway.  If you are into the idea, there are plenty of places you can make it happen.  Horses might be able to take you to romantic vistas, to remote beaches, or to more waterfalls.
You can also rent a dune buggy and do a little off-road exploration of the area.
Day 6: Las Galeras Beach
Las Galeras is a tourist town that will not disappoint you.  If you'd like to arrange to do some scuba diving, a whale watching tour, or anything else you have in mind, you can get it booked here. The scuba diving is also particularly interesting because this area boasts a couple of unique underwater attractions – a 170 foot coral tower jutting up from the bottom of the ocean, and some historic wreck dives.  The dive company that operates here, http://www.las-galeras-divers.com/ gets rave reviews on Trip Advisor.
Day 7: Las Terrenas
About 40km from Samana is the small city of Las Terrenas – another great place with plenty to do.  You can kitesurf on the beach, eat at delicious local restaurants, or just enjoy the quaint little town.
—
These are just a few ideas and there are many other things that could keep you busy while you visit.  Check out http://www.godominicanrepublic.com/ for more information on what you could do while you're visiting and thanks for wanderlusting with us.
In the very near future, we'll be hosting a giveaway for free stays at this eco-village, so please pay close attention to our blog and get immediately serious about making a trip like this happen!