You might not believe it, but its true.  We're headed to sunny Orlando later this Spring to celebrate my brother-in-law's graduation from high school.  No, he's not from Florida, but why not celebrate there, right?  Especially if I can get there for $30.
You're probably thinking, Sheldon, you simply forgot two more 00's on the end of the $30, which would make the trip $3000.  No.  You heard me right.  I'm simply paying $30 for booking tickets for 4 to Orlando, Florida.  I'm pretty stoked about it.
Ok.  I'll be honest.  There is a little bit of cheating here.  The fourth person is a lap child, so I really booked the trip for three people and a lap infant, but regardless it's a smoking deal.  Let me walk you through the process.
Why I picked Southwest Airlines
We've talked about Southwest being one of the best domestic airliners for a variety of reasons:
They offer peanuts (and they're free)
They allow 2 checked bags to fly free
They allow for changes to your itinerary
They are the most generous on award travel within the USA
They found a way to make the safety video at the beginning of their flights interesting
I booked the flights to Orlando on Southwest with full confidence knowing that If needs be, I will be able to adjust the itinerary to other flights if for some reason these dates won't work for me.
Booking the Tickets for 4 to Orlando
You really want to watch the dates carefully with Southwest because their sales come and go.  Upon shopping their flights I found a gem out there that only took 40,000 Southwest Rapid Rewards to pay for the three flights.
I booked this flight about 4 months before departure and the availability was amazing.  We picked the best flights with the shortest travel time between destinations, which leaves me with the least amount of time chasing children.
I'll keep my eyes peeled from now until departure, because if for some reason they drop the points requirements for this flight I'll simply cancel the old reservation and rebook the new one at the lower cost.
Here is a quick YouTube video if you need some help (Click playlist in the upper left and go to video #7):
How to Get your Hands on Some Rapid Rewards
The easiest way to get your paws on a serious amount of Rapid Rewards is to score the Chase Southwest Credit Card.  They actually have four versions of this card, two personal cards and two business cards.  Be patient an make sure you get at least 50,000 as a sign on bonus for picking up one of the four versions.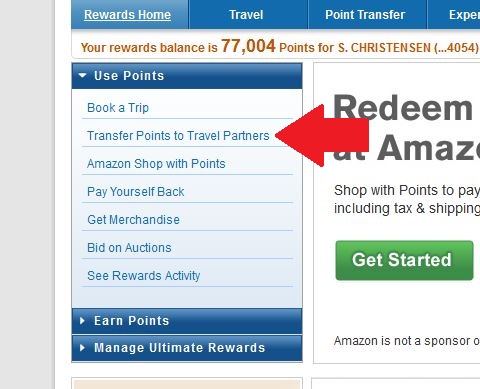 A little over a year ago I picked up the Chase Ink Bold card the offered a bonus of 50,000 Ultimate Rewards after meeting a minimum spending requirement.  The card has paid of handsomely with 50,000 Ultimate Rewards, but in a little over a year I've been able to build up a stash of up to almost 90,000 points (Muchas gracias 5 points per dollar on many categories).  If you're interested in transferring UR to airline points you can check out this post.I quickly transferred the points from my Chase card directly to my Rapid Rewards account, and they transferred within about 10 minutes.
It doesn't matter whether you use the Southwest card, or an Ultimate Rewards earning card like the Sapphire Preferred, Ink Bold, or Ink Plus you should get one and start putting some points on the board.  If you love to travel, you'll find a way to use them.  My Ultimate Rewards just got me tickets for 4 to Orlando for $30, and you can do the same too.
Come On, Just WorldWanderlust With Us
Whether you're new to the site, or you're an avid follower, you know that we encourage people to go more new places every year.  Doing so will enrich your lives with experiences whose value far exceeds that of money, gold, or silver.  Spend the time now making memories with those you love.