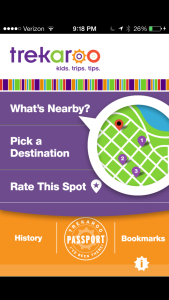 1.  Trekaroo (For those with Kids)
Taking kids anywhere usually is a nightmare.  But you don't want to stop traveling either.  For that reason you'll want to bust out your phone right now and download Trekaroo.  If you've got kids, and you want to keep them happy, get this app.   First of all…it's free.  That is always a big plus coming from a cheapskate like me.
It's hard reading reviews from people who aren't in the same phase of life as you.  The single person's feelings towards a place won't be the same as someone who took kids to the Louvre.  Most of the reviews are from parents who understand your situation and who'll shoot straight with you.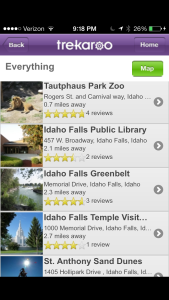 The reviews of restaurants can be useful, because they can tell you whether the staff and location were accommodating for children. Sometimes it is nice to eat somewhere besides McDonald's and Carl's Jr because that have play areas for the kids.
The other nice thing about this app is that it has some activities for smaller towns too.  Sometimes these travel apps are geared toward monster cities like San Francisco and NYC, but don't offer anything for mothers who are desperate to keep their munchkins happy in small towns.
Cons: Only for domestic travel
2.  Rick Steves Audio Europe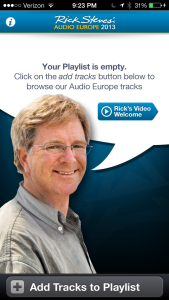 Good Ole Rick Steves.  The man who reminds you to "Keep on Traveling" at the end of every show.
This punk-A has the most incredible lifestyle on Earth.  He eats in all the restaurants, and visits all the castles of Europe, he sleeps in all the hotels, and visits all the small towns.  This guy knows his stuff when it comes to Europe.
Although you want to hate the man for his incredible lifestyle, his knowledge is extremely valuable, and he is willing to share it with you for free with this iPhone app.  The app is free, and includes walking tours of specific locations.  When I went to Venice, I listened to the walking tour that he gave regarding St. Mark's Basilica.
The tour gave historical information, interesting facts, and explained a lot about the architecture.  Many of the facts and things he notices would easily go unnoticed if he didn't point them out to you.
Many of them are rather lengthy, so I recommend you download them and listen to them while you're mowing the lawn at home in anticipation of your trip.  That way you won't need to hire a tour guide to show you around the Grand Canal, you'll be the tour guide for everyone in your party.
Pick up this app if you're headed to Europe in the next little bit and start cracking his wealth of knowledge.
Cons: This is only for Europe.
3. TripAdvisor City Guides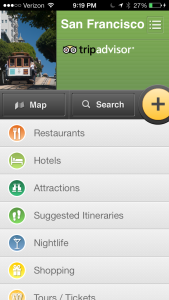 Don't allow yourself to be confused between TripAdvisor and this. This travel app is a must get
If you're like me, and you don't have an International cell phone plan, you're constantly searching for a McDonalds or Starbucks that offers free WiFi.  Eliminate the need for WiFi by getting this app and downloading the guides for the cities that you'll be visiting.
Because this app is owned by TripAdvisor you always get tons of reviews, and it shows the highest rated actives in your location.  The map feature allows you to know where you're at, and what actives surround you, which is great for quick ideas in your vicinity.
Cons: These guides are really limited.  You will only find these guides about big cities like Paris, London, and Rome, but unfortunately doesn't work in small towns like Innsbruck, Padova, or Fussen.
4. World Around Me (WAM)
This by far the most intuitive and direction oriented app I've seen yet.  It will tell you how far away you are from each of the locations.  As you turn on the app you'll be able to see the distance of the banks as you walk in that direction.  It is super handy because you can use the same app to find your bank as the restaurant that you'll be choosing for dinner.
It does have service in smaller towns like Idaho Falls, but there aren't as many reviews as something like San Francisco would have.
If you're planning out your entire day in the morning, it might not be the best, because it focuses more on someone who makes their decision on-the-go.  It has a very great advantage for someone who is on foot, and doesn't want to walk around the whole town to find a restaurant.
When you choose a location it routes you to Google Maps (Thank goodness they don't use Apple Maps) so you can be navigated directly to your destination.
Cons: App is $0.99.
5. Stay.com Travel App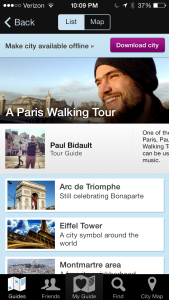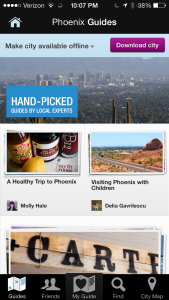 This app has a lot of the same features as those previously mentioned:
Downloadable maps
Travel ideas
Full itineraries rather than single ideas (ex: Paris Walking Tour, or Healthy Eating in Phoenix)
But it also has its downsides:
Limited to Bigger Cities
Less reviews than others
Taking a trip can be stressful, and picking the activities can be tough.  Take off a load of stress and download these apps today so you can be more prepared for your next vacation. What other travel apps do you use to plan your trips?