When I told people I planned on scalping a ticket to go to the BCS National Championship at the Rose Bowl in Pasadena, they looked at me like I was crazy. When I told them I thought I could do it for less than $50, they were convinced I was completely off my rocker. When I actually got in for free, it was me who was incredulous.
I've scalped tickets to sporting events all over the country and even to a soccer game in Honduras. I've always paid a fraction of face value – usually a very small fraction. I have a few tricks which I put in one of our most popular blog posts, How to Scalp a Ticket on the Cheap, but in this instance maybe I was a little over confident that there would be an abundance of scalped tickets available.
Originally, I hadn't even planned on going to the game. I'm not a huge fan of either Florida State or Auburn and frankly I'm anxious to see the end of the BCS era (error). But I did have to go to Los Angeles for some work meetings and I had booked a flight from BOI to LAX arriving at 10pm. But when I calculated that for only 7k more of my freely-obtained SW Rapid Rewards points I could arrive in time to see a great match-up, I couldn't allow myself to forego it.
One of the many perks of flying Southwest Airlines is that they allow an infinite number of flight changes – something I often exploit to ensure that I spend no more points than I need to by checking in periodically and re-booking if I find cheaper flights. In this case it allowed me to easily make the change and getting in at 4:40pm would be just in time to grab a cheap rental car and head to Pasadena.
Things don't always go as planned, though, and my flight was delayed about an hour and a half. I landed after the game had started and brought it up on my phone.  By the time I got into my rental car, it was already the second quarter and as I tuned into the game on my radio, I consoled myself by thinking the scalpers would be even more desperate and I'd get in even cheaper. Waiting in the horrible SoCal traffic, I called my friends who told me how they'd managed to get in for $100 each through slightly illegitimate means which I'll opt not to disclose.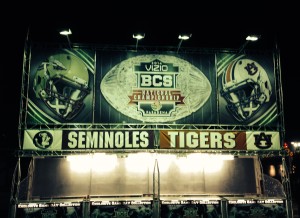 By the time I got near the stadium and parked, half-time was almost over.  Heading into the stadium, I came upon a trio of Auburn fans who had decided that their 21-3 lead would be enough and had left early. I shamelessly asked a ticket stub and one of them happily obliged, but cautioned that they weren't allowing re-entry. I figured I'd try anyway, but when they scanned my ticket at the gate, there was an obnoxious beeping noise and they told me I wouldn't be allowed in.  Undeterred, I tried to look for scalpers but I wasn't alone in wanting to gain entry and there were none to be found.
My next tactic was to leave a $50 bill peeking out from behind my ticket (a la $20 Sandwich trick that I've used for hotel upgrades in Vegas) and begin making my way around the stadium in hopes of finding a vulnerable security guard… but they must pay those guys pretty well because I couldn't get anyone to bite.
I had walked around the exterior of the stadium and in the meantime the Seminoles had were staying just close enough to keep me wanting in.  By the time I got back to the original entrance, it was halfway through the third quarter and I was getting desperate. That's when I hatched a wickedly-awesome, albeit slightly dishonest plan.
I went to the First Aid station which also functioned as an entrance/exit.  I showed my ticket to the security guard and told her that I had just taken my wife out to the car because she wasn't feeling well and that a nurse had told me I'd be allowed back in through this exit. The whole room was chaotic with people and the security guard gestured for me to follow her to the nurses station.
That was about as far as I had taken it in my mind so I was rapidly trying to formulate the next piece in the plan when she presented me to an older nurse who seemed to be short on patience and long on not putting up with crap. Before I could tell her that this wasn't the nurse I had talked to, she started in;
"Sheila, this man says you told him he could come back in after taking his wife out to the car. Do you recognize him?"
A moment of sheer panic overcame as I knew I was in trouble. My fate rested solely on the very square shoulders of a nurse named Sheila.  I started to stutter but before I managed to get anything out, Sheila's hard face softened into a sly grin and she said,
"Yeah, I recognize him… I remember his wife."
To this moment I still don't know if the chaos of the situation granted me access, or if Sheila is a kindred spirit and appreciated my shrewd tactics.  Whichever it was, my panic suddenly transformed into elation and I turned on my heels to walk into the stands with 94,207 other people – not long after Florida State had kicked a field goal to make it a one-possession game.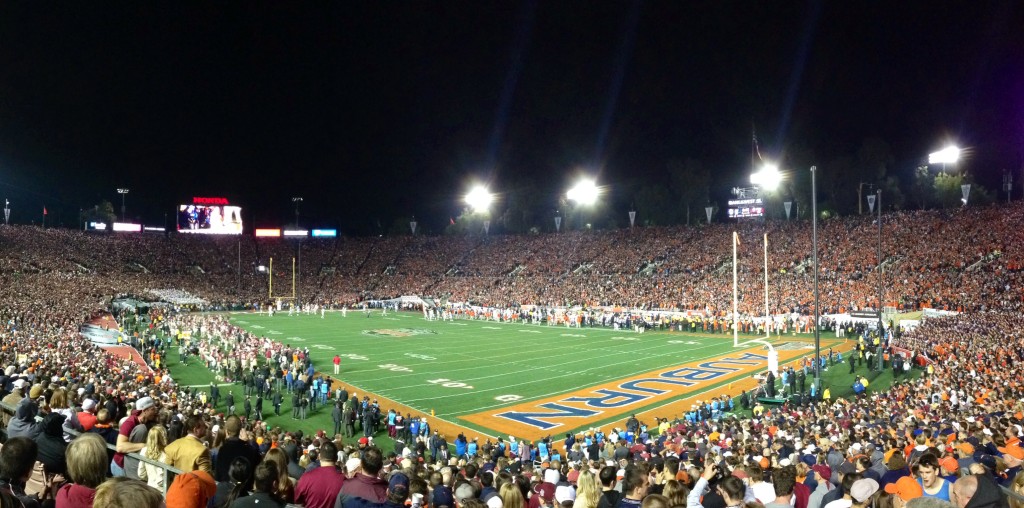 I located my friends who had happened upon some open seats and we were perfectly positioned between fans of each team near the end zone as the third quarter came to an end. What ensued in the fourth quarter was nothing less than heroic – three lead-changes, including an incredible 100 yard kickoff return, stunning drives, shocking catches, and a final touchdown in our end-zone with only 17 seconds left on the clock.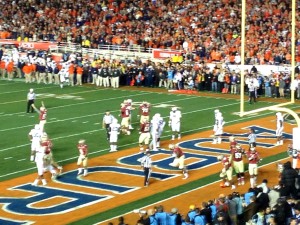 All the while we were high-fiving fans of either team, celebrating nothing more than the opportunity to be there and feel the electricity. It was a great game, probably one of the best quarters of college football to be seen.
Thank you, Nurse Sheila.
I guess I can't make the moral of this story be that you should lie, cheat, and steal your way into sporting events, so instead maybe I'll focus in on my overconfidence in my ability to scalp my way into the game.  I've had tremendous luck when it comes to buying tickets at yard-sale prices, but events like these are always subject to rules of supply and demand.  If you're going to scalp tickets to a game, let it be to a game that you don't mind watching from a nearby sports bar, if needs be.
If you are daring enough to give it a shot, be sure and check out the 3 strategies I map out in the How to Scalp a Ticket post.
Also, while I was in LA, I stayed with my friend who rents out vacation homes near Disneyland – check out their site if you're ever interested in having a great place for families to stay within walking distance of the park.
Do you have recommendations on scalping tickets?  Where have you scalped tickets and how much did they cost you? Any must-see sporting events that I need to put on my list?