I had the troublesome experience of trying to help a friend book a trip for the day after Christmas.  Normally, booking travel is pretty much my favorite thing to do, even if it's not for myself.  But put me in a box like "We have to leave on Friday the 26th of December and come back on Friday the 3rd," and I'll just shudder.
You see, for a guy who calculates how the various carton quantities and brands of eggs derive to "price per egg," paying day-after-Christmas prices for travel is extraordinarily painful.
In the end we were at least marginally successful.  My friend was able to buy 120k Delta Skymiles for $1200 and fly a great itinerary that gets them right out of our small local airport and direct into Orlando.  To pay cash for the same flights would have cost him $3027.  $600 for Friday to Friday flights the day after Christmas is pretty much unheard of.  In fact, with airplane load rates very high, I'm fairly confident he'll get an opportunity to take "The Bump" and score some vouchers that may make his next trip even sooner and cheaper.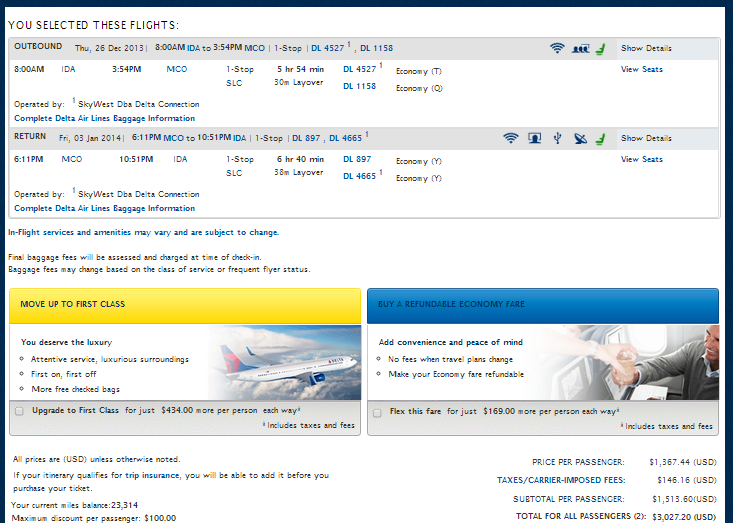 Even so, I've resolved to tell the world how not to get themselves into this situation in the first place with this post on which are the best days to travel cheaply.
Best Days to Travel Cheaply
The principles of cheap travel are generally cross-applicable whether you're booking with points or (wince) still actually paying for travel. The first and foremost is probably a given, but I'm going to say it because so many people still fail to understand it: BE FLEXIBLE.
So many people are convinced that they need to travel on specific days – Anniversary trips that must occur over the exact date, being home in time for children's birthdays, being back for work the next Monday.  All of these are not as absolutely necessary as they first may seem.
Best Days of the Week
Pricing is supply and demand elastic, so it should come as no surprise that the days that most people prefer to travel tend to fetch the highest prices. This varies by whether the route is generally a business route or a leisure route, but it's pretty universal. Here they are in order of least to most expensive:
Wednesday
Tuesday
Saturday
Thursday
Monday
Sunday
Friday
Far too many novice travelers pay a premium to fly out on a Friday and come back on a Friday.  Leave on a Wednesday and come back on a Wednesday.  That way you take off the same number of days, save points or money, and you get the benefit of cutting two work weeks in half – that's reason enough right there to do it this way.
Best Times of the Year
This is also a factor that will vary by destination.  Every place has its peak seasons, its off seasons, and its shoulder seasons. Of course travel really tends to accelerate through the summer when children are out of school. June to August happens to be a beautiful time for me to stay right here in Idaho.  If we do anything at all, we roadtrip it.
Shoulder seasons tend to be my favorite time to travel – just before or right after the tourism season really kicks in.  For Domestic and European travel, this is of course Spring and Fall.  We recently did our Italy trip from Oct 15-29.  In my mind this was an absolutely perfect time to travel.  We started off in Slovenia where the fall colors where just kicking in and the weather in Italy was perfect and the crowds were much thinner than other times of the year.
Most Airline loyalty programs prescribe their off-peak timeframes.  For American in Europe it runs from Oct 15-May 15. Here's a post we did on booking an American Airlines AAdvantage trip to Europe without surcharges.
To research other off-peak timeframes for other airlines, look at the award charts on our Using Airline Miles page.
Keep in mind that "Off-peak" times are usually that way for a reason – but with that said, you have to consider exactly what you're after.  Back in the days when I actually used money to pay for flights, I booked a flight to Costa Rica in November, which is their rainy season. We absolutely loved it.  The greens were even greener and our rainforest hike to Nauyaca waterfall was muddy, slippery, and immensely memorable.  I wouldn't trade it for anything.  Rain is actually quite refreshing when it's a constant 80 degrees.
[In fact, I'm sitting here recalling learning to surf in Dominical, Costa Rica. I was enjoying every part of the experience with the exception of the salt-water grime coating my face.  A dark blanket of clouds rolled in. I turned my face up to the sky and let the most wonderful rainstorm clean and refresh me.]
Sheldon's trip to the Alps was no different – you'd never think to visit high mountains in the spring, but talk about capturing nature in its full glory.
Don't be afraid to travel in the off-peak and shoulder seasons.  Embrace it. You'll save money and enjoy the experience.
Best Days to Cruise
The real answer here is, "last minute." I can't tell you how much I love to peruse the Vacationstogo.com 90-day Ticker. We are plotting an Alaskan Cruise this summer but I won't buy it until the absolute last-minute when it is bare-bones cheap.  Cruises are the ultimate in supply and demand and a very small percentage of them actually sell-out.
Aside from that, you'll see that Caribbean cruises are often very cheap in Sept-October. This is the one instance where I'm going to say that they're cheap for good reason.  Of course that's hurricane season and it's just not worth it to gamble non-refundable flights and cruise bookings with that kind of a threat.  That said, if you're looking at leaving right away like I just told you to, you have the compounding of low demand and last-minute working for you, plus the benefit of being able to see the weather forecast.
Another great timeframe for cruises is the first week of December.  While the rest of America wastes money on frivolous Christmas gifts, invest in an amazing experience.
Days to Completely Avoid
There are some days that you just have no business flying.  Unless you're trying to get onto an oversold flight in order to get offered a voucher in exchange for taking a later flight – and if that's the case, good for you.
December 26th is one of those days, along with December 30th, January 1st and the day before Thanksgiving. Travel anytime around the Superbowl and other events and holidays also calls for a premium.
Spring Break has to be an invention of the airlines to force travel to a few specific dates and charge preposterous rates for travel.  Use your spring break time to take a road trip or get some cleaning done so you feel free to get away another time when the fares are lower.
The first few days of June are also horrific as families set out on their summer vacations, steer clear of those days as well.
For more educational information on how to time your flights, see this post on the subject from FareCompare, and see our database of the best travel credit cards where you can pile up thousands of frequent flyer miles to fly for free.