Looking at booking an award ticket with American Airlines?  Check out this post to learn how to Book a stopover with American Airlines.
Let's just review a few key terms that you'll need to understand before we hit the meat of this post:
Open-Jaw (Multi-Destination)– This is a trip where your destination and the location of your return flight are two different locations.  Here is an example.  SLC-CDG is the first leg of your flight.  The return flight might be something like BCN-SLC.  Notice that there is no connecting flight between CDG and BCN.  You would do this as a part of your trip.
Stopover– A stopover could be defined as somewhere along your trip that you get a chance to stop before arriving at your final destination.  The only example below would be JFK.

American Airlines Stopover Rule
American Airlines will allow for only one domestic stopover on an international flight, but they're rather picky.  They only allow the stopover to be in the "Gateway City."    The Gateway City is the city from which you leave the country.  Unfortunately this really limits your options.  For the most part the "Gateways" are:
New York City
Chicago
Dallas
Miami
Los Angeles
You'll have a tough time finding another city serve as a gateway to an international flight. Maybe once the merger with US Airways is complete there will be a few more, but who knows if these rules will change.
Booking an American Airlines Stopover
1.  You'll want to start by logging on to the AA.com website.  Check the box that says "Redeem Miles" first.  Then click on the tiny letters "Refine your search."

2. This will bring you to the next page where you'll see something like this.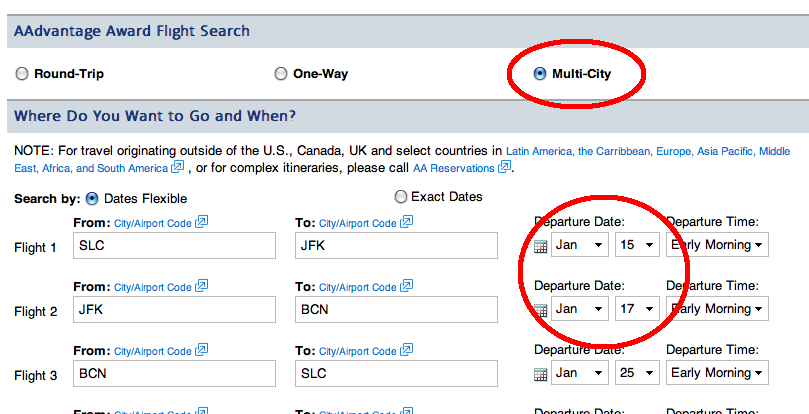 You'll now want to click the "Multi-City" radial at the top of the page. This will bring up a screen like the one shown above.  You can add in each leg of the flight.  In this scenario I ran a sample showing a two day stopover in JFK.
In this scenario JFK was my "Gateway Destination," which allowed for a couple of days in the Big Apple.  You wouldn't ever want to spend too long in NYC or you'd get robbed or go broke (which are really similar), so this would be a good way to tack on a quick visit to see a Broadway show or something like that.
3.  Now you've just got to find award availability.

The quote at the top of the page says, "This international award allows a stopover at New York – NYC for no additional miles…"
Yahoo.  You've done it!  Now you can book a flight to Europe and include a stopover at one of the destinations and score two vacations in one.  You should also consider doing a multi-destination like the example above.  This allows you to maximize your vacation by seeing a number of locations in one trip. That's what we call shooting with a shotgun!
Have you ever used a multi-destination or stopover award? What was your experience?  Would you recommend it to others?