Rock on!  Barclaycard is starting a new benefit for all Barclaycard Arrival(TM) World MasterCard® – Earn 2x on All Purchases cardholders.  You will now have access to your TransUnion FICO score for FREE. Yet another reason to put The Arrival in your wallet.  Here are eight more reasons to remind you about why this card is one you consider.
Many services charge big money ($10 per month-Look I'm cheap, and you are too, that's why you're reading this blog) or so to let you see your credit score whenever you want, which isn't worth paying.
We've talked before about special offers from CreditKarma and CreditSesame that both offer an good idea of your current credit score.  They don't charge, but they're not offering the exact score like this offer appears to be giving.
This is a service that you have to "turn on," but it is more like a microwave than an oven.  You get almost instant results, so what are you waiting for?
How to get your Transunion FICO Score with this offer:
1. First you need to login to your Barclaycard Account. Click on "Tools and education"

2. Click on the "Your FICO Score" icon in the middle of the page.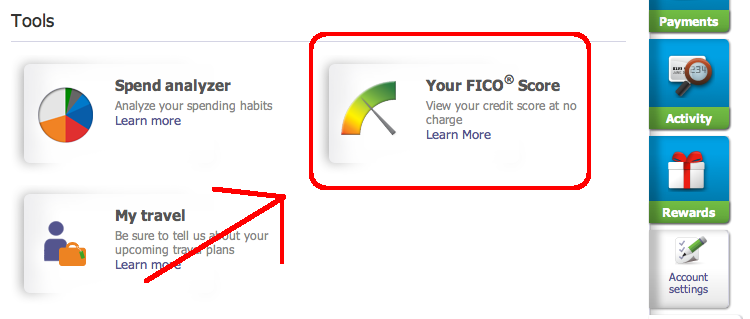 3. Read through the terms and conditions of the program, scroll to the bottom of the page and attest to the things listed below, and click the green "Accept" button.

4. Presto!  You've nailed it.  Give it a minute to pull up your beautiful score that allowed you the privilege of having the Barclaycard Arrival and admire your wonderful score.
Although they're probably bogus, don't forget to review the two reasons that are negatively affecting your score at the bottom of the page.  They have to think of some reason to not put everyone at the highest level, so don't let them affect you too strongly.
This is a huge step toward offering better benefits to you as a cardholder.  It really doesn't cost them much to hook into the score, so why wouldn't they do it anyway, right?
Here are the terms and conditions of the program:
1Key score factors provided by FICO explain the top factors that affected your FICO® Score. The order in which your FICO® Score factors are listed is significant. The first factor indicates the area that most influenced your FICO® Score and the second is next most significant factor that influenced your FICO® Score. It's important to take note of these items so you have a better idea of what can impact your financial health in the future. Barclaycard provides the description of each factor to help explain the factor in more detail.2This material has not been modified or validated by Barclaycard. Not all creditors evaluate credit in the same way; information provided may not reflect the view of Barclaycard.For important information and Terms of Use of this FICO® Score, click here to hide details.

Only the primary cardmember may accept the Terms of Use of this program and only their FICO® Score is available through this program. You (the primary cardmember) understand and acknowledge that if you give anyone else online access to your Barclaycard account(s), by providing your username and password, they will be able to view your FICO® Score as well as the factors impacting that score.

Barclaycard offers FICO® Score access at its own discretion. FICO® Score access is not a permanent feature of your account and may be removed at any time. To view your FICO® Score, your account with us must be open and active (having activity within the past 150 days).

Your FICO® Score falls into a range from 300 to 850, is calculated based on TransUnion credit data, and is offered soley for your own non-commercial, personal review, and benefit. Your FICO® Score is not an endorsement or a determination of your qualification for a loan or credit. Credit score models and score ranges may differ by lender.

FICO and TransUnion are third-party providers and are not affiliated with Barclaycard. Barclaycard does not guarantee the accuracy of any credit information that is provided to you by these third parties.

You can request a free copy of your credit report once every 12 months from each of the three major US credit reporting companies including TransUnion at annualcreditreport.com. If you find inaccuracies within your credit file, this site also allows you to dispute items in your report with the particular credit reporting company involved. Barclaycard does not recommend or endorse fee-based credit products that may be promoted in that site.

To help explain FICO® Scores and credit in general, we offer credit education materials from FICO. This material has not been validated by Barclaycard. Not all creditors evaluate credit in the same way. The information offered in this material may not reflect the view of Barclaycard. To read and download these materials, click the links below:

FICO and FICO Score are registered trademarks of Fair Isaac Corporation in the United States and other countries.

Barclaycard and Fair Isaac Corporation are not credit repair organizations as defined under federal or state law, including the Credit Repair Organizations Act. Barclaycard and Fair Isaac do not provide "credit repair" services or advice or assistance regarding "rebuilding" or "improving" your credit record, credit history or credit rating.