We've talked in the past about how Ultimate Rewards are some of the best credit card rewards out there.  Their flexibility is only matched or exceeded by the Barclaycard Arrival. Many people have begun earning Ultimate Rewards, but haven't transferred them anywhere.  This post will teach you how to transfer ultimate rewards to partner airlines and hotels.
First, log in to your credit card account at Chase.com.
Once you're in, you'll see a section on the side (shown below) that displays the number of Ultimate Rewards that you've accrued.  Click on the "Go to Ultimate Rewards" link.
Step 2-Pick "Transfer Points to Travel Partners"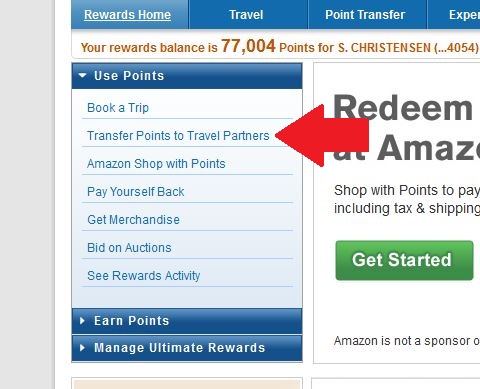 Although it might be obvious for some, you'll want to choose to transfer the Ultimate Rewards to a travel partner.
Step 3- Pick the Travel Partner to whom you're transferring the Ultimate Rewards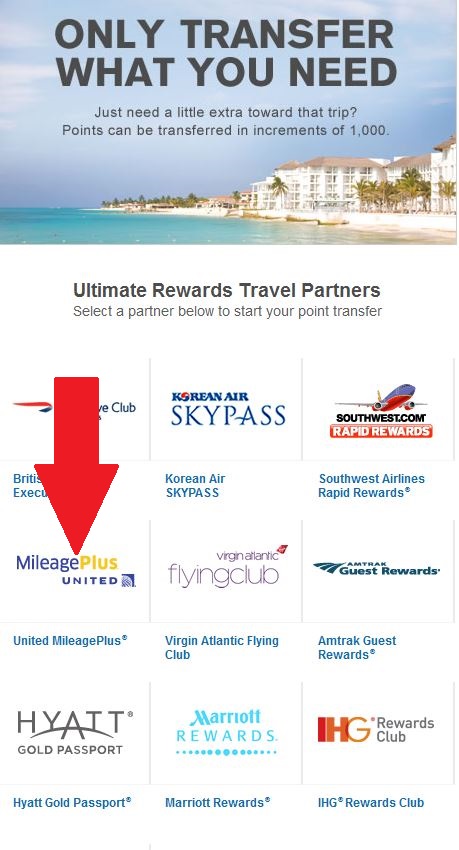 The minimum transfer to one of the Travel Partners is 1000 points. Transferring Ultimate Rewards is a great way to ensure that your hard earned miles don't get erased from lame expiration dates.
I chose United Airlines as you can see here on the left.
You can see that they can be transferred to a variety of airlines and hotels such as:
United Airlines
Southwest Airlines
British Airways
Hyatt
Marriott
IHG (Holiday Inn)
Korean Air
Virgin Atlantic
Amtrak
The ability to use your Ultimate Rewards on a variety this great is what makes them so powerful.
Fourth- Pick how many points you're transferring to the partner

The minimum transfer to anyone is 1000 points and miles.  The terms and conditions state that you're only supposed to give the points to a spouse or domestic partner.  Here is the applicable section:
Ultimate Rewards point transfer features are designed to allow our cardmembers to take advantage of the rewards they earn. The features are not intended to allow transfers to third parties other than a spouse or domestic partner of the cardmember. Transfers to unauthorized third parties or any other abuse of the Ultimate Rewards program may result in suspension or termination of the ability to participate in the program and forfeiture of points already earned.
Fifth- Wait for the confirmation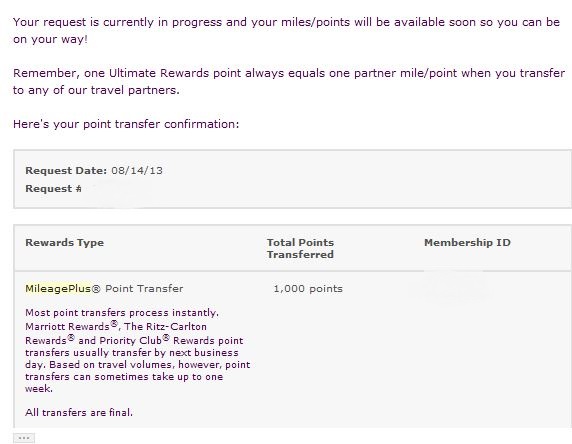 Chase will email you a confirmation saying that the points have been transferred.
Transfers usually happen instantaneously, but they've got to give you the disclaimer that it could take up to a week.
All transfers are final, so don't plan on sending them back to Chase.
Chase Credit Cards that Earn Ultimate Rewards
Chase Sapphire PreferredSM
Ink BoldSM
Ink PlusSM
Chase Corporate Flex CardSM
J.P. Morgan Palladium Card
J.P. Morgan Select Card
Transfer Ultimate Rewards Before Canceling your Card
If you're coming up for the annual fee on your card, and need to cancel it, make sure you transfer the Ultimate Rewards to a partner BEFORE canceling the credit card.