Who doesn't love Las Vegas? The lights, buffets, shows, and heat keep me going back time and time again.  The only thing better than visiting Las Vegas, would be to do it for free.  You heard me right, free.  Don't worry, this isn't a 2 hour pressure sale from a TrendWest timeshare presentation either.
Flights to Vegas
If you haven't been acquainted with Allegiant Airlines, now is the time.  These guys cater to people who want to spend either a week or a weekend in Vegas, Phoenix, San Francisco, Myrtle Beach, and other popular vacation destinations.  They offer no frills, and charge $5 for a soda, so drink up before boarding.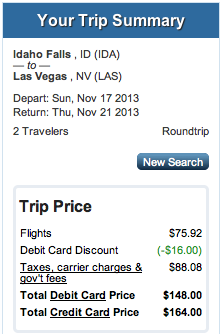 Just doing a quick sample showed a DIRECT flight from Idaho Falls to Vegas in the month of November.  It looks like it'll only cost you $164 for two people to take the flight from Idaho Falls to Vegas.  This can easily be reimbursed by using the points from your shiny Barclaycard Arrival World MasterCard – $89 Annual Fee Card.  That gives you the flight for free.  If you have questions on how to use your Barclaycard Arrival World MasterCard – $89 Annual Fee Card for this, read this post.
The itinerary shown gives you four days in Vegas, some of the flights are five, others are three, but either way it gives you a couple of nights to enjoy the glamour of the city.
However glamorous it can be, you can only handle so much of the guys handing out little porn cards to everyone who walks by.  For that reason I really enjoy staying off-strip.
Staying in a Hotel Outside of Vegas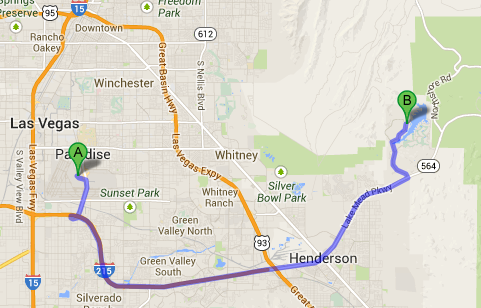 If you're like me, and you enjoy seeing the lights, but prefer to be away from the porn-hander-outers you're going to love the Westin Lake Las Vegas Resort and Spa.  It is about 30 minutes from the airpot, but if you're looking for a relaxing place to stay instead of a gambling place, this looks great.
You're still close enough to enjoy the rest of the Vegas beat, but far enough away to feel secluded.  The Sunset Station boasts a delicious buffet, and gambling hall, and is only 20 minutes from the resort.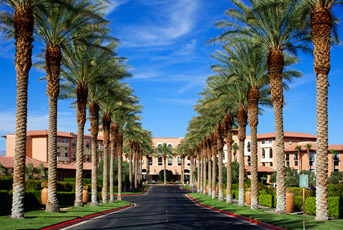 You never thought you could afford to roll up to a place like this one.  They line the streets with palm trees, and it feels like you're the owner of a mansion in Beverly Hills.
Don't plan on spending more than a minute in your hotel room, even though it's luxurious because you'll either want to be chilling by the pool with the Vegas heat or learning how to run a stand up paddleboard on Lake Las Vegas.
This is a Westin property, which belongs to the Starwood family.  As of the time of this publishing it requires 7000 Starpoints per night.  Staying four nights would require a total of 28,000 Starpoints.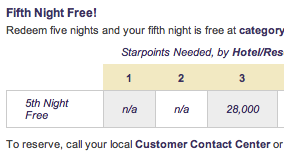 Starwood Preferred Guest has a sweet 5th Night Free promotion, so staying four nights or five nights and it would still only cost you 28,000 Starpoints.  So if you're not taking Allegiant, or if you are driving, this is a great way to maximize the value of your Starpoints.
What you Need to Do This
1.  First you'll need one Barclaycard Arrival World MasterCard – $89 Annual Fee Card.  This will help you to cover the Allegiant Airlines airfare and your rental car.
Your cost should be $0 for both the rental car and the airfare courtesy of the new card.
2. Next you're going to need to get the Starwood Preferred Guest® Credit Card from American Express. This will help you to cover the resort.
3.  Make it happen.  If you've been waiting for a getaway with your lover, buckle down and make it happen.  Staying here will keep you from being tempted about the gambling tables
Your Costs to Make Five Nights in Vegas Happen
Flights:         $0
Car Rental:   $0
Resort:          $0
Food & Ent   $200??
Gas                $50
Total             $250??
Look, I'm about as cheap as they come, and this looks great to me.  What do you think?  Will you be taking your sweetheart to Vegas sometime soon?