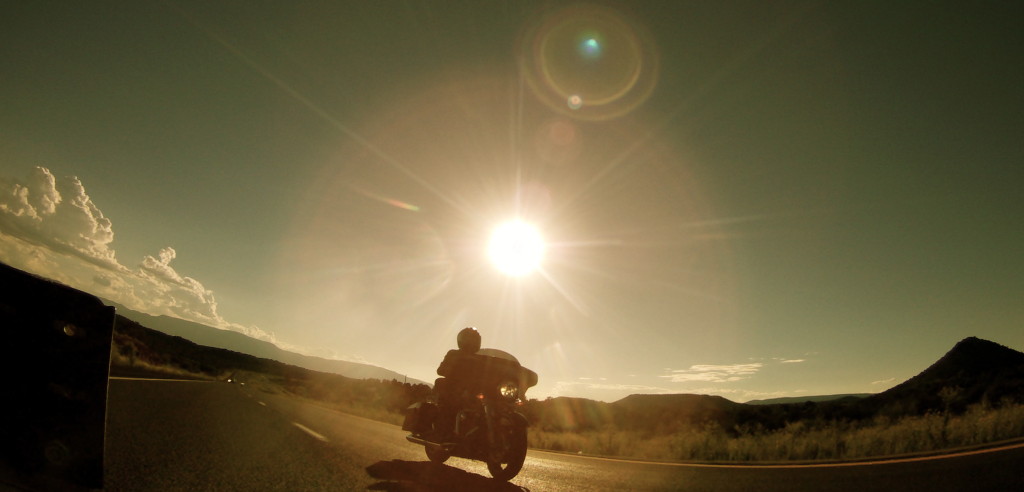 The desert sun wraps tightly around me, but I've never felt so free. With a hard lean I throw my weight to my left and pierce through the broken yellow line into the passing lane. With a flick of my wrist I go from comfortable cruising speed to wind-ripping white knuckle speed. I don't know much about torque, but I can tell you I like it. I feel powerful.
If I didn't already feel like I own the road, the three other bikes roaring behind me in a deep, guttural growl offer proud proclamation that it is ours and ours alone. We are no more than 15 miles into an 800 mile ride and I've already reached the motorcycle nirvana. Nothing else matters right now… and even if it did I'd have no way to deal with it.
We're on a weekend trip that will leave us utterly exhausted and yet completely refreshed.
The Riders
Brad is the first of the Christensen brothers seeking solace from everyday life in the form of a Harley Davidson Rental Roadtrip. For me, this is as much about bonding with brothers as it is anything else. We're walking the streets of downtown Flagstaff when a guy who's more than slightly inebriated wants to know if we're a motorcycle gang. I tell him, "Yes, we are," and he promptly asks, "Do you need a native on your team?" I invite him to turn left at the next intersection and tell him we're turning right. I'm more courteous to the chubby girl who's close-talking me as we listen to a live band.
Colby knows this terrain intimately.  He's worked construction jobs all along our designed route, always staying in dive hotels.  Needless to say, he's infinitely glad we've figured out the magical credit card mastery that's getting us into two brand-new Marriott hotels this time around. Each time we fuel up the motorcycles, he gets his own fuel in the form of a Rockstar tall-boy. Only they're 2 for $3 and he can't help but go for two, the plan being to save one for later. He shotguns them both.
Sheldon is a lover of life.  His ear-piercing whoops of joy are overabundant.  In a moment when we're pulled off and contemplating the most gorgeous yellow prairie, he leads us in a rousing, albeit out of tune version of "God Bless America." If any of us were ever to doubt his cheap-assedness, he corroborates it while waiting for our pizza by snacking on a carrot from the salad bar. When the pizza man chides him, telling him he needs to buy a salad if he's going to eat off it, he just stares, steely-eyed, and defies him.
Ryan is up for anything, any time. Casually mention the idea of an Arizona Harley Roadtrip and he has his motorcycle endorsement within days. He's a rookie, but we hardly notice as he pushes his Streetglide to 110 mph.  The only indication is the fact that he's always the last to be ready to go and he has an odd knack for wearing his leather jacket when temperatures peak and taking it off when it cools.
The Equipment
We've flown into Phoenix – freely, of course, because that's how we fly – taking advantage of frequent flyer miles that we accumulate from signing up for credit cards – what we're calling "WorldWanderlusting." But it means we'll need to saddle up some rented Harleys. Not a problem, though, because the Harley Davidson Authorized Rental Program makes it easy and affordable. Check out their site… I'll bet they rentals in an area you'd like to visit.
I'm on the V-Rod Muscle, an absolute screamer that gives even the most casual rider an instant case of leadwrist (the throttle equivalent of leadfoot). It is windshield-less, and that's okay… you're meant to feel the wind. Its wide back tire and the aggressive posture make it feel only natural to tuck your head and let it do what it wants to do. Fly.
Colby has opted for the Heritage Softtail in cherry red. This bike announces our entry to open valleys, small towns, and quiet forests with a rumbling grumble.  He's only willing to give it up for someone else to try when he finds out that the Streetglides are picking up college football broadcasts on their built-in radios.
Sheldon and Ryan are both riding the Streetglide and there couldn't be a more aptly-named motorcycle. What is incredible is how you can feel so calm and protected and so open and vulnerable at the same time. With a wide fairing, built-in radio, cruise-control, and huge footrests, your biggest danger is forgetting that you're riding it.
The Route
Three days and 800 miles through every kind of terrain.  We set out from Buddy Stubbs in Phoenix to Wickenburg, a burn across the desert to a wild-west town that welcomes us on our iron horses just as it did the grass-eating kind 200 years ago.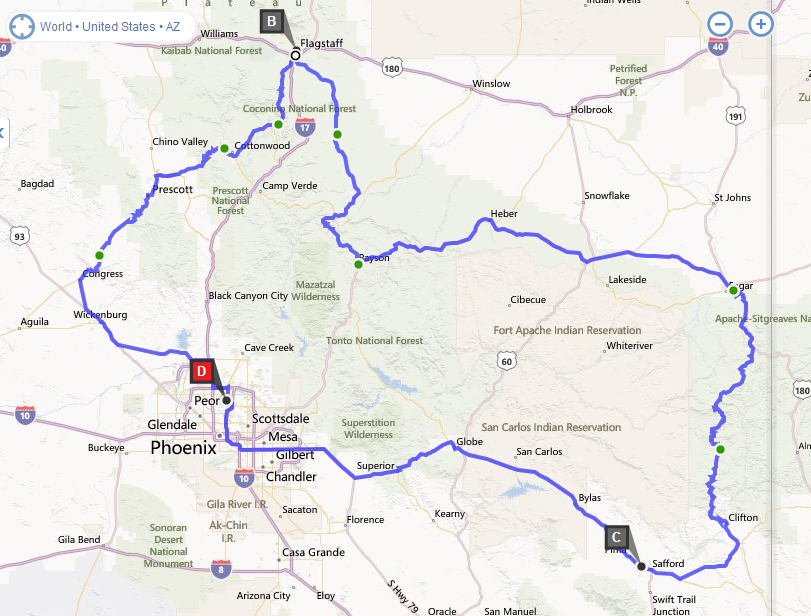 We tear up the twisties – winding roads ascending to Yarnell where we take in a lunch at the Ranch House, a delicious roadside restaurant that has mastered the nexus between gourmet hamburgers, mexican food, and breakfast. Mmm…
It has cooled down by the time we roll into Prescott, but we hustle through and don't stop till we get to the hillside town of Jerome.  There we take in a drink at an old bar, typical of a mining boomtown.  In the distance are the red rocks of Sedona.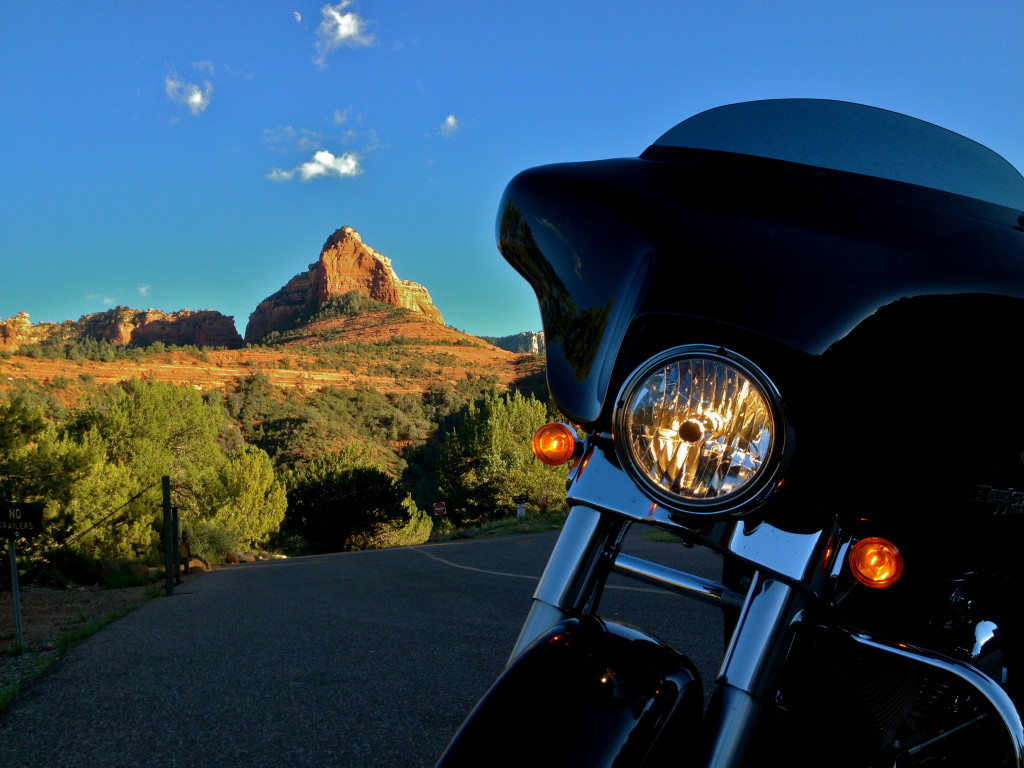 As beautiful as Sedona is, Oak Creek Canyon is even more inviting.  The landscape instantly becomes richly green and the cool shadows and smell of pine are invigorating. With Colby as our tour guide, we stop and pick fresh blackberries along the creek. I take the opportunity to pose the bikes for some motorcycle porn.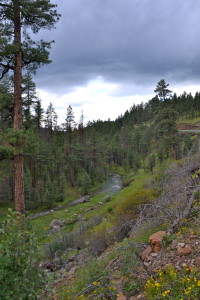 We arrive at the Springhill Suites hotel that we booked for free with the Chase Marriott card and park the bikes like we own the place. Flagstaff is a gorgeous city with a lively downtown.
We get an early start after indulging in an impressive breakfast spread. We're riding along a series of lakes and getting overwhelmed by beautiful scenes and wildflowers galore.
Entering Alpine, I'm exhilarated because we're turning onto the Coronado Trail Scenic Byway, described to me as "a very dangerous mountain road with many sharp curves and little or no shoulders on steep cliffs." Meanwhile, some very dark clouds are beginning to converge on us.
We get no further than 10 miles into the mountain pass when the rain comes hard and fast.  We're tempted to pull off and put on our raingear, but not one of us will be the first to concede… so we just continue to ride… and it is beautiful.

The winding passage is exactly as described and we are feeling euphoric despite being completely drenched.  As the sun burns through the clouds and the rain stops, we're able to blow-dry ourselves with the warm air of acceleration.
We reach the summit, a panorama, and every one of us is overcome with amazement.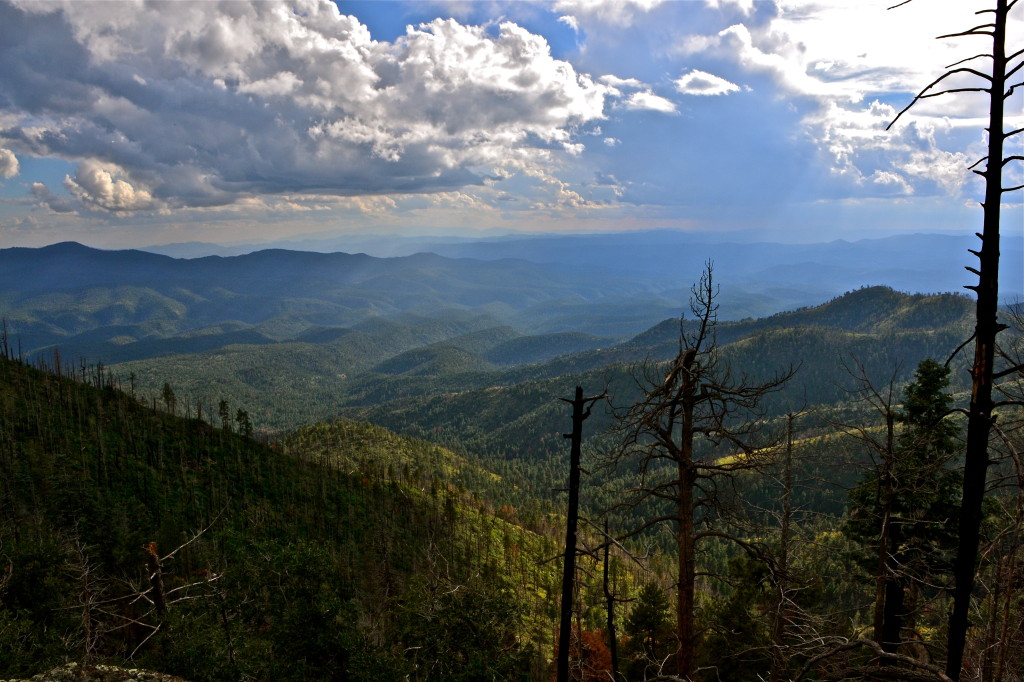 Winding our way through the mountains we then come upon a surprise that I hadn't realized we'd be seeing.  One of the world's most massive open-pit copper mining operations is in Morenci, the tail end of the byway.  Watching enormous trucks file up and down the switchbacks in mountains that have been cut down, sucked clean of valuable minerals, and then re-built is something I am utterly captivated by.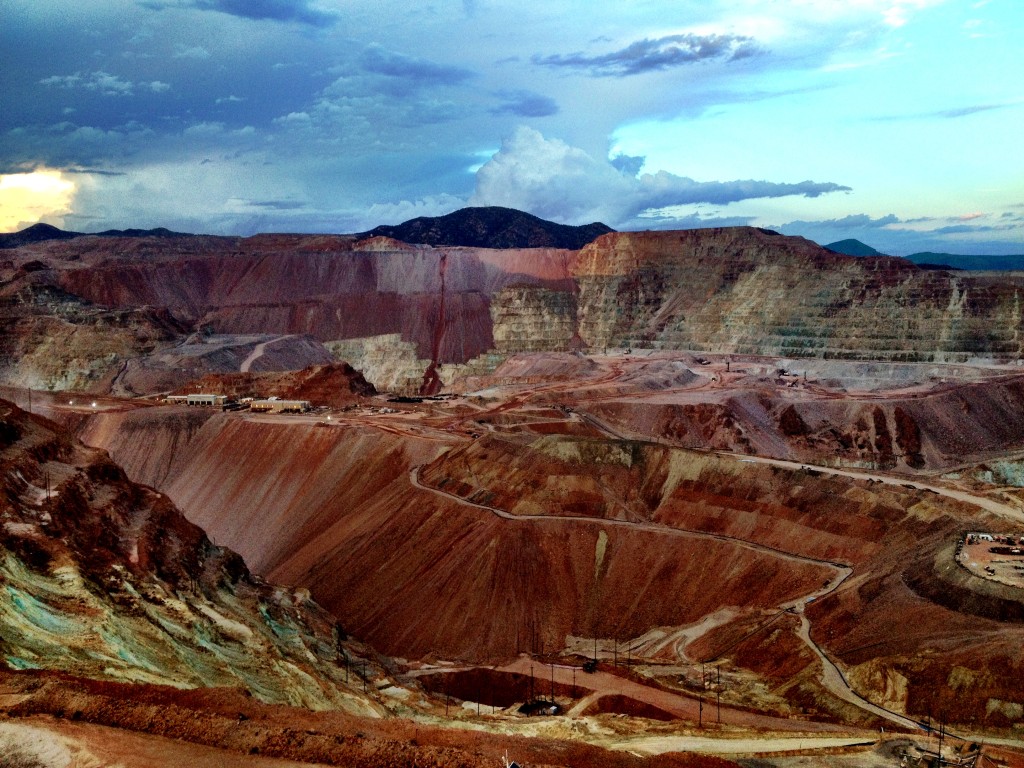 By the time we arrive in Safford, the 400 miles of the second day have exhausted us. Anxiously we ask the hotel clerk where the hot tub is.  She cringes and tells us they don't have one.  We've spent 12 hours riding today and a shower just isn't going to cut it.
It's then that we devise a plan. It consists of simply calling the nearby Comfort Inn to see if they have a hot tub.  For no reason other than that it was there and convenient, Ryan picks up the Marriott Hotel phone and gives them a call.
Ten minutes later we've conned a nice family into opening the door to the pool area while we change in the bathroom.  We soak our aches away and muse over the memories of the day.
In the morning we shamelessly use the hotel towels to wipe the bug guts off our helmets and windshields.  The ride is through a desert landscape dotted with saguaros.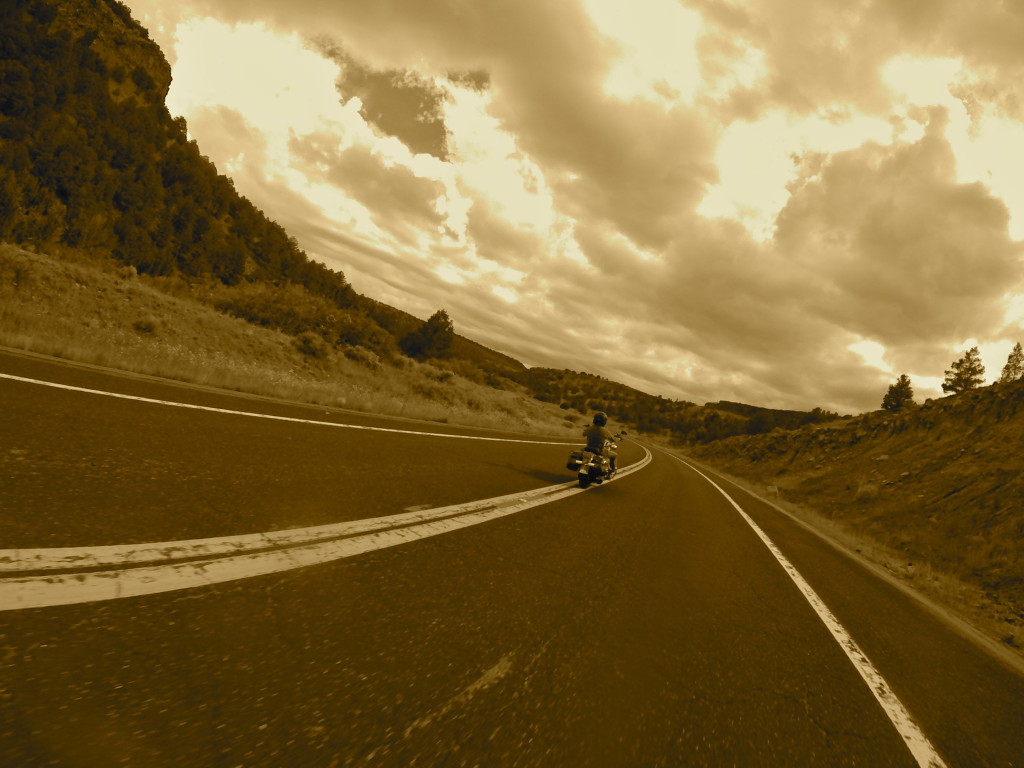 Riding back into Phoenix, we're all regretful that it's ending.  You spend hours riding alongside each other and never say a word, and yet you feel closer than ever.