There's a reason newlyweds set out on their new life together by indulging in a honeymoon vacation… travel allows people to connect in ways that no other activity provides with such tremendous ease.
The fact is, travel is about discovery – it's about novelty and adventure.  When two people travel together they rely on one another, and the experiences they have together weld them in a way that everyday life doesn't allow.
It makes sense, then, that we also travel for anniversaries.  I'm going to make the case that creating a memorable experience together will have a much more lasting impact than any gift that moth or rust corrupts.
At WorldWanderlusting, our objective is to banish from your mind the thought that there are travel experiences that you'd love to do, but money doesn't allow.  We've been traveling on a little cash and a lot of points – something you can do, too, if you can be prudent with your spending and use credit cards for everyday purchases.
I'm going to show you how you can have your choice of three different 4-day getaways from the northeast US – with free nights in hotels – that will rekindle romance for you and your spouse as you celebrate an anniversary or some other special date together. 
Niagara Falls Anniversary Trip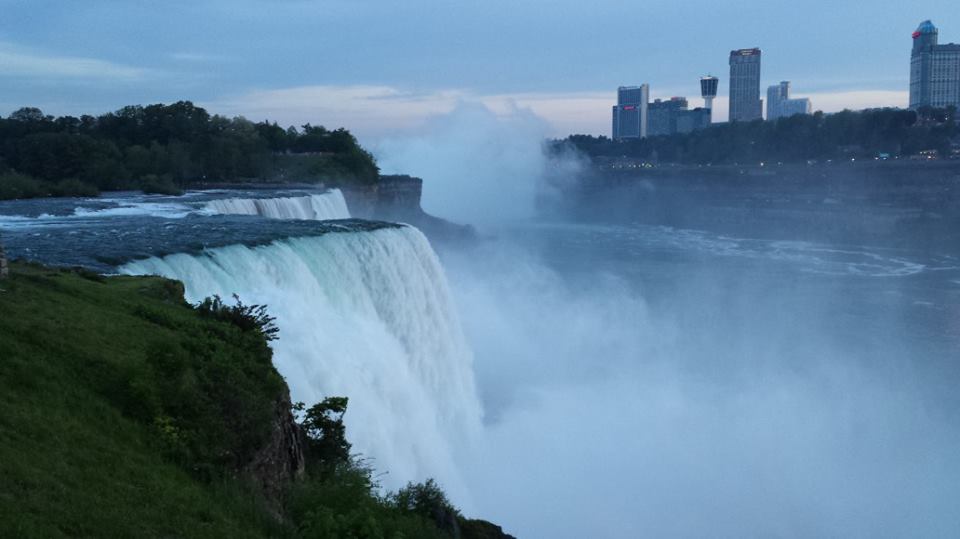 We've blogged pretty extensively about the Niagara Falls area – and it has a romance all its own. We have a couple of specific posts that go over some of the details on this: Best of Niagara USA and Niagara Falls Vacation.
Do
Maid of the Mist – A ferry takes you into the mist of the falls.
Old Fort Niagara – Be transported back in time.
Lockport Cave – Your lover will cling tightly to you as you do this darkened tour.
Eat
The Red Coach Inn – Near the falls with plenty of history.
Sweet Sixteen Cafe – Perfect little sandwich shop and bakery in Lockport.
Dinosaur BBQ – An abundance of smoky deliciousness in nearby Rochester.
Stay
Martha's Vineyard Anniversary Trip
Do
Aquinnah Cliffs – Sit atop the cliffs and watch the waves roll in.
The Vineyard Playhouse – Catch a show
Oak Bluffs – Just wander through the neighborhoods of quaint gothic revival homes.
Eat
The Black Dog Tavern – The MV original chowderhouse.
Smoke n Bones BBQ – If you're like me and seafood's not your thing, there's no shame in some delicious BBQ.
I'm not sure where I got it, but I know that some eight years ago I ate the most delicious meatloaf sandwich I've ever tasted from a great little deli somewhere on the island – if you manage to find it, please tell me!
Stay
Burlington, Vermont Anniversary Trip
Do
Ride the Bike Path – Along Lake Champlain, this is the way to experience the area. Bring your bike or rent one, but do this with your lover and find an isolated beach.
Visit the Ethan Allen Homestead – You've heard the name, now hear his story.
Eat
Logans of Vermont – This place is #1 on TripAdvisor for good reason.
Trattoria Delia – Not cheap, but this place has atmosphere.
Penny Cluse Cafe – New England diner – great place for breakfast.
Stay
I hope you've enjoyed these ideas. Do you have other ones?  Any other comments or questions?  Please comment below!