Disclosure: The Club Carlson Credit Card does not pay us a commission when you choose to apply for this card.  
My affinity to the Carolinas was like love at first sight. Our romance has openly progressed over time and my wife is aware of our relationship.  We've been together four times int he past two years.
Neglecting the Carolinas would be like never tasting chocolate.  Once you've tasted, you'll definitely want to go back again and again.
The most affordable way to visit the Carolinas is simply to WorldWanderlust your way there.  If you're new to our site, this term might be new to you.  Put simply, it is to travel as much as possible while paying as little as possible.  This may seem like a unachievable paradox, but once you learn the way of WorldWanderlusting you'll be convinced too.
The Club Carlson family of hotels (Radisson, Country Inn & Suites, Park Inn, Park Plaza) has a boatload of properties across both North and South Carolina.  The attractive feature about this list of hotels is that there's a way to stay at each of these hotels for two nights for only 15,000 Gold Points.
And, conveniently, there's also a way to get 85,000 Gold Points.  Club Carlson credit card offers this bonus Gold Points after meeting the $2500 spending requirement in the first 3 months.  At that rate you would be able to stay in five of these properties at 2 nights a piece, which gives you 1o free nights in amazing hotels -almost all of which offer free breakfast.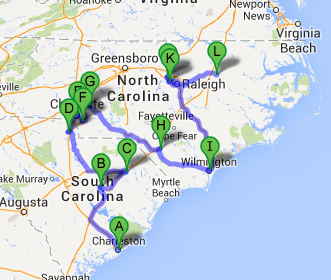 I know you're skeptical.  You should be.  You're first thinking is that these are the Cockroach Motel.  Nope.  Most of these are Country Inn and Suites hotels that not only offer clean rooms, but also free hot cookies upon check-in and an impressive breakfast spread.  What else do you want?  A swimming pool? Check.
Here are the hotels in South Carolina:
First Stop on the South Carolina Road Trip: Charleston, SC
When it comes to romance, this place takes the cake of all cities that I've visited in the US.  For some reason it's got a magical feel.
Please splurge on the rickshaw ride when you're visiting downtown.  As you ride through the streets of the beautiful homes that have pristine, manicured lawns and flower gardens.  You'll feel the spark too.  Even with our son in tow we both felt like it was a romantic experience.
You could easily spend hours checking out the downtown area.  You can tour Fort Sumter which is famous because…..(Hint: Civil War).
If you're really feeling rich, you can tour some of the homes in the downtown area with their gardens.  These are some luxurious homes that were once owned by plantation owners. Ensure you eat some Carolina BBQ for lunch and dinner.  You won't regret the double down on that stuff.
You'll stay at the Radisson Charleston Airport hotel.  You're right, it is a small commute to the downtown area, but it's free, and so is the parking. Plan on staying two nights here for sure.  You'll also find some sweet factory outlets by the mall if you're into shopping.
Second Stop on the South Carolina Road Trip: Columbia/Sumter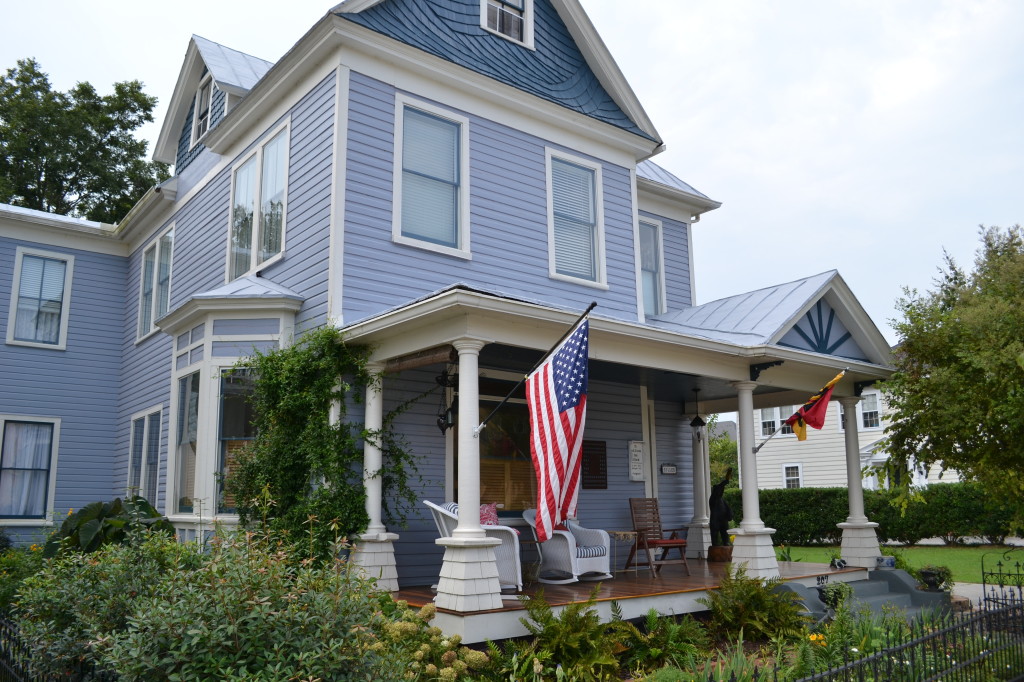 First thing you'll notice about South Carolina: Trees.  Second thing: More trees.  This place is covered  in trees.  The further you get from Charleston you'll notice a few hills, but the greenery is stunning.
The abundance of porches will blow you away.  You'll still see Confederate flags from time to time, but for the most part the people have a very patriotic feel.
You know because it is football season that I'm going to recommend you attend a South Carolina Gamecocks game, right?  Their stadium is massive, and will definitely make you a fan.
You'll also notice that this entire area is full of Civil War battlegrounds and museums.  Columbia boasts a Confederate Relic Room & Military Museum. That scores great reviews on TripAdvisor, and it teaches the perspective from the South.
Plan on spending some time here, but leave enough time for you to make the dash over to  Sumter, which is where you'll be staying tonight at the Country Inns and Suites in Sumter, SC.
Third Stop on the South Carolina Road Trip: Florence
You're probably thinking, Florence, like Michelangelo?  No.  Not that Florence.  This Florence is the heart of the South.  Here you can visit tobacco plantations, eat grits, fish off the banks of the river, check out the cotton trail, and much more.
Florence is still about an hour and a half to Myrtle Beach, so you could always add a side trip to Myrtle Beach if you don't mind the drive.  They've got more mini golf in Myrtle Beach than everywhere else in the world.
Fourth Stop on the South Carolina Road Trip: Rock Hill
If you enjoy the outdoors, you'll love this portion of your trip.  Plan on doing a hike in the Andrew Jackson State Park.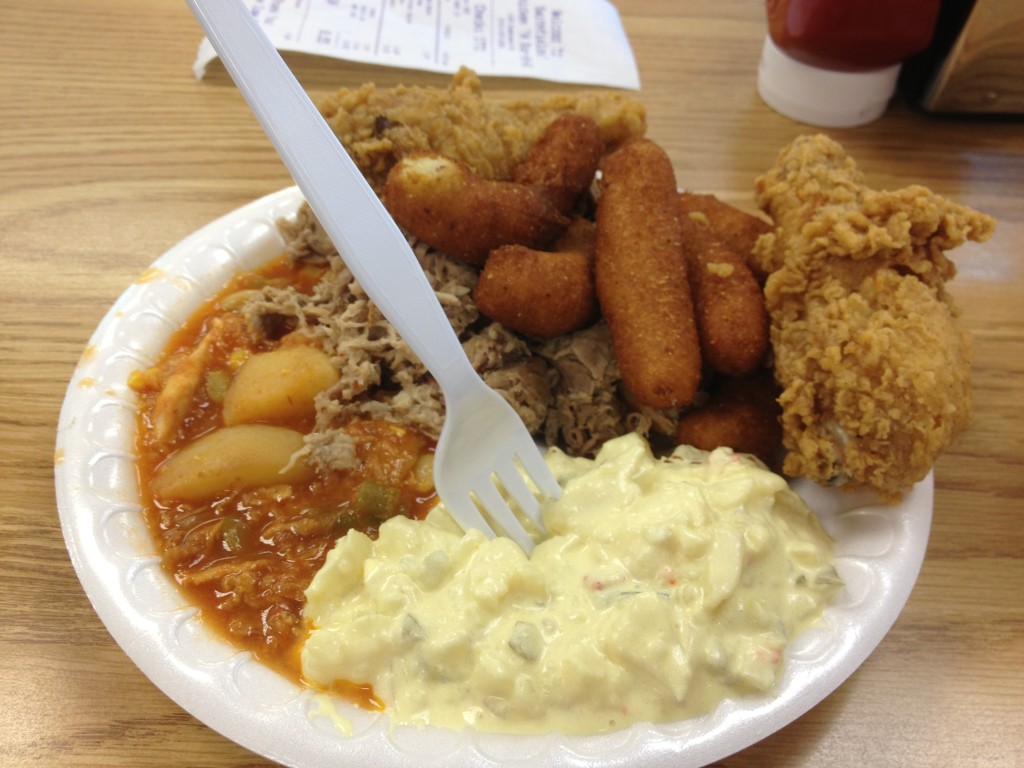 Stop at a local restaurant and order something you've never tried before.  The South has foods like Okra, Grits, Hushpuppies, and more that are pretty unique to the South.  Food is a huge part of travel, and you need to be sure you're trying it all.  The small diners are always going to give you more culture than the McDonald's.
If you're still looking for romance, rent a row boat and spend some time on the lake.  Hope that it begins raining cats and dogs like on The Notebook!  The lakes in the the South tend to be a bit more calm and give a surrounded feel with all the trees along the banks of the lake.
You'll definitely miss it, and have strong desires to return.  The best part is you can get the Club Carlson Credit Card for your spouse and come back for seconds!  Tonight you'll be at the Country Inn & Suites By Carlson, Rock Hill, SC.
Whether you fall in love with the Carolinas, or fall in love with your spouse as you tour them, two things are for sure: You'll remember this as one of your most romantic trips, and your hotel stays won't cost you a nickel.
Thanks for Carolina wanderlusting with us.