Almost anything can be difficult on its maiden voyage.  The unsinkable Titanic sits at the bottom of the Atlantic Ocean, Abraham Lincoln was defeated in his first few elections, and the dent in mom's minivan wasn't the best news you've ever brought home.
Once you've been a worldwanderluster for a number of months(or years), and you're ready to begin planning your very first Wanderlustful vacation you'll feel a bit overwhelmed.  That is normal.  Step away from the oxygen, it won't be needed.
Here are a few steps on how to not feel so overwhelmed.
1. Determine where you'd like to go, but be flexible
If you've chosen Europe as your next destination pat yourself on the back.  You'll love it.  Pull up the American Airlines website and start searching for flights into Europe.  I recommend you don't become hellbent on flying in and out or Rome.  Look at other locations like Florence, Venice, or Milan.
Look at doing an Open-Jaw or sometimes called a multi-destination where you fly into Rome, and out of Venice.  This will significantly increase your chances of finding availability for the dates that you want.
On my last trip to Europe I really considered flying in and out of Milan.  The biggest issue was that the car rental was cheaper out of Switzerland than Milan, so I chose Zurich.
Realize that you'll still make it to Venice, or Rome, but it might be easier to find your dates out of  Milan.  Brad did a post a bit back about using the AA miles to get to Europe, so check it out.  Also check out the post to make sure you don't get whacked with ridiculous surcharges.
2. Plan your trip around the free hotels
One of our Wanderlustful friends did just this on his most recent trip to Italy.  You'll remember his post about thinking he wouldn't make it to Europe until he was grey haired, retired, and wore tube socks.  His whole vacation was planned so he could stay at hotels in Padova, Pisa, and Florence for free with points.
Here is how you do that: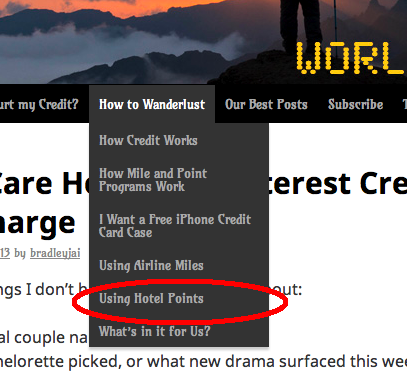 Find the tab on our site for "How to Wanderlust" and look for the page called "Using Hotel Points."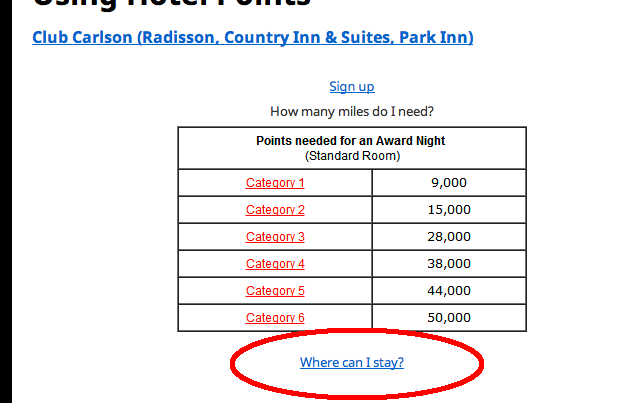 Then look through the hotel chains to see all of their properties and tiers.  We've added a link that asks, "Where can I stay?" to help you to find the hotels in each tier for all of the major companies.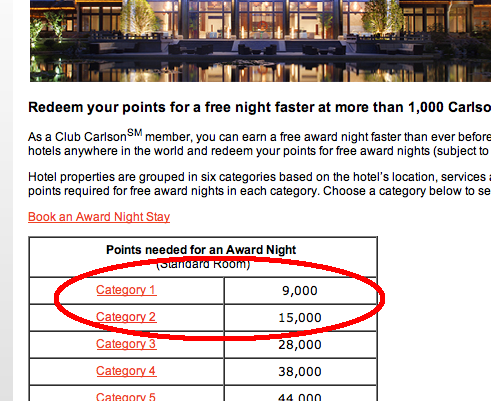 Once you pick a hotel chain, check out their tiers 1 and 2 to see the lowest redemption tiers.  This will make your points last longer, and will give you more bang for your buck.
This is how we found our Alpine Europe loop with SPG about two years ago.  It got me so excited that I had to make the trip work.  What a dream.
3. Rent a Rick Steves, watch other videos, read books etc
Have you ever eaten a plain potato fresh out of the ground without cooking it?  Was it the most delectable thing you've ever eaten?  Probably not.  If you were starving caveman, didn't have time to cook the potato, or add any salt, it would simply fill your cavities.
Now, for comparative purposes…. Have you ever eaten a baked potato that was loaded with butter, sprinkled with salt & pepper, topped with bacon, sour cream, and chives?  Both of the potatoes would fill you up and keep you from starvation.  [Can you tell that I'm an Idaho boy through and through?]
The case can be made that preparing for trip properly is like eating a well cooked, and topped potato.  Either way you will keep from wanderlust starvation, but we want more than that. We want a delicious feast.
Making sure you research your trip  probably help you to realize what things you'd like to see along the way in your trip.  Rick Steves was the one who got me excited about visiting the Reifenstein Castle, and man I was really glad that I took his advice.
My wife and I also watched a fascinating video on Netflix about the building of Venice.  Really diving into the locations that you'll be visiting will make a huge difference in your total experience.  For more research ideas, you can see this past post with other ideas.
Keep in mind that this can be done while you're on the trip.  Wikipedia can be very useful in helping you to learn about the things that you've seen for the day.
4. Be prepared to stay wherever you need
Have you ever dreamed about visiting Venice?  Riding in a Gondola down the Grand Canal sound romantic?  How about two scoops of the best cinnamon (my favorite) gelato you've ever tasted? And watching the sunset over St. Mark's square will blow you away.  There are some great experiences to be had out there.
Even for the least frugal worldwanderlusters costs can become an issue.  It's probably the most commonly used excuse when it comes to why people don't travel.  To use your SPG points on Venice you would need to burn about 25,000 for one night.  No gracias!  What a ripoff!  However, staying about 45 minutes away would only cost you 7000 points.  More than likely you've got to pass through Padova to get to Venice anyway if you're coming from Milan, or Munich.
Why not spend two nights in Padova, and wake up early to burn it to Venice so you can have a full day of enjoying the city without hauling your luggage up and down the stairs?  That way when you're exhausted from the day of activites, you can hop on the train or in your car to make it back to the same hotel where your stuff has been awaiting you?
Blasphemy!  You mean to say that Sheldon didn't stay the night on Venice?  The truth is that I didn't.  We had a great time on our vacation, and would recommend the same to you.  The truth is that paying for all of the hotels would have either resulted in cockroaches, or not going.  Hotels are expensive.
Realize that you might have to stay a few miles or an hour from the place you'd love to see.  It will lower the overall cost of your vacation and make it possible so you can feel good about getting raked over the coals when you pay the Goldolier.
5. Score more points & miles
Congrats.  You've settled on Eastern Europe. Your Club Carlson Gold Points will get you free nights in Bulgaria, Slovakia, and the Czech Republic.  This is going to be an exciting trip.  The only thing is that you've been dying to see Croatia too.  Your family history leads back to Zagreb, and you'd like to spend some time looking for your ancestors there.

 Check this out.  If you combine the category 1 & 2 deals from your Club Carlson with the Category 1 hotels from Starwood Preferred Guest, you'll be able to see the grave of your great grandfather in Zagreb.
I'm sure that a quick glance at the Marriott or Priority Club category 1 & 2 would add a number of additional sites that you could see in your journey.
6. Book the trip with points & miles
The idea here is that you're combining the low level redemptions from American Airlines, Club Carlson, and SPG to create an incredibly cheap and unforgettable vacation.
Once the trip has been booked you'll go back to the step about research and you'll get to work play around finding all of the fun things you'll be doing on the trip.
Get on board and score yourself some SPG miles while the deal is on.