[As you know if you've been coming here for a while, we do make a little money when you apply for cards using some of the links on our site.  We have and will continue to share these travel trips regardless of whether we get paid and we want you to know that we're in this not just to make a little money, but to help you travel the world for a fraction of a fraction of what you'd expect to pay.  Thanks to all who wanderlust with us!]
A burgeoning WorldWanderluster texted me tonight.  He says, " I know you have skills.  I need to get from Phoenix to Seattle." I say, "Not a problem." He says, "I can't pay more than $150."  I say, "Still no problem." He says, "There are three of us… and a baby." I smile and say, "You're trying to stump me, aren't you? Not.a.problem." Then he says, "We need to go in 2 weeks." Me: "Problem."
You see, we do have skills.  In fact, we're magic workers. We've helped people plan some incredible journeys, including an epic 11 flight, 9 country, 5k mile, $4800 mega South American journey all for a meager $800 in taxes and the frequent flyer miles from one credit card.  We work miracles, like the cruise you get paid to take and the Las Vegas getaway for $95 a person.  Yet, if you want to see behind the curtain… if you want to us to fizzle and see our magic fail, just put us in a time crunch.
WorldWanderlusting is about being travel-spry.  It's about being agile, nimble, anxious, willing and prepared to pounce.  We want you to have the points well before you ever need to call on them.  Dry powder.  Oil in your lantern. Pick your preferred metaphor… but what we're saying is "Do all this now."
Yes, points can expire, but you won't let them.  The moment you enlist in our WorldWanderlusting army, you become passionate about points.  You learn about them.  You know their efficiencies, you know their weaknesses.  You care for them like a newborn baby.  You will be attentive to them and suddenly the world will open its doors to you.  You'll realize that you could go halfway around the world – or maybe even all the way.  You'll find comfort in knowing that in thousands of cities around the world you could find comfort – in the form of a free hotel room.
Now, I'm going to tell you how I would help my friend if he had a little more time before he needed to get to Seattle.
The Southwest Airlines Rapid Rewards Solution
For another day or two, Southwest is still offering its "2 RT flights" offer on the Southwest Airlines Rapid Rewards® Premier Card.  They promote it that way, but we WorldWanderlusters can be even more efficient – we can squeeze 3 RT flights out of that baby.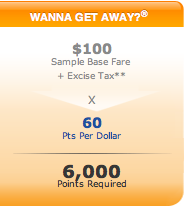 You see, what you actually wind up with after you pay the $99 annual fee and meet the spending requirement of $2000 in the first 3 months are 50k Rapid Reward points.
Southwest's system is super friendly for those of us who are flexible with our travel plans. They just want 60 points for every dollar of the value of a Wanna Get Away fare.  What that means is that you can grab some flights for as little as 7,000 points each way.
Let's take a look at the PHX-SEA flight for example.  I very easily found direct, convenient flights to and from SEA at a rate of 7080 points each way.  Southwest charges a booking fee of $5 for each ticket, but they are gracious enough to also throw in free checked bags.  In the end, if my friend had already accumulated these points, he'd only be spending 42,480 of his points, and $114 ($99 annual fee+$15 booking). He, his wife, his child, and baby would all be on their way to Seattle with ear-to-ear grins, plus he'd have almost 8k more points to play with for his next adventure.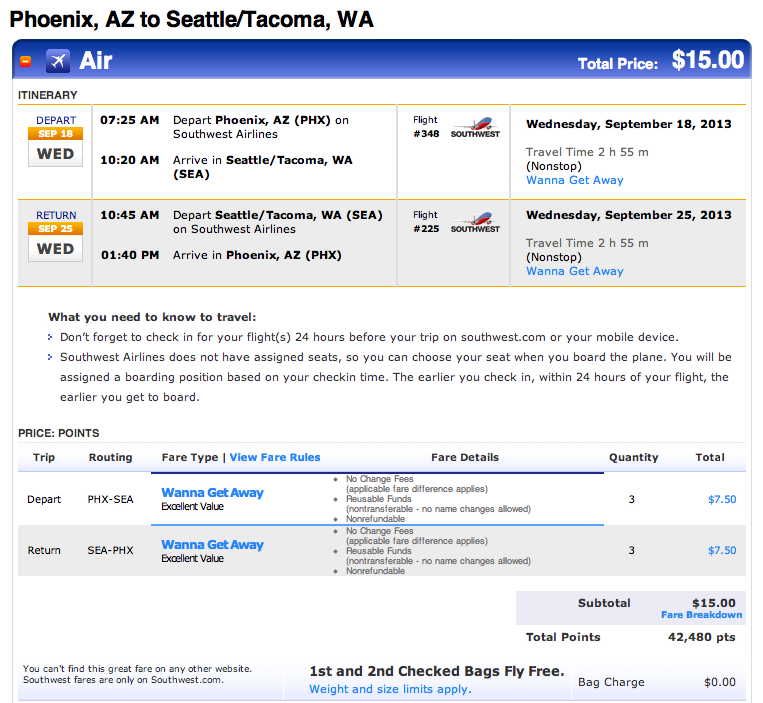 The Chase Ultimate Rewards Solution
Now, it's time to try to make lemonade with these late-preparing lemons.  Even if he didn't have the Rapid Rewards, if he had gotten going with some Ultimate Rewards, they could be easily transferred to Southwest.  Alas, he has none of them, either.
The Barclaycard US Airways Mastercard Solution
My next thought was to try US Airways, as it has a major hub there in Phoenix.  Luckily, they have a great offer right now on the Barclaycard US Airways MasterCard– 30k points after you spend your first $1… he could get the card, spend a dollar, and have 1.5 free flights to Seattle…. but… the points may take too long to post.  It also gives you a $99 companion pass for up to 2 accompanying passengers – again, great for next time.
The Barclaycard Arrival World Mastercard Solution
Now, I'm left with one final last-ditch effort to maintain my magician reputation.  I'm going to tell my friend to get the Barclaycard Arrival World MasterCard.  We've been raving about it a lot lately, and with good reason. Why?  Well, the #1 reason is its flexibility.  It's not as complicated as some of these others, requiring some knowledge of the exchange rates and how the programs work… it's just simple:
Spend $1000 on the card, get 40k bonus points + 2/1 on expenses for 2k more.
Use 42k points to get $420 in reimbursement on travel expenses on the card.
Get 10% kickback of points redeemed +4200 points.
Use 4200 points to get $42 in reimbursement on travel expenses on the card.
Get the card for your spouse.
Repeat.
It's a tight timeframe – he'll have to apply tomorrow and ask them to rush deliver the card so that he can put his tickets on them – I'd still recommend he book with Southwest, and make sure he's enrolled in Rapid Rewards so he can earn points on those flights, too. In fact, right now they're offering a 500-750 point bonus if you enroll and subscribe to email updates.
He'll get his $420 reimbursed, which won't cover all the flights (they were $785 when I looked), but it could cover the cost of his rental car and/or the hotel.
There, we solved it. Reputation salvaged.  But wouldn't this have been much easier if he'd started WorldWanderlusting months ago?  Now, I know this isn't for everyone.  It's a brilliant way to obtain free travel if you can do these very important things:
Don't apply if you're going to be seeking financing soon or if you're not well a 740 credit score. 

Never make purchases on a card that you wouldn't otherwise make.
Never ever miss a payment – always pay on time.
Don't carry a balance.  Pay the card(s) off in full and don't pay interest.
Keep good track of your cards and balances with a tool like www.mint.com.
If these are things you can handle.  Don't wait until it's too late to start building your travel points-hoard.  Get them now so you have them when you need them.
Is there someplace you need to go?  Comment below and we'll help you get there.