You've looked at them… longingly.  You've imagined it in your mind, but it hasn't gotten much further than that. Tickets to Europe are bank-breakers… and it makes sense that people start to believe that they'll never make their trip to Europe until they're old and grey, and wearing penny-loafers.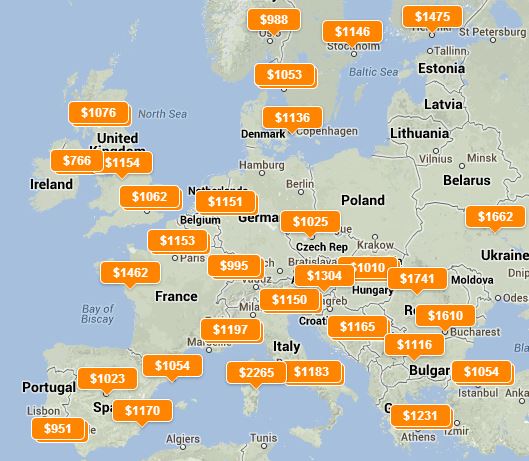 $1600, $1300, $750 at the absolute cheapest.  You've resigned to the fact that it's just not happening on your budget.  Until, that is, you discover WorldWanderlusting… where we banish these ugly words from your lips, "I'd love to go to, ________, I just can't afford it."
Or maybe it's not even "discovering" that needs to happen.  Maybe you've popped in on us, but you haven't caught the fever.  Well, we want you to catch the fever.  We want you to go to Europe… and we want you to do it almost free.
How to Fly for Free on a Vacation to Europe
Most people have a hard time understanding exactly how miles and points work, especially because it differs by airline and program.  One of our favorite things to do is to define which airlines and programs present the best value for specific flights.  When it comes to Europe, we just don't see any easier way to get there then to get in on American Airline's AAdvantage program.  Here's why:
Lowest Level Award Redemption to Europe
American Airlines     40k     (Oct 15-May 15)

Delta Airlines             50k
United Airlines          60k
Best Available Credit Card Rewards Offers
Delta Airlines            35k
United Airlines         30k
Hmm… the lowest level award redemption program also happens to have the highest reward offer? It's not often that you get a nexus like this.
Worried that October to May would be a bad time to visit Europe?  Do you like massive crowds of tourists?  Do you like sweltering, intolerable heat?  Do you like to pay a premium for tours and other events?  If none of these are things that get you excited, I think you'd do just fine seeing Switzerland in May or Spain in October.
What I'm getting at here is that you need to jump on the offer for the Citi® Platinum Select® / AAdvantage® World MasterCard®, get your 40k American AAdvantage Miles after spending $3000 in the first 3 months, and start planning your trip to Europe. You'll have to pay some fees and taxes on your free ticket – I had to pay $81 per ticket for our tickets to Italy. But here's a link to our post to get an American Airlines flight booked with points and without big surcharges.  Apply separately for your spouse and you both fly for free.
How to Get 9 Free Hotel Nights on a Vacation to Europe
Now, would we be so rude as to get you some almost free tickets to Europe and then leave you free-hotel-less?  We wouldn't dare!
The Starwood Preferred Guest® Credit Card from American Express allows you to build points in the Starwood Preferred Guest loyalty program, where category 2 hotels will cost you 3000 points on weekends, and 4000 points on weeknights. When you book 4 nights, your 5th night is free.  Do a little math with me. Let's plan on staying 2 weeknights, 2 weekend nights, then 5 weeknights. That's 4000+4000+3000+3000+0+4000+4000+4000+4000, for a total of 30,000 over 9 nights.
Well, well, well… now we're just in luck again because not only is the redemption value fantastic, but Starwood is also very generous in doling out reward points.  They do want you to spend $5000 within the first 6 months to get the bonus.
Wait, does that mean that I get 9 free nights in Europe for signing up for one credit card? But, aren't hotels in Europe like $140 a night? Whoa, whoa, whoa… so, like, getting this card and meeting the spending requirement is worth $1260? Why did you never find this site earlier?
But Category 2 hotels probably aren't very nice, right?  Shah… here are three Category 2 hotels in Europe that I could easily spend 9 nights at!
Sheraton Santa Maria de El Paular -Rascafria, Spain

Sheraton Santa Maria de El Paular -Rascafria, Spain
If this hotel looks like an old monastery, it's because it is.  Only 32 miles from Segovia, and 59 miles from Madrid, this place would make an excellent home-base to explore Spain.  In Segovia, you have the Alcazar, Roman Acqueducts, and the Segovia Cathedral.  Are you drooling like I am?
Four Points by Sheraton – Dornbirn, Austria
Sheldon stayed this hotel on his $900 trip to Alpine Europe in 2012. His biggest regret was that he didn't stay there longer.  Apparently the spa facility is awe-inspiring, to say nothing of the fact that you're surrounded by the Alps and all kinds of amazing sites to visit.  You're welcome to do your own research, but if I were spending 9 free nights here (and I will at some point), I'd want to see Rappenloch Gorge, the Pfanderbahn cable car, and Liechtenstein.
The Aloft Bursa Hotel – Bursa, Turkey
This hotel is brand new, and it is in an area of Turkey that is under-visited.  Especially when you consider that this city was once the capital of the Ottoman Empire. Turkey is a wealth of historical sites and with Bursa not far from Istanbul and Iznik (Nicaea), there are an abundance of places to visit.  I wouldn't miss a visit to Iznik (the home of the Nicene Creed and some tremendous Roman walls), shopping for some Turkish pottery, and it may even be worth the 5 hour drive to the Cotton Castle – an amazing thermal bath in white travertine.
Now, please tell me I've gotten you at least a little bit excited.  I expect you to be worried, and that's why we've written extensively about how credit works and have an exhaustive FAQ page.
I want to boil this all down for you, because I think seeing it all together really shows you the value.
You're going to sign up for 3 credit cards (probably 2 for you and one for your spouse).
You'll need to spend $3000 in 3 months on one card, $3000 in 3 months on another card, and $5000 in 6 months on the last card.  If you don't stack them, you'll need to only put $1000 in monthly expenses for 11 months to land all your bonus points.
In the end, you'll have 86k AAdvantage miles and 30k SPG points.  Together they'll get you two free flights to Europe and as many as 9 nights in Category 2 Starwood Hotels.
Those points can buy you over $3500 in free travel!
To complete the trip, you'll need to spend as little as $80 per plane ticket, and no additional charge on the hotel bookings.  Add in some transportation costs, entertainment, and food, and there's no reason why you shouldn't be able to make this happen with $1000 in the cold and hard stuff.
I'm already planning our trip to Italy with this exact recipe, and I'm anxious for you to start planning your almost-free European Vacation. Be absolutely prudent about your decision-making when it comes to your credit, but once your confident, don't hesitate and make it happen.
Free Flights: Citi® Platinum Select® / AAdvantage® World MasterCard®
Free Nights: Starwood Preferred Guest® Credit Card from American Express