There's this little part of me that tells me I'm a phony. I write 2-3 times a week about taking trips to the ends of the earth. I tell people about places like Scotland, Italy, and Bali, pronouncing city names as if I were a native, yet, shamefully, I've been to only 22 of the world's 193 countries. As Sheldon told you a few weeks ago, his son Max has been to 7 countries before the age of 2.  My youngest brother is on a Latin American tour that will take him to a total of at least 9 countries over the next two months. Am I a defrauder?
It's times like these that demand that I dig deep… reach into my hoard of points and go from wanderlusting to wandering.  And that's precisely what I've done.  Some of my favorite posts that we've done involve the Starwood Hotels all over Italy.  Every time I write about the motherland of the Roman Empire, I lose functionality for long periods of time.  I catch myself daydreaming of praetors and philosophers.  I envision Etruscan Hill Cities and cobblestone roads that once welcomed chariots.
I finally had enough and declared war on the next empty page on my passport. I enlisted my wife and we armed ourselves with 80k of the 150k AAdvantage miles I had been storing for a moment exactly like this.  I knew I could make the trip work for only 40k each if I waited until October 15th – the day the off-peak season starts for American Airlines' Europe flights. I have checked on the flights from time to time and always found some available, but usually the itineraries involved using British Airways as a partner. The problem is that British Airways seems to have an affinity for fuel surcharges… and that often made the flights something like 40k points +$180 in fees and taxes.  We WorldWanderlusters all know that just isn't going to work… so I had to exclude BA from my searches and I finally found an itinerary that I couldn't pass up.
Even still, I put the itinerary on hold and we gave ourselves the weekend to think about it. The more time went on, the more we were convinced that we had to make it happen, so tonight we pulled the trigger.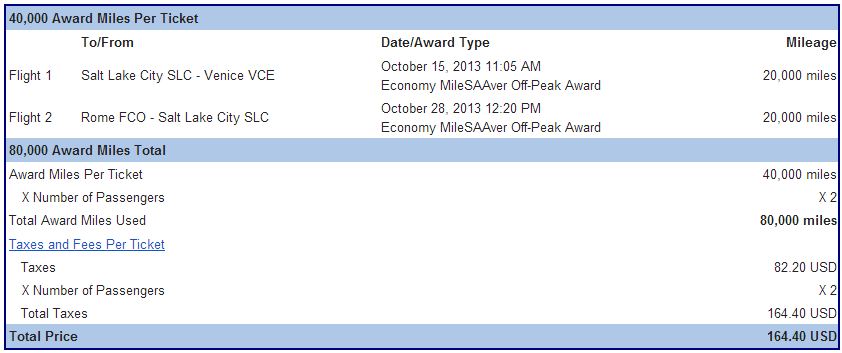 You can see that I'm on the hook for $82.20 in taxes… I know, that's actual money that I'll have to pay – not something I really like doing either, but seeing that I'd have to pay $1304 to book this flight otherwise had a way of allowing a sly smile to sneak across my face.
I wanted to do an open-jaw itinerary that would allow us to fly into and out of different airports – I figured that would allow us more flexibility and help maximize our reach in not having to loop back to where we started. When I'm playing with options, I just start checking dates and different airports on the AAdvantage Award redemption multi-destination flight search. I use as many different combinations as possible and stretch the calendars to see what all my options are.
I also wanted to leave myself the option of taking a cruise while we're there, partly because we have some credit with Norwegian that's burning a hole in my pocket and partly because I see it as a way to cover a lot of ground and stay and eat relatively cheaply.  It just so happens that there's a 7-day Venice to Rome Norwegian cruise between these dates if we do decide to go that route.  At the moment they want $549 for an inside cabin.  If it gets below $450 I'll probably make it happen, otherwise, we'll be covering everything from Veneto to Lazio on trains and spending the bulk of our time in towns with category 2 Starwood hotels.  Either way, I get the sense that we won't be disappointed.
The timing worked perfectly to squeeze in a 24-hour stopover in Dusseldorf, Germany, as well.  I've spent a little time researching some of the sights to see there, but for the most part I'm thinking we'll indulge in some good German food and tour the old-town which was restored to its original design after being leveled by bombs in WWII.
The Best Part
Now, one of the things I'm most excited for is to fill the next 5 months with activities that will cultivate some insight and a greater appreciation for our trip.  I plan on watching a series on the Medici dynasty on Facebook, re-reading Anthony Everitt's "Cicero," and buying Dan Brown's "Inferno" to read while on the trip.  I'll dust of my Italian phrasebook and download some apps and podcasts that will help me learn some Italian.
Wait, I want to go to Italy, too…
Just so you know, it's not like I'm waving my popsicle in your face and saying you can't have one.  I'm not on the playground telling you, "neener, neener, neener… I get to go to Italy… and you-ou cah-an't."  In fact, very much the opposite, I'm telling you that if you want to get in on this action, I can show you where the popsicles are.  I can tell you exactly how you can do the same thing.
As with most of our posts about traveling "the free way," it involves using your well-kept credit to obtain frequent flyer miles.  You see, there's an offer out there for 50k American AAdvantage miles when you sign up for the Citi AAdvantage card and then spend $2500 within the first 4 months.
As long as you have the discipline to use the card only to make purchases you wouldn't otherwise make and pay off your balance on time and in full, then you're welcome to join me in capitalizing on the opportunity to pay $82 for a flight that should cost you $1304.
Where it gets really exciting is that your spouse could also apply and then you'd have $2608 in flights for $164.
But where would we stay?
Of course we have an answer for that question, too, but it comes from another post we did about an Italian Dream Vacation, part I and part II.  They also consist of instructions to accumulate points – this time with Starwood hotels – to reduce the cost of your hotels from a lot of Euros per night, to nothing at all.  The Starwood points come from the bonus you get on the Starwood Preferred Guest® Credit Card from American Express after spending $5k in the first 6 months.
—
Of course, as always, we want you to take the safe approach to this and fully understand what we're talking about here.  You're welcome to read more about credit and our perspective on how to manage your voracious frequent flyer mile appetite on these other useful posts:
We want you to come back for more.  Make sure you bookmark this page, subscribe to our email, like us on Facebook or do all three.  We want you wanderlusting with us!