Long before 1981, when American Airlines launched AAdvantage, the first formal frequent flyer mile program, a burgeoning airline company fighting to survive would set the stage for all of the loyalty programs we know today.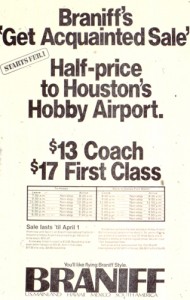 A tiny airline with four aircraft was operating flights in a triangular route between Dallas, Houston, and San Antonio.  It was 1973 and Southwest Airlines faced its first big challenge – the much larger Braniff Airlines, seeing how Southwest was nearing profitability and could become a competitor, decided it would eliminate the fledgling company by lowering its fares on Southwest's most profitable route (Houston to Dallas) to $13 each way. Braniff figured the move would strangle Southwest, but Southwest executives understood how peoples' minds worked.
Southwest launched an ad campaign stating that "Nobody's going to shoot Southwest Airlines out of the sky for a lousy $13." The ads detailed the predicament and offered passengers a provocative opportunity; pay $13 or pay $26 and the passenger would have his choice of a fifth of Crown Royal whiskey, Chivas Regal scotch, or Smirnoff vodka. As you might expect, business travelers (who made up the bulk of the fare payers) were more than happy to charge the $26 to their companies and carry home their stash of complimentary liquor.
As the story goes, Southwest became the state of Texas' biggest liquor distributor for a couple of months before businesses realized what was happening and put an end to it.  Even so, Southwest had fended off the competition and two years later it was Braniff that put an end to their Dallas-Houston flights. (This story paraphrased from: NUTS! Southwest Airlines' Crazy Recipe for Business and Personal Success, by Kevin and Jackie Freiberg – a really good book, by the way).
The loyalty concept was born… and what a beautiful life it has taken on. Today and every day, hundreds of thousands of business travelers are rewarded, not in the form of fine liquor, but in another, similarly intoxicating substance: travel reward points and miles.
If you're someone who travels for work and you're already taking advantage of the countless opportunities to accrue miles for your personal use, may the deity of your choice bless you.  If you're someone who travels for work and you're like "what, travel rewards?" then may the deity of your choice guide you to the path of light and truth.
But just in case you're deaf to said deity's guidance, let WorldWanderlusting do it for you. Here are 5 ways you can maximize your business travel rewards:
5 Ways to Maximize your Business Travel Rewards Accumulation
Sign up for every program – You do not want to find yourself unregistered for programs you later wind up using.  Register for at least the major ones you can find on our Using Airline Miles and Using Hotel Points pages. Email yourself the numbers, logins, and passwords so you always have them on hand.
Focus mainly on one or two  – When you obtain enough miles to begin to qualify for elite status, you'll notice that you compound your collection when you have higher standing within the loyalty system.  There are multipliers kick in at certain levels.  You want to understand them and make your choices wisely.
Southwest has an amazing program – The grandfather of loyalty programs still does it up right.  I know many business travelers don't like the lack of First Class or the cattle-call loading, but between Business Select fares that pay 12x in points and a Companion Pass Program that will excite you like the old school liquor days, Rapid Rewards are a rockstar to be reckoned with. The other one you'll really want to look at is their partnership with National Car Rental – they give 600 RR points for every car rental – that's a far more aggressive reward than you'll get when you send points to other programs.
Check out Rocketmiles.com – This is a recently-launched booking engine whose focus is turning hotel stays into massive airline mile rewards.  In most cases you can find hotels at the same prices, but with generous doses of frequent flyer miles from the major airline carriers – note that you are trading possible hotel point accrual for more lucrative airline miles, something you'll want to weigh carefully.
Double-dip by earning rewards booking for co-workers – Your first duty is to convert co-workers to the ways of the wanderluster – never letting loyalty points go unearned.  But for those home-bound naysayers that you can't convince, you can earn points for yourself when booking them on Delta with Skybonus.  And Hotels.com allows you to earn welcome rewards for hotels you book for anyone, not just yourself. 
If you're bemoaning the fact that you don't have someone paying for your flights because you own your own business, lament no longer.  You have opportunities that others who've read this piece voraciously simply don't have.  You can start by using a business credit card like  The Business Gold Rewards Card from American Express OPEN to get an up-front 50k point bonus when you spend $5000 in the first 3 months.  That is only one of many business travel reward credit cards, and as long as you use them responsibly and always pay the balance in full and on time, you'll be planning your own trips the free way, too.
Regardless of how you get them, I hope you're serious about piling up the miles and points so that you can seize the amazing travel bargains that can be had when you're attuned to the offers that are out there.
Thank you for wanderlusting with us!  Please comment below and let us know where your business travel rewards have taken you, or where you'd like for them to take you.