I have 55,800 American Express Membership Rewards points that I got from The Business Gold Rewards Card from American Express OPEN.  As we've talked about before, miles and points generally fall into one of three categories: Airline Miles, which you can use to book flights, Hotel Points, which you can use to book rooms, or Bank Points, which you can use to do either or transfer to some specific programs.  These Membership Rewards fall into that last category.  Right now there's a promotion to get a 35% bonus when you transfer from Membership Rewards to British Airways Avios.  With the bonus right now, I could rack up 75,330 Avios. We've told you before how nice these points can be for short, direct flights like SLC-LAX or BOI-SEA. But tonight I'm thinking bigger.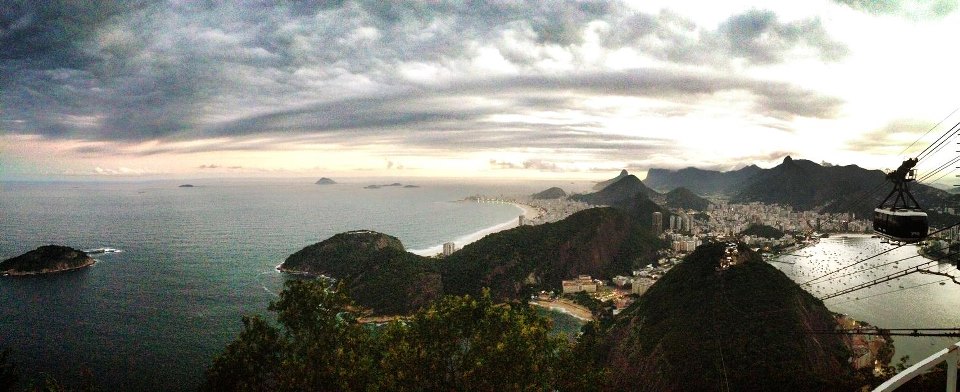 You see, I just got off the phone with my youngest brother who is two weeks into a two month tour of Latin America.  He started in Rio de Janeiro, Brazil and has thus far worked his way down to Buenos Aires, Argentina.  Of course he is raving about the experience and I'm a deep shade of green with envy.
And you know what envy does to a wanderluster… it doesn't throw them into bouts of woe and depression, it incites them to action.  It invites them to say not "I can't do that," but "how can I do that?"  Well, I got a little carried away and I am in total shock and awe at what could be done with my Membership Rewards.
I set out to get maximum exploration for my miles.  This is kind of a "diagnosed-with-terminal-disease" itinerary.  My only objective was to touch as many areas as possible, and minimize any non-air travel.  If I included some bus routes between these areas, it would be even more incredible what could be done.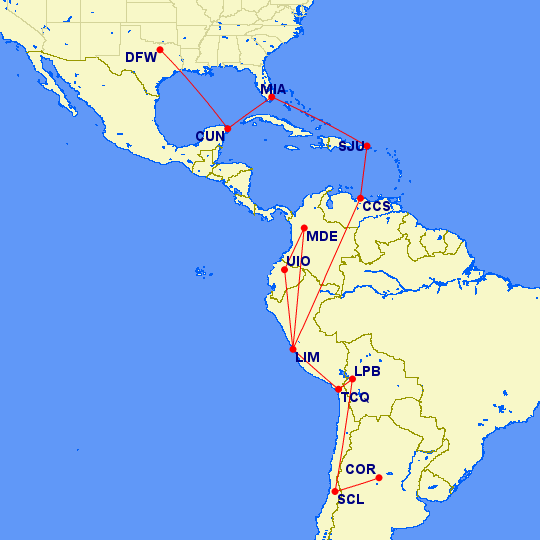 Even still, this is what we have: 11 flights, 10 countries, 9,779 miles, $4,850 in flights. Now, given that there are some taxes and fees you'd have to pay on these flights, along with departure fees and various other add-ons, what I'm telling you is that my miles could buy me almost $5000 in flights.
| | | |
| --- | --- | --- |
| Route | BA Avios | Retail Cost |
| DFW-CUN |      7,500 |  $       315 |
| CUN-MIA |      4,500 |  $       280 |
| MIA-SJU |      7,500 |  $       120 |
| SJU-CCS |      4,500 |  $       710 |
| CCS-LIM |    10,000 |  $       890 |
| LIM-UIO |      7,500 |  $       548 |
| UIO-MDE |      4,500 |  $       462 |
| MDE-LIM |    10,000 |  $       575 |
| LIM-TCQ |      4,500 |  $       173 |
| Bus to La Paz | | |
| LPB-SCL |    10,000 |  $       278 |
| SCL-COR |      4,500 |  $       499 |
| Total |    75,000 |  $    4,850 |
I know this seems unfathomable. There's no possible way that you could do something this amazing purely through wanderlust, a willingness to use the manner of your everyday purchases to accumulate miles, and some cunning planning, right?
Well, here it is, and you can check it for yourself.  I searched out flight routes on British Airways' Routemap tool, double checked with the British Airways Avios Calculator, measured distances with the Great Circle Mapper, and checked prices with flights every 5 days on Expedia.com.
In fact, I'm willing to offer a challenge.  If you can come up with a route that touches more countries, starting in Dallas and ending wherever you'd like, I'll very happily send you a $50 – and then I'll book the trip for myself.
What I'm trying to impart here is that there is no boundary for the wanderluster. Anything you want to do, you can do.  You must be flexible.  You must be creative.  You must be willing to put in the research.  I've been voraciously thirsting for global conquest for about 13 of my 34 years, and I'm nowhere near stopping.
Get yourself some British Airways Avios and open the door to Latin America.  You can transfer the Membership Rewards you can get from the The Business Gold Rewards Card from American Express OPEN, or go for the British Airways Visa Signature® Card.
Please join us.  Subscribe to receive our posts by email or RSS.  Follow us on Facebook.  Share us with your friends, neighbors, and even your enemies. Wanderlust with us.