This post was written by Bonnie, a newcomer to the WorldWanderlusting way of traveling.  She recently took an unbelievable anniversary trip in February of this year with her husband, and wanted to share her experience with our readers (note that their camera date wasn't set so the dates are incorrect).
Our 20 year anniversary was coming up, and I knew I wanted to do something special and big that included a white sandy beach.  I also knew that with 5 kids, I didn't have a lot of extra money lying around.  So, I did what any other adventure seeker would do and sat down with my friend Sheldon.  Now my disclaimer to this is that I have listened to Sheldon blab nonstop about all the wonderful adventures that he has taken since I met him 5 years ago.  But I have a HUGE aversion to using credit cards, because I know far too many people that have not used them responsibly, and have later gotten into financial disaster.  So I would politely listen to the blabbing, smile, and wonder to myself how I could take the same trip "legitimately."  I quickly realized that Sheldon's blabbing WAS legitimate!  It IS possible to be a responsible credit card user and to travel the world almost FREE!!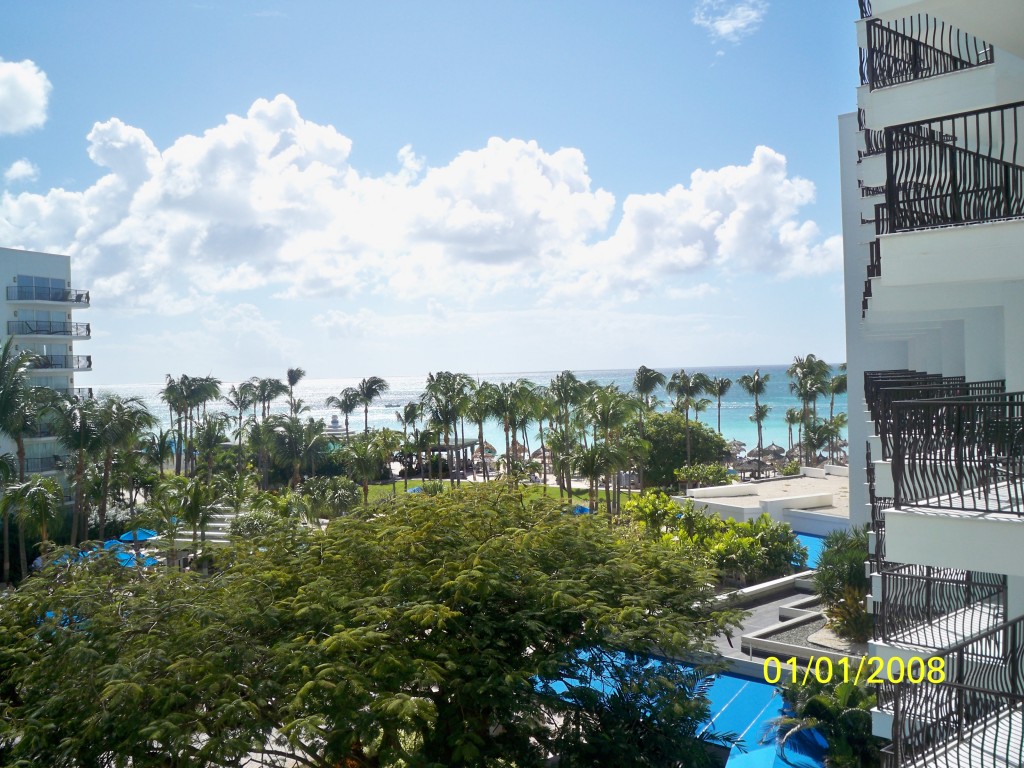 I started applying for my first credit cards in September 2012.  I had no idea where I wanted to go, but knew I needed points to get there.  I also felt a little bit of a time crunch, because we wanted to take our anniversary trip in February 2013.  This gave me only 6 months to maximize my use of travel cards, which required some very close accounting.  Then, I literally started Wanderlusting any location that I could redeem my points, with white sandy beaches being the only parameter.  I wanted to go someplace a little remote; off the "normal" beaten path….which is why we chose Aruba.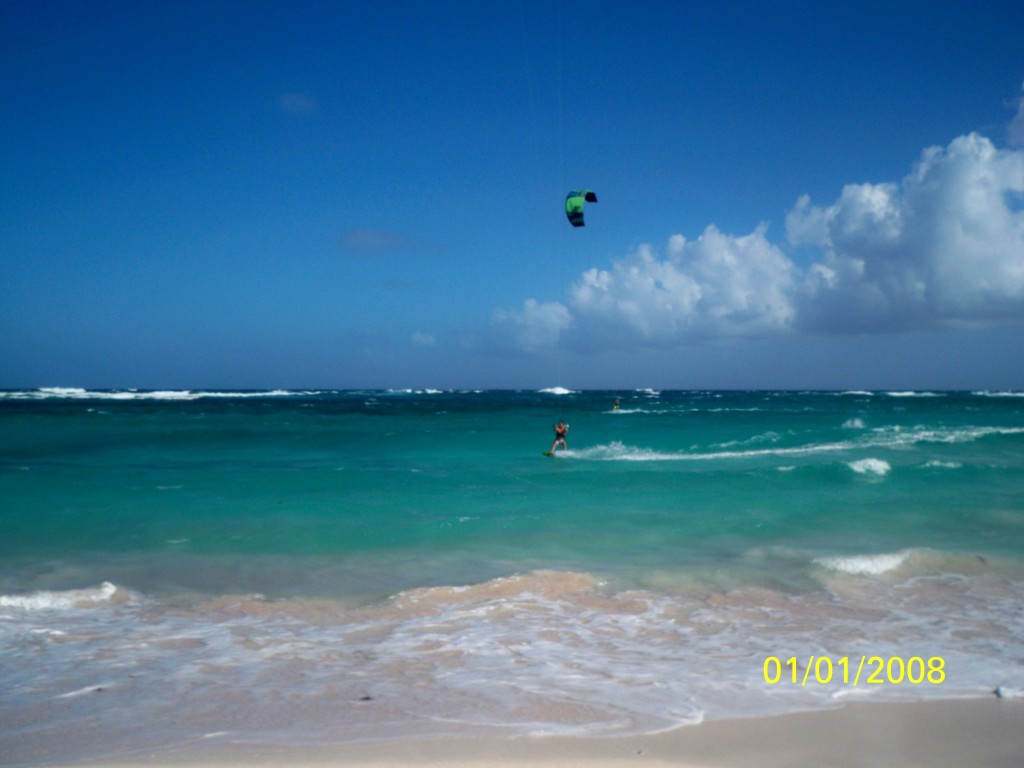 My husband and I both applied for the Chase Marriott Rewards card.  My husband had applied for the card when they were advertising an additional incentive, so he received 80,000 points after his required purchase, and I received "only" 50,000 points after my purchase.  Regardless, this gave us 130,000 points to use at a Marriott resort.  The hotels in Aruba all required a larger amount of points, as they were at least a category 5 or higher.  We chose an ultimate beach front gorgeous Marriott resort that cost us 140,000 points, but you could stay 4 nights and get the 5th night free.  Luckily, to make up for the difference in points, we had a Chase Freedom card that allowed us to transfer points to various other travel partners.  Like magic, our white sandy beach resort hotel was paid for!!  My husband and I also both applied for the Gold Delta SkyMiles® Credit Card from American Express, which gave us each 30,000 frequent flier points after our required purchase.  Our airline tickets cost 35,000 points each, so I did have to dig into my wallet to buy the extra 5,000 points each, plus pay the taxes.  The extra Delta points and taxes cost a mere $450. (I'm certain if I had more time I would not have had to pay for this either.)  But, wait… there's more!  We decided that we wanted 6 nights in Aruba instead of only 5, so I found another resort, using my Starwood American Express card, to receive 1 additional free night.  Then our flight back to Idaho took us through NYC, with an overnight layover in NYC.  So, I did the only natural thing, and used my Chase Priority Club card for another FREE night.  Curiosity got the best of me, so I tried to book the entire trip on my own to see my savings.  This trip would have cost $6000+, but it cost me $450!!!
Aruba is a small island, only about 22 miles wide and 8 miles long, and located about 15 miles north of Venezuela.  Their motto on all license plates is "One Happy Island" and we can attest that everyone was pleasant and so wonderful.  We happened upon a "locals" beach one day, and the local kite surfers gave us our own show of spectacular jumps and flips over the waves.  Because the island is so small, we drove on every street and checked out all corners of the island.  The year-round temperature is in the mid-80's with a constant ocean breeze.
If you've ever wanted to try fresh coconut milk, drinking it from a guy on the side of the road as he chops it with his machete is the only way to drink it!  Aruba is a very dry island, not what you would think of as a tropical island.  There were many cactus jungles, and most of the fruit was imported.  But the seafood was amazing, and we ate fresh fish almost every day.
Almost everyone on the island speaks English, although the native language is Papiamento.  It is a beautiful Creole language that is a mix of Portuguese, Spanish, and some African languages.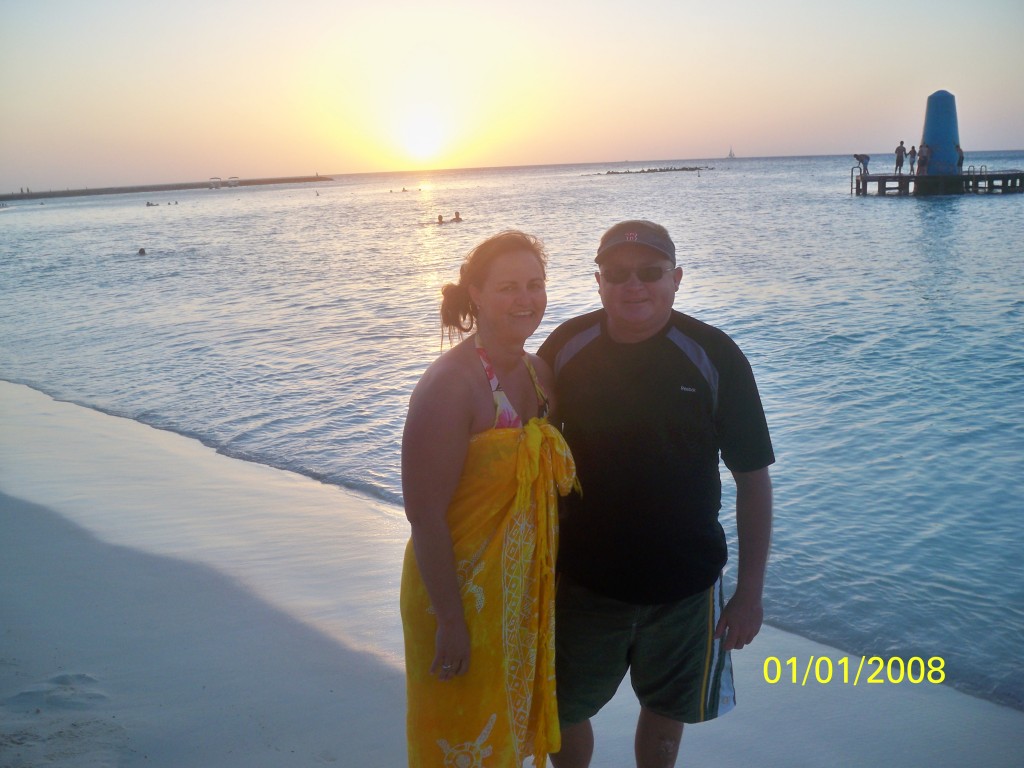 Whether it was romantic poolside dinners or watching the ocean sunset on the white sandy beach, we had an awesome 20th Anniversary! So, blab your heart out Sheldon, and you can guarantee that we'll be Wanderlusting again soon!!!