Update: The 50k bonus on the Southwest Premier Plus card referenced in this post had been reduced to 25k, but has now again been raised to 50k. These offers are always subject to change – all the more reason to seize on them when they're available.   Please comment with any questions.
Catholics have the pilgrimage from St. Jean Pied-de-Port to Santiago de Compostela – known as the Camino de Santiago.  Muslims have their ritual journey to Mecca.  And Mormons? We do an LDS church history tour.  But we're also notoriously cheap and travel is expensive, right?
No, it's not…  not if you're enlisted in our army of worldwanderlusters – discontent with the  premise that travel takes place in retirement, we live our lives in the present, and don't put off for someday what could be done today.  If you're like me, though, springing for several thousand dollars for something that will leave me with only memories and cheesy souvenirs is hard to do.  It's far easier when I'm able to get things for free.
But nothing is free, right?  If it sounds too good to be true, it is.  And I don't dispute that, except in this one instance, and I can say that with authority.  Sheldon and I have been blogging for more than two years, and in those two years, I've applied for 23 credit cards, obtained more than 2,000,000 miles and points, and increased my credit score by 27 points from 767 to 794.  I understand how credit works, and I know that if I use my purchasing decisions wisely, always pay on time and in full, I can accrue enough miles to take my family to do incredible things like paragliding in Colombia, visiting the Embera Indian Village in Panama, and now, taking them the LDS church history sites.
It requires some diligence to understand the programs, and some recordkeeping which mint.com makes very easy.  It means changing what form of payment you use, but not your spending habits.  But those are just the means by which you obtain the real life-changing opportunities -the travel experiences themselves.
So commit, right now.  You're enlisting in our army. Sign up for our RSS feed.  Subscribe to our email list.  Like us on Facebook. You're going to live for today, not for tomorrow, but you're not going to be reckless with your spending, you're going to be tactical.  You'll allocate your spending to meet requirements that will give you enormous travel bonuses and then you'll set out to see the world.  Now, for why you came here.
LDS Church History Tour
I know that not everyone interested in seeing these sites lives in the Salt Lake valley, but for simplicity, I prepared the itinerary out of Salt Lake.  It shouldn't vary a whole lot out of any airport served by Southwest Airlines. The sites can be divided into two general areas – the NY/OH area, and the MO/IL area. Many people make two separate visits, but we're going to do it all at once with the miracle of the open jaw flight, combined with a one-way car rental.
The Flights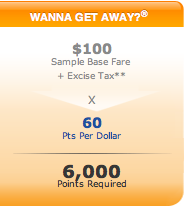 Southwest Airlines Rapid Rewards program allows you to book "wanna get away" fares for 60 points per dollar of the flight value.   Chase has been cycling between 25k bonus point offers and 50k bonus point offers on their Southwest cards, but for the time being, you can still get the 50k from the Chase Southwest Rapid Rewards Premier card after spending $2000 in the first three months.  The annual fee for this card is not waived, so you will nee  As with any flight, the more flexible you are, the better rates you can get. I just looked for May and was able to get good, short flights at these rates:
8,880 +$5 Salt Lake to Rochester

5,340 +$5 Cleveland to Kansas City
6,180 +$5 Kansas City to Salt Lake
You may end up having to pay more than this, but at this rate, 50k Rapid Rewards points will get almost two and a half passengers.  If you had 50k more from your spouse applying for the same card (we always advocate for the "one SSN, one bonus" rule), or the business card, you could get 5 passengers.  If neither of those options work, I guess there's always the old fashioned idea of "paying" for the flights… that's something I used to do when I was a kid.
There's also some mega added value here, because thanks to an aggressive advertising campaign, we all know that bags fly free on Southwest Airlines.  If you figure 2 bags on 3 flights at $25 a bag… we're talking about another $150 in savings.
The Rental Car
In Rochester, you'll be renting for 4 days and returning in Cleveland.  That usually makes it a little more expensive.  In Kansas City, you'll rent for 4 days and return at the same location.  My favorite thing to do is to book fully ignorable reservations on Expedia.com, and then keep checking back to see if the rate ever goes down… if they do, cancel and rebook.  You can also try these deals by fellow travel blogger, Dealswelike.com.
If you end up having to actually pay money for these rentals, I'm going to help you get that back. Barclaycard just came out with a nice new card, the Arrival World Mastercard that will give you $400 cash back on travel purchases, then enough points to redeem for $40 more. The annual fee is waived on this card for the first year, and you do have to spend $1000 in the first three months.
Regrettably, you will actually have to pay for fuel. :/
The Hotels
I used to pay for hotels, too… what a bummer that was.  I remember thinking that I'd often spent well more than $20 per an hour of sleep… it's a wonder I could even bring myself to sleep at rates like that.
You can get 6 of these 8 nights for free with the 50k points and free night you get from the Marriott Premier Rewards Card.  You'll need 20k more Marriott points for the last two, or some Club Carlson Gold Points. Or there's that other hideous third option – the "P" word. Gag.  I get sick just thinking about it.
Rochester
Residence Inn Marriott– This is a category 3, so it's 15k points a night which is more than we usually like to pay, so use your free night and the 15k and then eat more than your share of free breakfast.
Rochester Airport Radisson– As a Club Carlson category 2, this is 15k points a night, but Club Carlson, generous as they are, will give you your second night free as a CC Premier Visa cardholder.  AAA, eat your heart out.
Cleveland
Towneplace Suites Marriott – Marriott category 1 hotels cost a mere 7500 points, but it doesn't make them bad hotels.  This one is nice and would normally cost $160/night including tax.  You're going to stay there for free for two nights, and your family will feast on free breakfast. Overcome the guilt.
Cleveland Airport Radisson – Were you excited to do the math on the last Radisson and see that you were staying for 7500 a night?  Well, what's 9000 divided by 2? Yup. Feels good, doesn't it?
Kansas City
Courtyard Marriott – 10k a night.  Right in Independence, also close to the Harry Truman Library and Museum.
Nauvoo Area
Fairfield Inn Burlington, IA – 7500 a night.  Free breakfast.  You could get used to this.
Winter Quarters
Country Inn & Suites Council Bluffs, IA – If you want to add this to the itinerary, just 9000 Club Carlson points and you could stay here 2 nights.
The Sites
I won't even begin to try to offer a detailed analysis of all the sites there are to see on an LDS Church History Tour.  For this, I turned to www.lds.org, which has the sites as they are detailed in the new scriptures, here.
I'd recommend you get a copy of "Our Heritage," which will really be the ultimate tour guide to have along with you.  In fact, you could download the audio files to your iPhone, and then play it while roadtripping between sites – talk about making history come to life.
I am so excited about sharing this with the thousands of people who've planned and saved for vacations like this for many many years.  I illustrated it beautifully with Prezi so you can fully understand just how easy and practical this is.
I hope you love it.  And I hope you share it.  And I hope you love sharing it.
LDS Church History Tour Prezi
This little presentation tool will walk you through the whole tour with a visual depiction that is very helpful.  Just click on "Start Prezi" and then be sure to make it full screen.
Let this be the first of many visits to www.WorldWanderlusting.com.  Subscribe to our email and like us on Facebook. Bookmark our page and come see us often.  Comment with what you want to see and do. Don't hesitate to share this post on Pinterest, or on other sites where people might appreciate it.
If this is exciting to you but the idea of applying for several credit cards paralyzes you, just try taking it a bite at a time.  Test the waters and hound us with questions.  Wanderlust with us.
If you're intrigued by this trip, you'll also like these extremely popular posts: