So many people have asked us if there's a way to get miles or points that will pay for a cruise.  There are some cruise credit cards out there, but none that I could get excited about until now.
Cruising is the ultimate blend of luxury, travel, entertaining, dining, and adventure. If that weren't enough, it's also an incredible value. My favorite way to tempt myself is to see what cruises are really cheap on the VacationstoGo 90 day ticker.
Here are some of my favorites from the list I created.  I narrowed down the list to only cruises under $500 that are at least 7 days. These prices are for interior cabins and don't include taxes, so it will likely run you a little more per person than what is posted here.  Even still, these are some shocking low prices.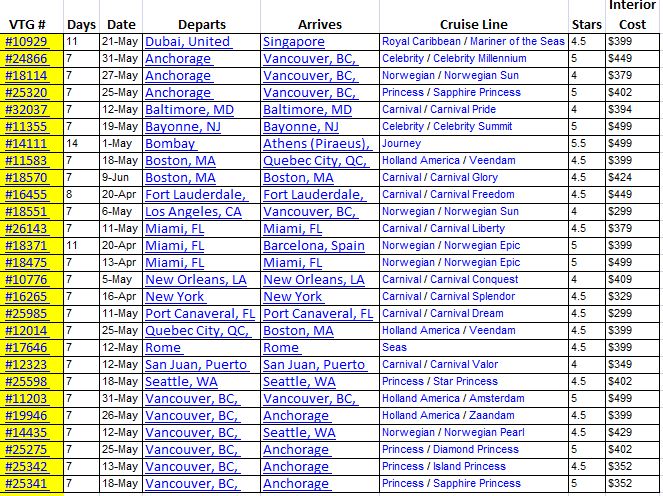 When you consider that the price of your cruise includes your lodging, food, entertainment, and transportation, you realize that in many cases, life is cheaper aboard a cruiseship – add to that the fact that you get reimbursed for most or all of it… You're wanderlusting, aren't you?
Making a Cheap Cruise a Free Cruise
You may be hesitant to take the "free-way" to travel.  You see these posts about miles, points, transfers and categories and it's all just too confusing to you.  It seems like more work than it's worth.  For the record, it's not.  It's actually remarkably easy, but I can sympathize and I'm excited to tell you about an offer that is extremely simple.
Barclaycard just came out with a new card, the Arrival World Mastercard, and while it still involves a point system, it's one that you'll understand with ease.  They require you to spend $1000 within the first 3 months of having the card. (We always recommend using these credit cards only to make purchases you would otherwise make and to pay off the balances on time and in full). That way you're using the credit card not as credit, but as a currency that gives you an incredible benefit.
Once you do that, you'll get 40k bonus points which you can use to have $400 in travel expenses reimbursed. You also get 2 points for every dollar spent, so the $1000 you spend will also get you 200 more points, for a total of $420 in reimbursement.
They sweeten the pot even more because when you redeem those points for cash reimbursement on travel expenses, they give you 10% of your points back, so you instantly have another 4200 points which you could use to get $42 more in travel expenses reimbursed.
You can see why I think this is the best cruise credit card there is out there.  Some of the others that are available don't offer near the benefits and the flexibility of this one.
You can see how this could become addicting.  Here are a few more tips to making this free cruise happen for you.
Apply for yourself and for your spouse separately.  Why share a bonus when you can each have one?

Jonathan Mares with Vacationstogo.com has been very helpful to me when booking cruises.  You can call him at 1-800-338-4962 ext. 7289 or email: [email protected]
You can get some of the best deals on cruises that you book within a month of sailing.  They're anxious to get them filled and it's that much less time you have to spend waiting.
Check out our Free Travel Credit Cards page for ideas on how to get your airfare free as well.
Also read our posts entitled Doesn't it Hurt My Credit? and Before You Apply.