Every young boy remembers the time at elementary school when his friend showed up during library time and showed him a picture of some topless native Americans from the most recent National Geographic.  It brought a whole new meaning to a weekly trip to the library.
Even though those days are long past, I've always wanted to visit a native tribe like those pictured in the National Geographic magazines.  (Not because I could see some topless native American, I've matured since those days) The idea that tribes still live as hunters and gatherers in remote parts of the world like Papua New Guinea or the Amazonian rainforest has long intrigued me.
Simply stumbling on a tribe like this was unlikely, and flying to Port Moresby, Papua New Guinea isn't a cheap endeavor.  For a long time I had accepted that we probably wouldn't be seeing any native tribes like I had always wanted.  It felt depressing.
Embera Indian Tribe
Then, as we were researching our trip to Panama, we stumbled across the Embera Village Tours company that offered guided tours of the Embera Puru village deep within the Chagres National Park.  Our excitement grew as we discovered that the prices to visit the tribe were rather reasonable.
Although there are other companies that can take you to visit the Embera Puru, this is going to be your best option.  Anne, who is the guide is married to a tribe member, which makes the experience so much more legit.  She understands the culture and can help explain anything in perfect English.
Getting to the Embera Puru Tribe
You'll meet with Anne at your hotel in either Colon or Panama city and they'll pick you up. The drive will take a bit, but you can enjoy the scenery. Finally you'll arrive at a boat dock where two of the Embera Tribe members will be there to load you in the boat.   Oh yeah, you heard that right.  It's a tree that they've carved out and made a boat.  "This is my kind of National Geographic moment" was my first thought.
The ride is smooth like an old Cadillac even though you'd assume it would be rough as you ride up the Chagres river toward the tribe.  It's about a 45 min ride, so settle into your seat and enjoy the scenery.  Soon you'll be greeted by the tribe members.  You'll probably experience a warm welcome like this:
Embera Indian Tribe Crafts
The Embera Tribe creates some amazing homemade crafts.  They take items that you would see as useless, and create some of the most ornate baskets and carvings that you can imagine.
Their products are priced at $1 per day of work.  So a basket that takes them 21 days is priced at $21.  Can you imagine making $1 per day for hard work?
The men do the carving of seeds, and wood, while the women spend their time weaving baskets, bowls, masks, and so much more.  You'll have a hard time not wanting to purchase one of everything, especially because you'll know who made it for you.  Each of the families proudly displays their products, and happily explains the meaning behind each image.
I know.  I know.  You're worried about them begging to buy their products.  Don't worry.  The people are very friendly and don't hassle you to buy their products.  It will make you want to buy more and more.
Embera Indian Lunch
Lunch is included with the tour, and is rather tasty.  They will fry you up some patacones, which are fried plantains and are rather typical food for a Panamanian.  They also cooked up some tilapia that was absolutely delicious.  They left all the bones in it, so make sure you don' try eating them.
It's amazing thinking about them fishing for their food everyday and working on little gardens to provide the food they need.
Embera Indian Home
You'll learn on the trip that the Embera homes are built up on stilts.  This is done to stay away from animals, snakes, bugs, and gives them extra room for error in case the river were to flood.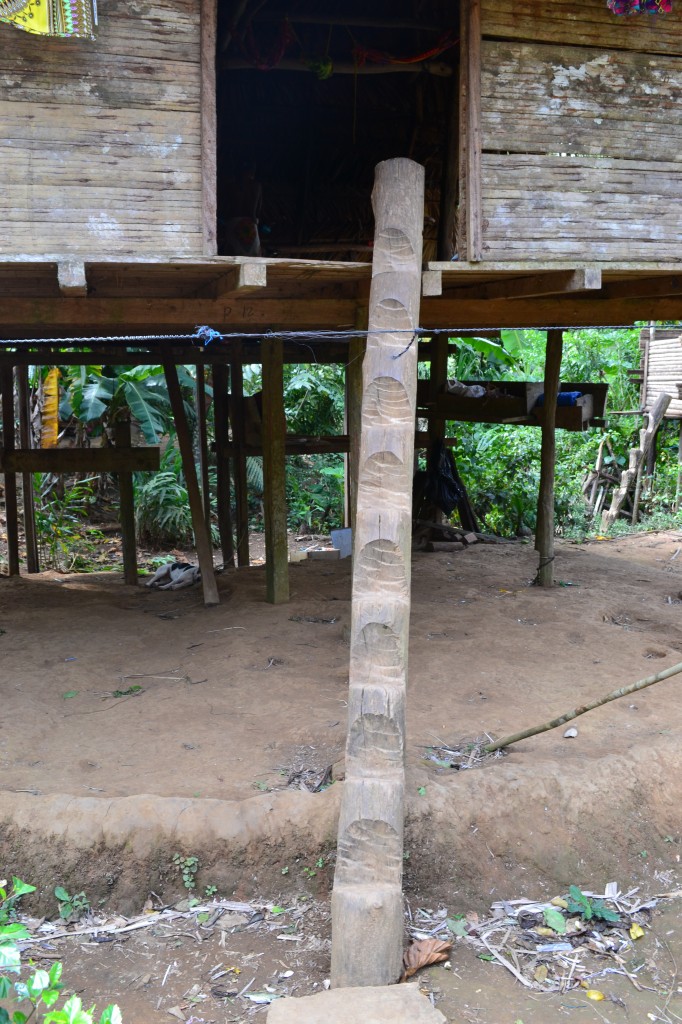 They have a log leaning up against the front porch that has been notched out for your feet and feels like a ladder.  I found it interesting to learn that they can simply roll the log to the other side which takes away the steps and says to anyone that they aren't welcome at the moment.  Sounds kinda like a No Soliciting sign….
Anselmo the Medicine Man
Part of the village tour includes a trip with the village medicine man, Anselmo into the jungle.  His knowledge of plants would shock any Pfizer agronomic engineer.  He was pulling all kinds of plants and explaining how they can be used for the benefit of humans.  He hands everyone a leaf and requests that everyone chew the leaf.  After about three or four chews my mouth begins to numb and I couldn't feel my tongue anymore.
Maybe if he were to leave the tribe he would get a job at Pfizer, or Merck, but more than likely he's happy where he's at.
Why to Visit the Embera Indian Tribe
We've become more addicted to our innovations these days.  It is tough to disconnect from the hustle and bustle of the world.  These people can show you how their simple lives can be enticing.
The time that you spend with the tribe will speed by.  Anne will be telling you that you've got 30 minutes and you'll know that it won't be enough.  We longed for more time with the tribe.  
The smiles on the faces of the children will make you smile.  To see them so happy without the latest iPad, or the largest home is something to admire.
I'm still happy in the life that I live, and my wife wouldn't ever go topless. This experience will give you greater appreciation for the blessings that you enjoy.
So if you've ever had a hankering to visit a Native American tribe that still lives off the land, then this is a great place to have this experience.
[Disclosure: Anne offered a discounted rate for our group, but the feelings and opinions are my own]