Our self-declared niche in the travel-rewards-blogosphere is to demonstrate amazing value in points redemption – lining out incredible itineraries which may actually cost you less than living at home.  One of our favorite methods is to develop "loops" – roadtrip plans that will take you from free hotel to free hotel and provide you with infinite opportunity to experience the world in all its grandeur.  It suits us, you see, because we're a bit stir crazy… we're the kind who dream of our next vacation while on our current vacation. Some people think that makes us insane.  We think that makes us WorldWanderlusters.
In any case, we want you to come along.  There's nothing we'd like more than to get your trip report from exactly this kind of itinerary.  This is a perfect way to meld the traditional Disney family vacation with some historical site-seeing and other meaningful experiences.
In our Club Carlson post, we extolled the program for its uber-generous "last night free" bonus when you have the CC Premier Rewards Card.  We said that to maximize your rewards, you book a series of 2-night stays, paying your hard(ly) earned points only for the first night.  We selected all category 2 hotels so you can plan on spending 60k of your free points on 8 free nights in 4 hotels.
Of course, we wouldn't want you to fret about airfare, either, though – so be sure to check out our post on how to Fly to Orlando for Free.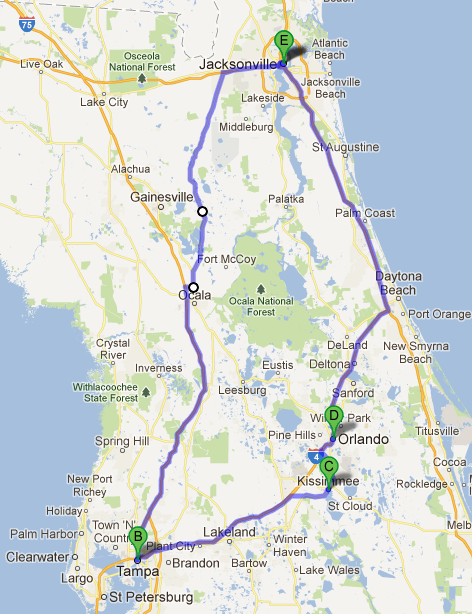 Considerations:
 You may want to fly into any of these cities. Book your flights based on how cheaply you can get them (by cheap, of course, I mean "fewest points…" I wouldn't be recommending that you actually pay money for a flight, right)?
Another factor may be the cost of your car rental.  Sometimes you can get incredibly great rates in Orlando and Tampa.  I've paid under $13 a day at times!
Whenever possible, we're recommending Country Inn & Suites hotels, which, in addition to being free and very comfortable, also provide free breakfast! You can plan on having one other cheap meal per day and one "splurge" meal.
There are two other category 2 CC hotels in the Orlando area.  You could hop from hotel to hotel and spend more time in Orlando.
For our purposes, though, let's assume that you fly in and out of Orlando.  It will make the logistics a little easier because we'll say we stay at the Orlando hotel on the first night and the Kissimmee property on the way out.
Florida Family Vacation: Orlando
As much as you try, you'll likely arrive into Orlando late.  If you happen to get in a little earlier, you may want to
For tonight and the next night, you'll be staying at the Country Inn & Suites Universal Orlando, which, in addition to that free breakfast we mentioned, also has shuttle service to the theme parks (saving you at least another $15 in parking costs).
Here are your options for Day 1:
 Walt Disney World
SeaWorld
Universal Studios
Epcott Center
On day 2, you're already on the move.  Don't worry, you'll circle back to the Orlando area.  Get your bags packed and head East.  Today you can take your pick or do both:
Keep cruising and you'll get to your hotel in Jacksonville just in time to crash and recoup your energy.
Florida Family Vacation: Jacksonville
In Jacksonville, you'll stay at the Country Inn & Suites Jacksonville.
On day 3 you've got choices again, but I'm going to strongly recommend you backtrack a bit to St. Augustine – the oldest settlement in the United States – a destination which merits its own post, but for now this will have to suffice: http://www.ci.st-augustine.fl.us/
St. Augustine
If you skipped Daytona, maybe opt for a day at Atlantic Beach or Ponte Vedra Beach
Take an Airboat ride or a Dolphin tour with http://www.crazyfishjax.com/ (You're staying for free, so maybe you could splurge on something like this).
The Jacksonville Zoo and Garden has rave reviews
After another free night and complimentary breakfast, you have the choice of catching up on something you missed the day before, or getting on the road right away for day 4.  This will be your longest drive, though you can break it up with a detour through the Ocala National Forest (where you could do some great little hikes)or hustle into Tampa to get going on your adventures there.
Florida Family Vacation: Tampa
In Tampa you'll be staying at the Country Inn & Suites Tampa East, a little outside of town, but great nonetheless.
Tampa is a great area.  There are all kinds of things that could keep you busy here, but here are a few options.
Clearwater Beach
Busch Gardens
Fort DeSoto
Eat at the Red Mesa (one of my favorite restaurants)
Again, the next morning you have the option of catching up on what you missed the day before, or moving on right away.
Florida Family Vacation: Back in Orlando
The hotel in Kissimmee is a really nice place – a destination in it's own right with a pool that looks like a waterpark.  Maybe you'd like to spend some time at the pool, or maybe you can get right back at it, visiting the many sites in Orlando.  You can choose from anything you missed the first day in Orlando, or maybe some of these:
Legoland
A variety of dinner shows
Gatorland
There's no doubt that you'll leave some things undone… no way to see it all in a place like Orlando, but all in all, you will have had a tremendous experience at a fraction of a fraction of what you would have expected to pay.
This is exactly what we want to train you to do, and we're glad you stopped by our site.  Please subscribe to our email list so that we can keep you posted on these kinds of opportunities.
If you liked this idea, you might like some of our other loop trips we've posted about in the past.
Thanks for Florida wanderlusting with us.