We've already take you on the first part of your dream Italian vacation, but now let's complete the rest of the dream.  It's taken you from Milano to the Italian Rivera.  Then we traveled through the picturesque Cinqueterre and onto the famous Florence.  If you're not salivating now, then you definitely haven't been bitten by the bug. Now it's time to round the corner and see the rest of Northern Italy.
Italian Vacation Stop 4: Bologna
Don't let the name of this city stop you from wanting to go there.  Let's be honest…coming to school with a bologna sandwich definitely merited the laughs of your schoolmates.  The flavor was never exciting either, but this will not be the case for your culinary experience in Bologna.  They're known for their food, so loosen the belt buckle, and enjoy every meal.
You're in the land of FAST cars here.  Ferrari, Lamborghini, Maserati, Ducati, and more all have production facilities in this area.  You probably won't be allowed to tour any of their facilities, but to even see where they are made would suffice.  I'll never forget the Lambo that passed me when I was driving on the Autostrada in Northern Italy.  It passed me like a bullet.  It was incredible.
Another stop that is out of town, but relatively close to Bologna is Ravenna, Italy.  Here you'll find  the Basilica of San Vitale, where you'll encounter the Mosaic of Justinian, which is one of the most well preserved Mosaics of its time.  My college humanities class required me to recognize it, and I've never forgotten it since.
If you're motivated by the number of countries that you've visited (I admit, I've got a problem here), then you might make a quick run to San Marino, which is a massive 24 square miles.  Don't blink or you just might miss the fact that you were there.
If you're into the school thing, then you should stop by the University of Bologna.  It is the oldest University in Europe, which basically puts it as on of the oldest in the world.
You'll be stretching your legs and hitting the pillow at the Sheraton Bologna Hotel.  Your Starwood Preferred Guest credit card will give you this room as it takes either 3k or 4k points per night.
Italian Vacation Stop 5: Padova/Venice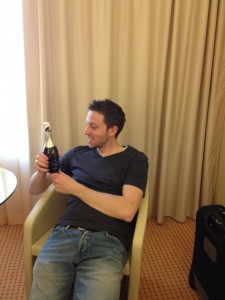 I'm really excited to send you to this hotel.  I stayed there personally in April of 2012 and had a great stay.  Our two nights at the property were everything that you'd hope for in a hotel.  They had great customer service and free WiFi in the lobby.  The beds were nice and we were even welcomed with a free bottle of champagne with our room.  As it had always been a dream of mine to shake up a bottle of champagne and then pop the cork, I knew this was my moment.  I went into the bathroom (don't tell the hotel) and shook up the bottle until I felt like it was ready.  I removed the wrapping, undid the wire, and popped the cork in the shower.  It made a huge mess and the bathroom smelled like champagne for a couple of hours.  (Please don't try this at home) The best part is you can leave your wallet behind (except a small city tax) and you'll just owe 3k-4k points for the night.  Can't beat free nights.
This place will be your springboard to Venice.  Staying here will keep your costs down of going to Venice.  Plus hauling your luggage to the hotel would be a nightmare. Take the free shuttle that the hotel has to downtown Padova, then take the train to Venice.  It should take you about an hour to get there, but it will be worth it.
Venice is going to be everything that you've dreamed about.  Everywhere you look is the cover of a magazine.  Every alleyway and every bridge is picture worthy as well.  You won't be able to stop yourself from snapping away.  So make sure that your batteries are charged, because you'll be going picture crazy!
Sitting on the Grand Canal having a pizza and pasta is a MUST-do.  The pizzas are actually rather affordable, so take a seat and enjoy one.  I know it is a shameless thing to do, but we would always stop at the grocery stores and buy bottles of water, so we wouldn't pay the overpriced small bottles that each restaurant offered.  Remember that it isn't America, and the waiters aren't kicking you out of your chair the minute that stuff the last bite.  Things outside of America are usually at a much slower pace.  Work hard to fight the urge to lunge out of your chair the minute you're finished eating.  Remember that the setting of your dinner will probably never be so unique again.  Soak it up and sit for a while.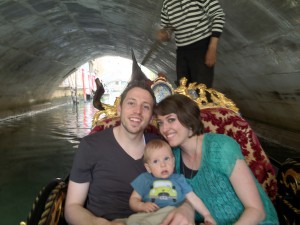 Ok, taking the gondola isn't cheap, but remember that your hotel tonight is FREE.  So pull out the 100 Euros and pay the man with the hat.  I never could get our "driver" to sing for us even though I was shameless enough to ask.  They have a "small tour" and a "big tour."  We opted for the big tour that included a loop under the San Rialto bridge, by Casanova's house, and seeing Marco Polo's house as well.
Download the Rick Steve's Europe App for your iPhone and listen to his tutorial as you visit San Marco's Basilica.  He walks you through the whole building and talks about the decorations, the mosaics, and much more.  It will enrich your experience of the tour.
Make sure you watch the video "Ancient Mysteries: The Miraculous Canals of Venice" on Netflix before your trip too.  It will enrich your experience as you have a better understanding of how the place was made.
Pick up your favorite Venetian Masquerade Mask as a handy souvenir.  You'll never regret it.
Italian Vacation Stop 6: Bolzano, Italy
Leaving Venice will be tough, but remember that you've still got so much to see.  It's the only way you'll ever be able to say goodbye.  Otherwise you might stay forever.  Take a quick stop in Verona on the way to Bolzano, because there is a ton to do there.
In Verona I recommend you:
See the Roman Arena that is in the main plaza.  It has been renovated, but is worth the entrance fee.
Eat more gelato.  You definitely haven't had enough
Do some shopping (If you're rich)
Visit Romeo and Juliet's balcony
See the ancient Roman Road
You've got to complete the drive up to Bolzano so you can enjoy the Four Points there.  I parked our rental car on the street to avoid their ridiculous parking fee, and everything was fine the next morning when I awoke.  You have a grocery store within walking distance, so it is a great place to have a very affordable meal.  Enjoy the pool that's on the top floor and the steam and sauna rooms this place has to offer.  You could spend a day alone at their facilities.
You need to do a day trip to the Reifenstein Castle.  It is a MUST-do activity.
Spend a day hiking in the Dolomites.  This is also a great place to catch a tram ride to the mountains.  You might also enjoy many of the vineyards along the road, and take the old highway instead of the Toll road if you've got time.
This is an area of the world where I'd love to return.  It has a strong agriculture base, yet a rich history.  The foods will knock your socks off, and the people are very friendly.  If you have a baby with you, plan on hearing "Bambino" from everyone.  They loved our little boy and he got way more attention than we did.