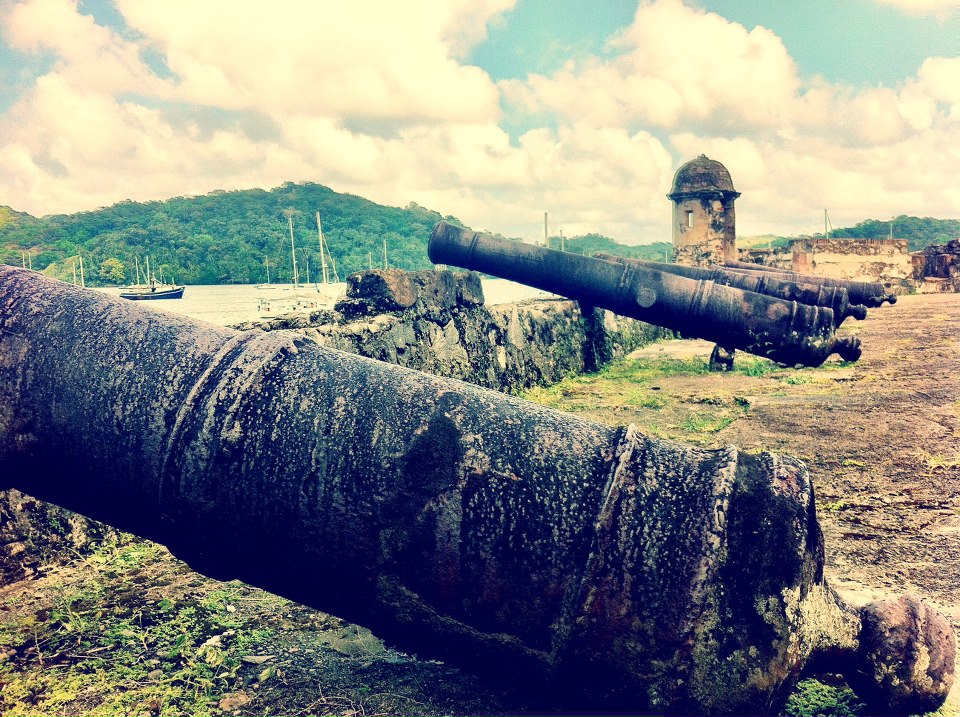 Portobelo Bay – a sleepy port on the North shore of Panama, enamored me in the same way it has far more intrepid explorers throughout history.  The morning mist is like lingerie over voluptuous green mountains.  It's serene in a way that's unique – even in the Caribbean. The humble condition of the small town belies its importance in history. Yet, when you consider the sheer number of cannons which guarded it, you realize that it was once far more than it is today.
One of the aforementioned intrepid explorers was Sir Francis Drake.  Drake was born a commoner, but early in life apprenticed with a wealthier shipowner who had no other heirs, and bestowed him with enough to launch a nautical life. To the English, he was a great and courageous Admiral.  To the Spanish, he was "El Draco" (the Dragon), among the most feared pirates intent on stealing their "rightfully stolen" goods before they could be returned to the motherland.
His story is one of many that set the standard for pirate tales – one that includes camaraderie and betrayal, thrill and hopelessness, and of course, gold.  It weaves a thread around the world – for what else could you expect from the man who was likely the second to complete the circumnavigation of the globe?  And it's a story that I likely would never have known (or, more likely, remembered), had I not made my way into Portobelo Bay and heard mention that the remains of "The Dragon" were within a lead coffin, deep in the waters off from the island that bears his name.
You see, I find infinitely more meaning in my discoveries with even just the slightest taste of local lore.  Learning more of Drake led me to research other early adventurers like Rodrigo de Bastidas, Vasquez de Balboa, and Martim Afonso de Sousa.  Reading these names may invoke the thought that these men were greedy conquistadors more than they were adventurers.  And if you're considering only the genesis of their original interest, perhaps you'd be right.  But read the histories of these or any others and you'll find that in the end, their thirst for exploration often outraced their zeal for treasure.  Knowing that creates a bit of a bond, and all of the sudden, the fact that the California Redwoods I visited with my boys in Muir Woods were just 30 miles from Drake's Bay – a crescent-shaped harbor named after the selfsame seafarer  who anchored there on his way around the world – makes every experience that much more significant.
What I'm getting at is that even though there is so much eye-candy on every trip you go on, the real sweetness is in knowing what's behind everything you're seeing.  One of my favorite (though obvious) tools is to use Wikipedia.com to get a quick overview of particular sites, individuals, movements, and other intriguing facts about an area.
Beyond that, I tell you that there's nothing like reading a good non-fiction piece or even a novel set in the area you're traveling in.  For this trip to Panama, I started into David McCulloch's Path Between the Seas – a phenomenal overview of the construction of the Panama Canal.  Now I'm into a novel with factual settings about a merchant in Panama in the 17th century – The Merchant of Panama, by Paul S. Jennings.  When I get home, I'd like to read more on the Kuna Yala indian people, who, as Sheldon told you, inhabit the San Blas Archipelago.
This is all in an effort to make a rich experience even richer.  How do you add excitement to your journeys?  What resources do you use?  Any specific stories you'd like to share?  I'd love to hear your comments.