I'd like to introduce you to one of the best value propositions in all of frequent flyerdom: the United Airlines 65,000 mile Economy Saver Award flight to South Asia.  Think about it like this – a Saver Award flight to Europe on United is going to cost you 60,000 United MileagePlus miles.  For only 5k more miles, you can get a flight that would normally cost double what it costs to fly to Europe.  I know there are variations, but this is an intriguing opportunity and one that you should look into when planning your next amazing getaway.
Rather than exhaust the possibilities, I'll profile three potential destinations and then show you how to get yourself those 65k miles.  Lick your lips because you're about to feast on a cornucopia of wanderlust.
The Philippines
More specifically, within the Philippines, you're going to want to get to the El Nido area of Palawan island.  This will require some logistics from Cebu or Manila, but it will be worth it.  Guaranteed.  Incredible diving, sea kayaking in a turquoise champagne, and beaches meant for relaxation.  The world has little better to offer than what you'll find here.
Borneo
Borneo is a name that stands out in my mind as one signaling adventure.  I instantly begin to think of the most exotic species of plants and animals and the densest jungle I can imagine.  You can fly to Borneo by way of the sultanate of Brunei – a destination in and of itself.  If you really want to tease yourself, check out this post on a trek in the Borneo jungle.
Vietnam
If you hear "Vietnam," and think only of the war, you have much to learn about.  Vietnam, while certainly a theater for much suffering and sadness in the past, is today an incredible destination.  If you see nothing more than Ha Long Bay, it alone will warrant the 12-hour flight to get there.  You must discover the treasures of Vietnam.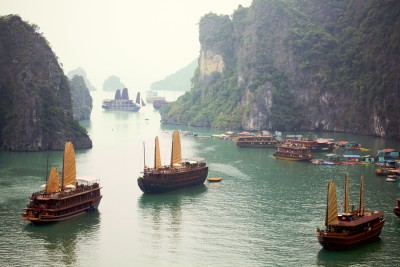 Now, believe it or not, we've given you three fantastic destinations in South Asia without even touching on Thailand or Cambodia.  You're now dying to get your hands on 65,000 United miles.
Getting United MileagePlus Miles
There's always flying… but odds are that you won't be flying 65k miles in the next 5 years, let alone in the next 5 months.  You could get yourself the United MileagePlus Explorer card – which will give you a nice bonus of 30k miles, and then begin earning 1 mile per dollar spent.  But how long will it take you to spend $35k in your regular habits?  That leaves another option – the combo.
Go ahead and get yourself that United MileagePlus Explorer card.  That gets you almost half way.  Then look at any of these Chase Ultimate Reward-producing cards.  The Ultimate Rewards program allows you to transfer points to United at a 1:1 ratio.
With these cards fetching you between 40-50k Ultimate Rewards once you meet the spending requirement, you'll be well on your way to South Asia!
Thanks for Wanderlusting with us!