Today I had a couple in my office talking about wanting to hit up a Panama Canal cruise. The idea of taking a trip is always something that intrigues me, so we spent a moment talking about their desires. They expressed frustration in not knowing how to book cheap airfare in conjunction with the Panama Canal cruise.  This is all too common, and it impedes too many people from doing what they would love to do, cruising.
Why you need to take a Panama Cruise
If you've never been on a cruise, you've never felt like a king, unless you are one.  The way that they serve you, make your bed, and always offer to help definitely gives you a feeling of royalty.  Getting home from the cruise and doing dishes again is a depressing moment. It just fuels the fire to book the next trip, just so you can feel like a king again.
The food is one of the best features about a cruise.  Of course it's unlimited, so load up another plate of those delicious desserts, or feel free to order another entree if you loved it so much.  Don't worry about looking at the prices on the menu, order whatever you'd like.
Although cruising isn't as adventurous as many of our trips, it certainly is more relaxing.  You'll love the fun entertainment, and enjoy laying on the deck of the ship.  Bring the sunscreen, because you'll get as much sun as you'd like.
Finding the CHEAPEST Airfare Option
Let's say your home airport is Salt Lake City. The problem that you have with the Panama Canal cruise is that you have to leave from Ft. Lauderdale, FL and come home from Los Angeles, CA. Buying one way tickets can be expensive if you purchase them from Delta, United, or American. The first and easy thought would be to say "Buy your ticket on Southwest.com." That would be a frugal option, but remember that we aren't all about cheap options, we're all about the CHEAPEST airfare options.
First you'll need to apply for the Chase Sapphire PreferredSM credit card and get started on the spending requirement.  These 40,000 Ultimate Rewards that you'll get are the tickets (quite literally).  Once you've got 40,000 UR in the tank, you'll be ready to book the cruise and float through the famous locks of the Panama Canal.
Salt Lake to Fort Lauderdale
Because Southwest Airlines is a partner with the Chase Ultimate Rewards program you'll be able to transfer the exact amount of points that you need from the Sapphire card to Southwest, which will help you cover the cost of the one way flight from Salt Lake City to Fort Lauderdale.  If you need help booking your flights with points on Southwest, check out the video below:
I did a quick search for the month of February (which would be a great time to do the Panama Canal cruise because it would avoid hurricane season, and would get you out of the cold) and this is what it showed the points would require per flight.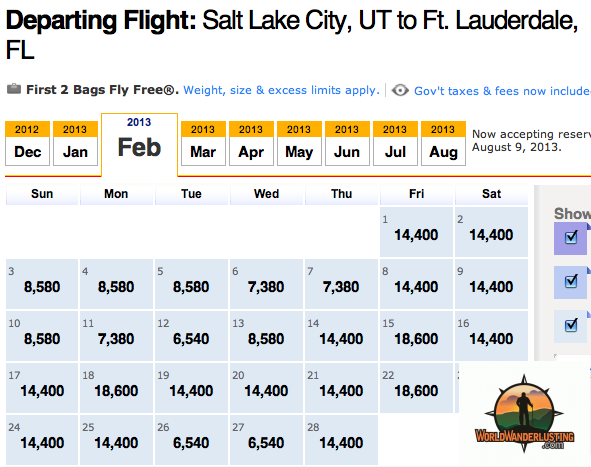 Most days require less than 15,000 frequent flyer miles, which means that you could purchase two one-way tickets for less than 30,000 of your Chase Ultimate Rewards. That leaves you at least 10,000 Ultimate rewards for your way home. You probably think that the remaining 10,000 points might not be enough to get you home, but it really would be sufficient.
Los Angeles to Salt Lake City
You'll use British Airways Avios to get you on this route. Brad already wrote about how using British Airways is the best way to get you on short leg flights, when his wife took four friends from Salt Lake to Los Angeles.  Because the flight we are examining is a relatively short distance, and a direct flight it only takes 4500 Avios for each person.  That means that 9000 Avios is all you'll need to complete the full roundtrip journey.
The remaining Ultimate Rewards can help you to pay for a hotel in Los Angeles, or in Fort Lauderdale before or after your amazing cruise experience.  This will easily shave $1000 from your airfare costs, which just might make your Panama Cruise much more attainable.  Now you've just got to worry about the cruise, and remembering to bring along your bathing suit.
Live the Dream. Book the Trip
Too many people dream about living, instead of living the dream. Now that we've shown you how to get your airfare for free, it can make the trip much more affordable. Don't wait until next year to take that Panama Canal Cruise that you've always wanted. Make it happen by applying for the Chase Sapphire Preferred and start racking up the Ultimate Rewards NOW!